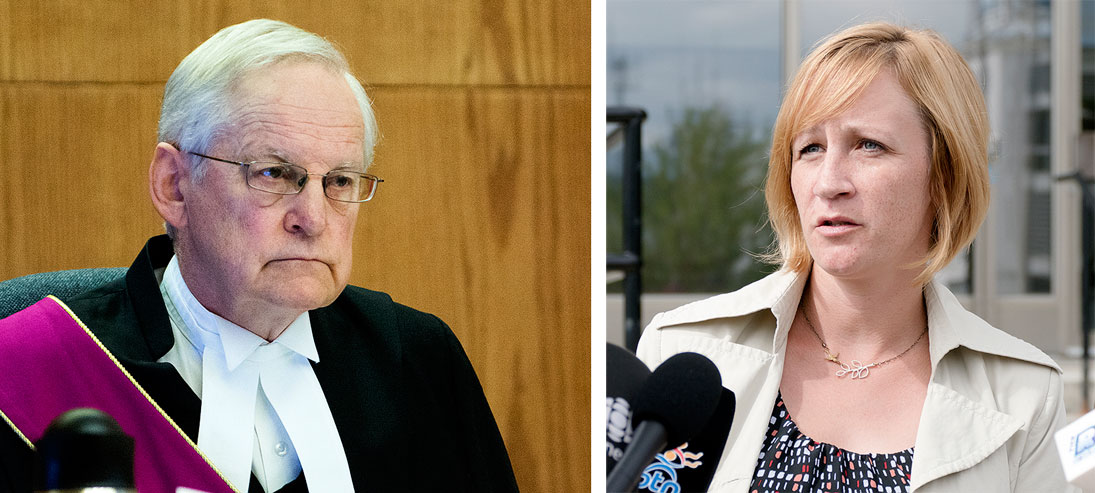 Photo by Whitehorse Star
Yukon Supreme Justice Ron Veale and Yukon chief coroner Kirsten Macdonald
Court hears arguments about appeal of inquest
Three B.C./Yukon Court of Appeal judges heard arguments Wednesday on the chief coroner's appeal of a Yukon Supreme Court order.
Three B.C./Yukon Court of Appeal judges heard arguments Wednesday on the chief coroner's appeal of a Yukon Supreme Court order.
The supreme court has ordered that a coroner's inquest be held into the November 2013 death of Cynthia Blackjack.
Blackjack died while being medevaced from Carmacks to Whitehorse.
Yukon chief coroner Kirsten Macdonald, who is currently on leave from the job, concluded in her investigation that Blackjack's death was natural. It occurred as a result of multi-organ failure due to hyperacute liver failure, Macdonald found.
It was in March of this year that Yukon Supreme Justice Ron Veale ruled an inquest be held to look at the role systemic racism may have had in Blackjack's death.
He found that Macdonald had taken a "very narrow interpretation" of the Coroner's Act in deciding not to hold an inquest. Macdonald then appealed that decision in April.
Her lawyer, Richard Buchan, was the first to address the appeals court Wednesday.
He argued that Macdonald had followed the process outlined in the Coroner's Act to investigate and reach the reasonable conclusion that an inquest wasn't required.
Throughout the hearing, Buchan emphasized the coroner's role in investigating medical causes of death, as Macdonald had done.
Buchan also addressed arguments which suggested the nursing station treated citizens of the Little Salmon-Carmacks First Nation with discrimination.
"There was nothing to suggest that outside sources had a causal role in Ms. Blackjack's death," Buchan told the court.
Many of the arguments hinged on Sections 8, 9, 10 and 34 of the Coroner's Act. They deal with the process to determine an inquest is required and the roles of the chief coroner and judge.
Buchan argued the chief coroner plays the main role in investigating and determining if an inquest should be held.
Judicial review
He then argued that if a judicial review of an investigation finds a flaw, then a judge should refer it back to the chief coroner to reopen the matter and investigate further. At that point, it may be determined that an inquest is in order.
"We are dealing with an administrative scheme where the chief coroner plays the chief role," Buchan said.
The functions outlined for a judge in the Coroners Act are limited, he added.
Buchan suggested the role of the judge is more of a fall-back option rather than a primary option in making decisions.
Vincent Larochelle is the lawyer representing Blackjack's mother, Theresa Anne Blackjack, while Susan Roothman is representing the First Nation.
Both lawyers argued the act provides both the chief coroner and judges with more of a concurrent role of jurisdiction.
It's very important that the chief coroner does not have exclusive, primary jurisdiction, Roothman noted.
Judge can decide
Larochelle pointed to sections of the act that suggest a judge can decide if an inquest is advisable.
Roothman also submitted that had Macdonald gone further into the investigation and spoken with Blackjack's grandmother, she would have been aware of the issues around discrimination in delivery of health care services.
That could have impacted whether an inquest had been ordered by Macdonald, Roothman said.
Tough to prove
Larochelle also commented on the difficulty in proving discrimination, noting though, that it's worth investigating.
"How can you prove there is a causal link between discrimination and the death?" Larochelle asked.
"You cannot expect the petitioner to do that," he said. "You need resources to do that.
"That is why we need an inquest. There is a genuine concern from the First Nation."
The court of appeal is reserving its decision on the matter.
Add your comments or reply via Twitter @whitehorsestar
In order to encourage thoughtful and responsible discussion, website comments will not be visible until a moderator approves them. Please add comments judiciously and refrain from maligning any individual or institution. Read about our user comment and privacy policies.
Your name and email address are required before your comment is posted. Otherwise, your comment will not be posted.