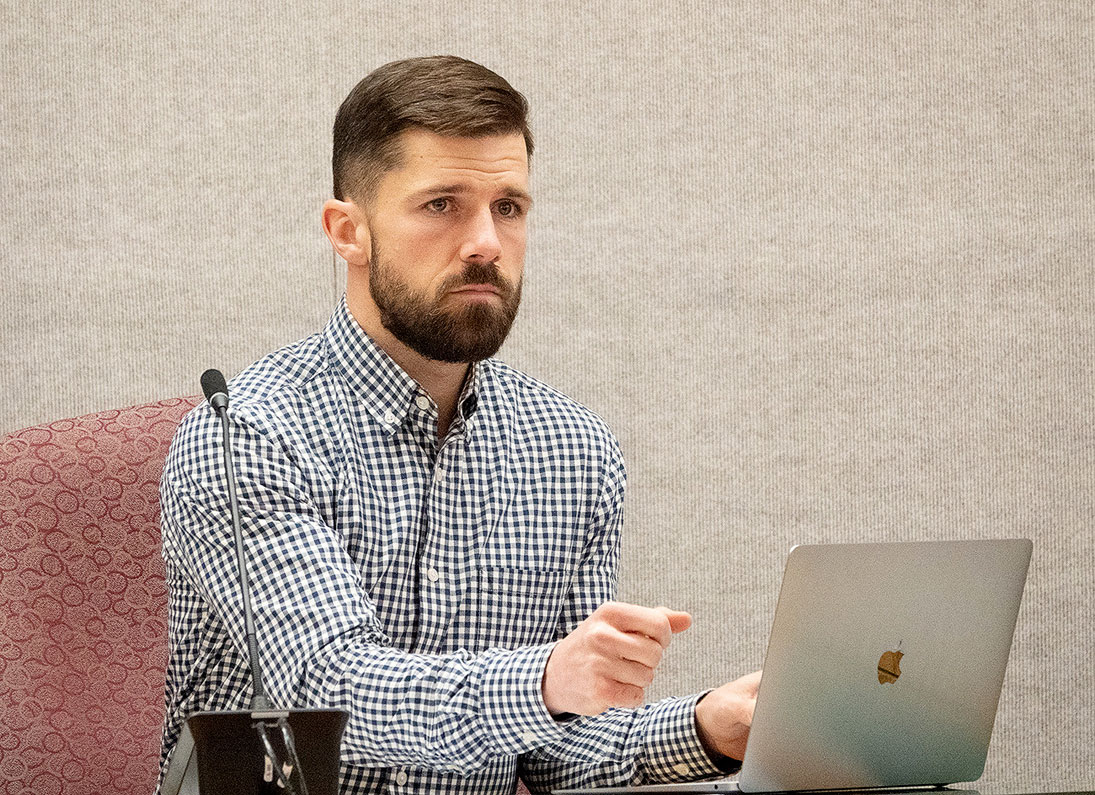 Photo by Whitehorse Star
Councillor Steve Roddick
Councillors leery about selling land strip
Three members of city council expressed reluctance Monday regarding the sale of a narrow strip of public land along Falcon Drive to accommodate a driveway.
Three members of city council expressed reluctance Monday regarding the sale of a narrow strip of public land along Falcon Drive to accommodate a driveway.
Councillors Dan Boyd, Steve Roddick and Laura Cabott expressed reservations about the sale.
They all voted to approve first and second readings of the required bylaw.
They also indicated, however, that their support to advance the matter to third and final reading was to allow for more discussion but should not be taken as support for the sale.
"I am prepared to approve second reading but I'm not comfortable at this juncture to approve third reading," said Boyd. "I am still not convinced at this juncture that this is the right thing to be doing."
Third reading is scheduled for Dec. 9.
City administration is recommending the city sell the strip of land to the property owners at the corner of North Star Drive and Falcon Drive for $18,250.
The property owners applied for and received a permit earlier this year to build a new garage.
They provided the city with a site drawing noting the location of the garage at the rear of their home facing North Star. There was no detailed design of the garage provided.
When city staff noticed during construction that the garage doors were facing Falcon and not the driveway coming off North Star, they issued a stop-work order.
With the garage doors facing Falcon, it would be next to impossible for vehicles to drive into the garage using the established driveway, council has been told.
The property owners have since applied to purchase the public utility easement between their property and Falcon Drive to accommodate a second driveway and access to the garage.
City administration has indicated selling the land is the most practical solution. Any future need for the placement of public utilities such as a natural gas pipeline could still be accommodated, council has been assured.
But Boyd told his colleagues Monday he's still not sure about how the city found itself in this position. It's likely the property owners at this stage could change the design and re-orient the garage doors to face North Star without a huge expense, he said.
Roddick said he was voting to move the bylaw forward to provide an opportunity for further discussion and an opportunity to hear from the property owners.
But like Boyd, he said, he was not convinced selling the property is the proper thing to do.
"My concerns stem largely around, to what extend accommodating the property owner in this case is effectively allowing for development to proceed in ways that annex adjacent public property," Roddick told his colleagues. "... I think there is a risk if we approve this, we risk institutionalizing a perverse incentive for developers to make their permit applications deliberately vague to try and sneak it through knowing that if they get the permit the city will accommodate them in some way, shape or forum."
Cabott said she too has her reservations. But she pointed out there's been no opposition from the neighbours.
Cabott said it's important council be guided by the facts and not by an impulse to teach a resident a lesson or punish them by refusing to sell the land.
With councillors Jan Stick and Samson Hartland absent from Monday's meeting, Cabott said before locking herself into a decision one way or the other, she wanted to hear Stick's and Hartland's views on the matter before third reading.
Add your comments or reply via Twitter @whitehorsestar
In order to encourage thoughtful and responsible discussion, website comments will not be visible until a moderator approves them. Please add comments judiciously and refrain from maligning any individual or institution. Read about our user comment and privacy policies.
Your name and email address are required before your comment is posted. Otherwise, your comment will not be posted.