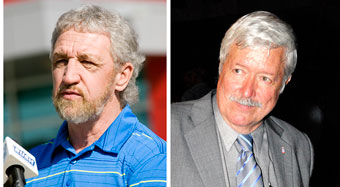 Photo by Whitehorse Star
Doug Graham and Jim Kenyon
Councillor topples minister
A former cabinet minister has defeated a sitting minister in a nomination battle.
A former cabinet minister has defeated a sitting minister in a nomination battle.
City councillor Doug Graham beat current minister Jim Kenyon in his own riding of Porter Creek North at Thursday night's Yukon Party nomination meeting.
Kenyon, who has represented the riding since 2002, lost to Graham by what the party called a "significant margin".
The party did not release the numbers from the vote, but the party's campaign manager, Darren Parsons, told the Star this morning that it wasn't a "particularly close race".
Graham said this morning he's happy to win the nomination and excited to get back in to territorial politics, which he first entered in the late 1970s, serving as a Conservative minister.
He said he isn't surprised with last night's results, considering how many party memberships he sold in the past month.
Graham was the Education and Justice minister for three years for the then-Conservative government.
The city councillor announced last year that he would run for the Liberal party in the coming territorial election, a decision he said last month was made in "haste".
As for how he feels about taking over a current MLA's spot, Graham was hesitant to answer.
"I don't know what to say," he said. "I feel badly, but that's the way it works in politics."
Graham said he phoned Kenyon when he decided to seek the Yukon Party nomination in his riding.
He told him that he wanted to get back into territorial politics and now is probably the last chance he had to do it. He's in his early 60s.
Graham and his family have lived in the riding for the past 40 years.
He said his decision to run in Porter Creek North has nothing to do with Kenyon's work in the riding for the past two terms.
"It has a lot to do with (Darrell) Pasloski becoming premier," he said.
The city councillor will not have to step down from his position at city hall unless he becomes an elected official.
Graham said he will continue his work at the city as he always does.
The new Yukon Party candidate said he has heard a lot from people in his riding, but one clear message is that Yukoners are happy with the territory's economy.
"They don't want to see that be put in jeopardy," said Graham.
Kenyon did not return messages from the Star this morning.
The MLA was fired from the cabinet in early May for publicly criticizing then-premier Dennis Fentie's leadership style, but was invited back shortly after Pasloski became premier.
Kenyon, a veterinarian before entering politics, also ran in the leadership race, garnering just 48 out of the 1,251 total votes.
By Nadine Sander-Green
Star Reporter
Add your comments or reply via Twitter @whitehorsestar
In order to encourage thoughtful and responsible discussion, website comments will not be visible until a moderator approves them. Please add comments judiciously and refrain from maligning any individual or institution. Read about our user comment and privacy policies.
Your name and email address are required before your comment is posted. Otherwise, your comment will not be posted.