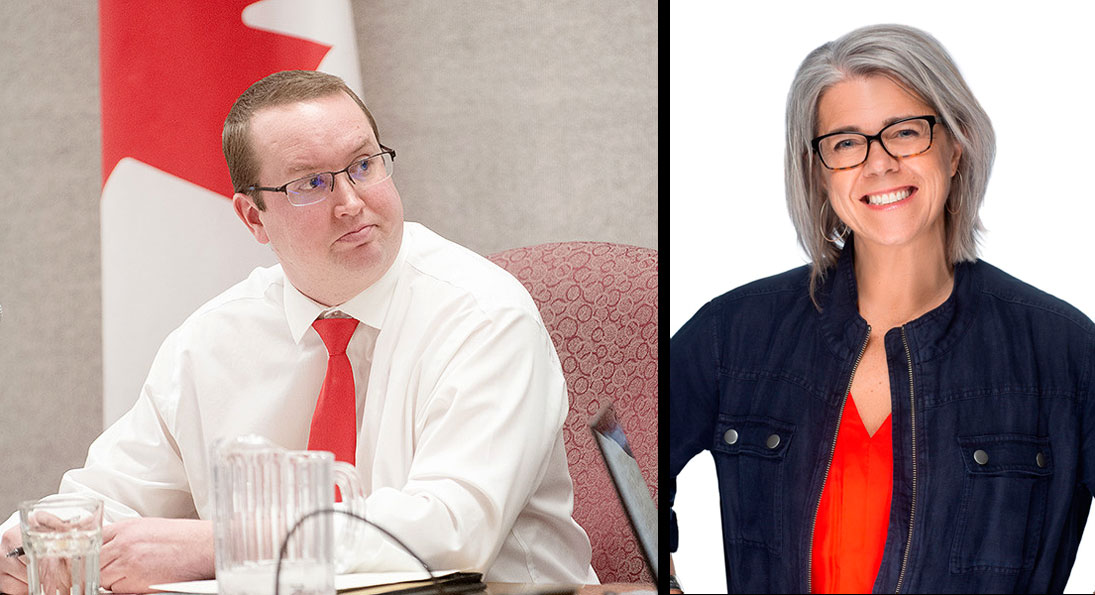 Photo by Whitehorse Star
GOING FOR THE TOP POSITION – Longtime Yukoners Samson Hartland and Patti Balsillie - Photo submitted
Councillor announces mayoral bid, Patti Balsillie also candidate
City councillor Samson Hartland says he wants to be the city's next mayor.
Revised - City councillor Samson Hartland says he wants to be the city's next mayor, becoming the second person to do so.
Voters will decide on a new mayor and council on Oct. 21. Mayor Dan Curtis plans to run as the Liberal candidate in Whitehorse Centre in the pending territorial election, and, even if he's not successful, will not run for re-election as mayor.
Hartland, 42, is a married father of three children.
He has served three terms as a councillor, while also serving as the executive director of the Yukon Chamber of Mines for the last seven years.
"We made the decision as a family to run for Mayor of our great city because I am deeply committed to our community and believe I can continue making a positive impact," Hartland said today.
"I would be honoured to continue to serve the people of Whitehorse."
Raised in Whitehorse, he said his fierce commitment to family and small business in the territory has consistently guided his career path.
That has included working for the Whitehorse Chamber of Commerce and as a small business owner of Grizzly Collectibles.
He has also long served as translator for his hearing-impaired parents, including on an episode of CBC's Dragons Den when the senior Hartland successfully secured investment to develop his Yukon Smoked Salmon business.
"My wife Lindsay and I are so proud to call Whitehorse home and raise our children in the best city in the world," said Hartland.
"Access to recreation, retail, education, health care, wilderness, along with the cleanest drinking water and air in the world – and world class industries, we truly punch above our weight class," he continued.
"I've learned many lessons and gained much experience throughout my three terms and I hope I have the opportunity to apply those skills in a way that continues giving back to our community."
Hartland said he is committed to completing the Official Community Plan, which will not be finished prior to the expiration of this council's mandate.
The plan includes re-establishing a healthy supply of building lots to keep up with the city's exponential growth.
It also aims to keep the city's costs down to ensure the cost of living in Whitehorse does not negatively impact senior and vulnerable populations while maintaining Whitehorse's reputation as having one of the lowest property tax rates in Canada.
Long-time local resident Patti Balsillie announced her candidacy in late January.
"After 32 years of making Whitehorse her home, raising a family, living in many neighbourhoods, growing business and volunteering in dozens of community and national organizations, Patti Balsillie has announced her intent to serve in the mayoral campaign," says her social media posting.
"With a broad and diverse range of experience, Patti has demonstrated her network and leadership skills in the Yukon and Canada, across business, community, organizations and governments."
She told the Star this morning she plans to unveil a platform in June.
Add your comments or reply via Twitter @whitehorsestar
In order to encourage thoughtful and responsible discussion, website comments will not be visible until a moderator approves them. Please add comments judiciously and refrain from maligning any individual or institution. Read about our user comment and privacy policies.
Your name and email address are required before your comment is posted. Otherwise, your comment will not be posted.