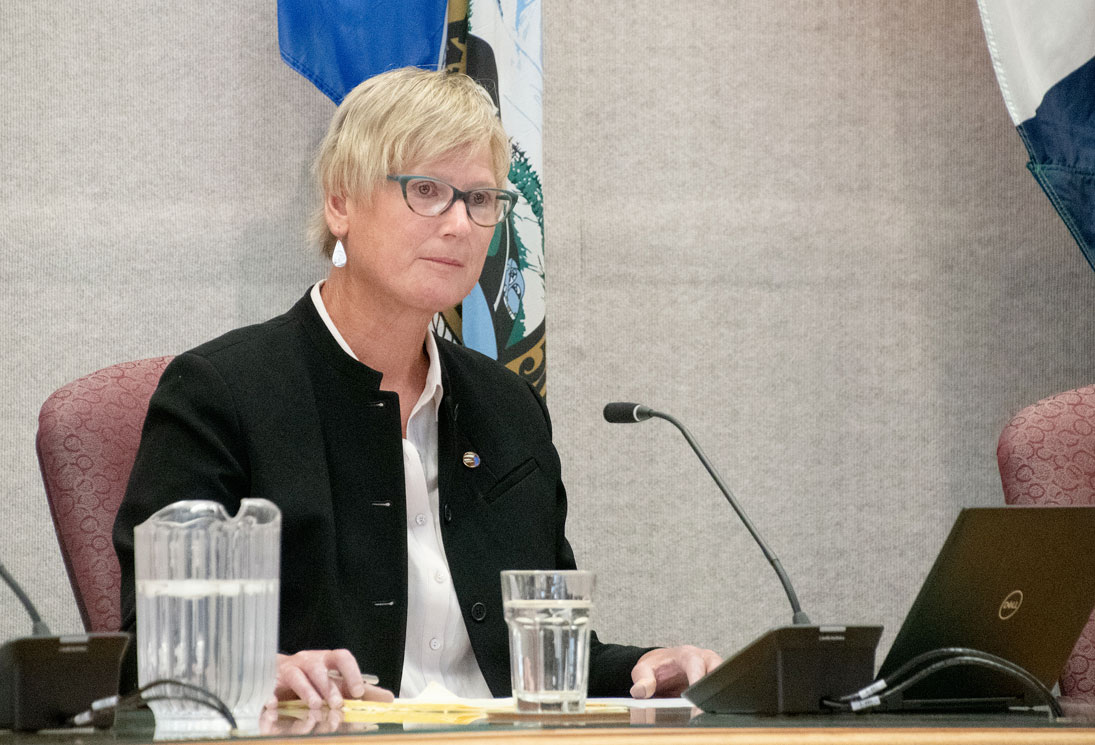 Photo by Whitehorse Star
Coun. Laura Cabott
Council to have greater role in local content issue
City council has voted to become more involved in assessing how much weight should be awarded for local content when seeking professional services.
City council has voted to become more involved in assessing how much weight should be awarded for local content when seeking professional services.
The motion to have more council involvement was first introduced by Coun. Laura Cabott on June 15.
Under current city practice, administration decides how many points would be awarded for local content when weighing proposals for the provision of consulting services, engineering and design services and other such professional work.
Local content is only one aspect of assessing proposals and is given a weight of anywhere from zero to 20 points.
Cabott initially proposed that from here on until next March 31, all local content in the request for proposals be automatically given the full 20 points unless otherwise directed by council, as a means of assisting local business during the fallout from COVID-19.
The councillor noted earlier this month and again during Monday's council meeting there is already a provision in city policy dating back to 2011 that allows council to set the value for local content when calling for professional services.
Local content, she noted, is only one aspect of weighing proposals, and local firms would still be assessed on their ability to fulfill other requirements of the project.
Cabott told her colleagues again Monday night providing more weight for local content is a way for the city to support its local businesses, especially in these times of the COVID-19 pandemic.
With the widespread impact of the pandemic, there will be more firms from Outside looking for work everywhere, including the Yukon, she said. She added there is evidence it's already happening here.
Providing a higher value for local content will provide local firms with a slight advantage, but they still have to be competitive in the other areas of the request for proposals, she emphasized.
Cabott did amend her motion Monday night to do away with the automatic award of 20 points for local content.
Under the amendment, council would instead review the requests for proposals on a case-by-case basis before they were sent out to decide how many points to award for local content in each case.
The amended motion did receive unanimous support from members of council.
Coun. Samson Hartland said it was the right resolution at the right time, and was the right thing to be doing.
"I do see an opportunity to work within our existing policy to give our local businesses a leg up until we have our new procurement policy in place," said Coun. Steve Roddick.
Coun. Jan Stick did offer words of caution to her colleagues.
Council must be careful it does not stick its nose too far into the procurement of professional services; that it stick to assigning a value for local content, and that's it, she said.
Stick said the city has the professional staff who do the work reviewing and assessing proposals received.
Council must not become any more involved in the procurement of professional services other than assigning the value for local content, she suggested.
City manager Linda Rapp told council it will not take a large amount of work by city staff to have council review and and assign value for local content before requests for proposals are issued.
Rapp said the administration is hoping to have before council in short order the new, overarching procurement policy the city has been working on for about two years.
City administration has suggested in its reports to council on the matter of local content that it really hasn't been an issue.
All eight requests for proposals for professional services that were issued in 2019 went to local companies, administration has pointed out.
It has also noted there are instances where local projects could benefit by having expertise from outside the territory.
Add your comments or reply via Twitter @whitehorsestar
In order to encourage thoughtful and responsible discussion, website comments will not be visible until a moderator approves them. Please add comments judiciously and refrain from maligning any individual or institution. Read about our user comment and privacy policies.
Your name and email address are required before your comment is posted. Otherwise, your comment will not be posted.