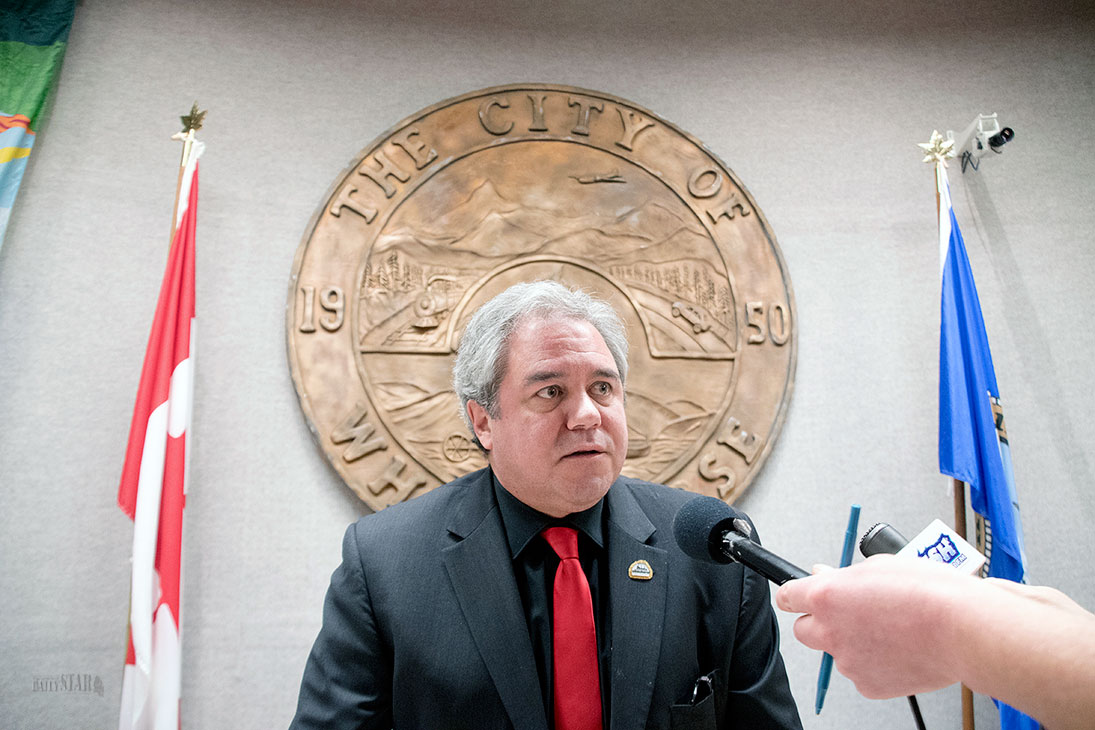 Photo by Whitehorse Star
Mayor Dan Curtis
Council resumes meetings as election looms
As the new year begins, city council is gearing up for the final 10 months or so of its term, with municipal elections across the territory set for Oct. 18.
As the new year begins, city council is gearing up for the final 10 months or so of its term, with municipal elections across the territory set for Oct. 18.
Mayor Dan Curtis says council is aiming to finish the term strong.
It's continuing to focus on actions that align with priorities set out in its strategic plan: planning for growth, affordable housing, operational efficiencies and environmental health.
Along with that, Curtis said in an interview last Thursday, he hopes one particular matter that's been "percolating" for some time will be among the issues to be dealt with – or at least direction taken on before the term ends.
Last fall, more than 600 people added their names to a petition led by the Skate For Life Alliance. It called on the city and territory to work together to transfer the land the only skatepark is on from the territory's Department of Education to the city.
The petition argues that by securing the land, work could then begin on upgrading the outdated, deteriorated facility that has not seen any major changes since it was built in 1995.
The issue has been under discussion for a number of years.
In 2015, its location was the subject of debate when the current location (just across the Robert Campbell Bridge leading into Riverdale) was being eyed as the site for a new francophone high school.
That could have resulted in a new skatepark built elsewhere in the city.
Since then, though, those plans have been scrapped.
The Yukon Francophone School Board (CSFY) and territorial government have confirmed the proposed location for the new school as between the new F.H. Collins Secondary School and Selkirk Elementary School on Lewes Boulevard.
Last October, council voted in favour of having staff move forward on discussions with the Yukon government about the possibility of the city securing tenure to the skatepark land.
That parcel is currently part of the larger piece of educational reserve, which includes Selkirk Elementary and F.H. Collins.
A number of council members spoke last fall of the need for a rebuilt skatepark.
City staff confirmed that one of the goals of the Parks and Recreation Department is to offer "spontaneous recreation" activities – places where residents can be active – whether it's sites like the skatepark for skateboarders and BMX riders or trails for walking, running and cycling or playgrounds for kids.
Council members also emphasized, though, that they don't want the skatepark to be a major burden on taxpayers.
Estimates have pegged a potential rebuild of the park at about $500,000 for construction and between $4,000 and $5,000 annually on maintenance.
City staff have indicated there could be possibilities explored for outside funding sources.
The Skate For Life Alliance has also indicated it has heard of a potential substantial contribution being offered by an anonymous donor who's been putting funding into a number of recreational facilities across the country.
City staff are scheduled to report back to council in the spring on the progress of its discussions with territorial officials.
Depending on those results, Curtis said, he'd ideally like to see if work can be done with a number of partners, including NGOs in the community, "to make something happen" this summer.
He cited the importance of having the city see to the needs of all its residents.
As the city continues moving into the new year, it's also anticipated a new city manager will be hired.
Linda Rapp, the city's director of community and recreation services, has been in the role of acting city manager since last March. That's when the previous city manager, Christine Smith, was suddenly fired by council without cause.
Council has never publicly explained why it dismissed Smith.
Curtis said he anticipates an announcement on her successor coming "very, very soon."
At the same time, he praised Rapp's work, noting she has brought significant expertise to the acting position.
With council's first meeting of the new year set for this evening, Curtis said he is looking forward to the coming months and the "good things" set to happen in the city in 2018.
He confirmed in 2017 that he will be seeking a third three-year term as mayor in October.
Add your comments or reply via Twitter @whitehorsestar
In order to encourage thoughtful and responsible discussion, website comments will not be visible until a moderator approves them. Please add comments judiciously and refrain from maligning any individual or institution. Read about our user comment and privacy policies.
Your name and email address are required before your comment is posted. Otherwise, your comment will not be posted.