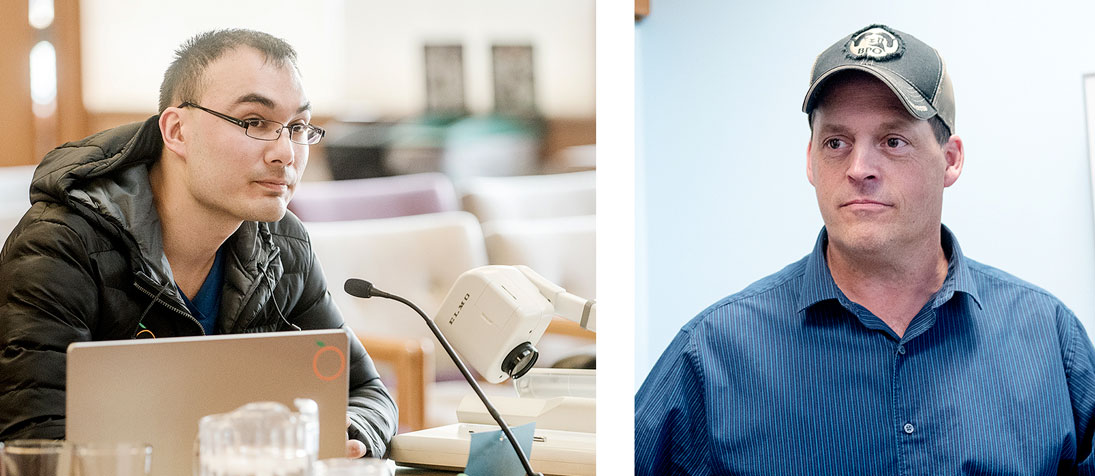 Photo by Whitehorse Star
Martin Lehner and Stacey Hassard
Consultation extended on recycling charges
Industry concerns have prompted the Yukon government to extend consultation on updates to the Designated Materials Regulation (DMR).
Industry concerns have prompted the Yukon government to extend consultation on updates to the Designated Materials Regulation (DMR).
The regulation will see residents and businesses in the territory paying new and higher surcharges up-front for electronics, electrical products and tires.
"We're very pleased," Rick Karp, the president of the Whitehorse Chamber of Commerce, told the Star this morning.
"We certainly hope that the new government follows through with some significant consultations with the different sectors involved."
Karp is one of many Yukon business leaders and proprietors who have spoken out in recent days about a lack of consultation on the new regulations.
"This Liberal government did campaign on the slogan of Be Heard," Stacey Hassard, the Yukon Party's interim leader, told the legislative assembly Tuesday.
"We certainly have heard from representatives of the local tech industry who say they were not heard on these regulations. We have heard from representatives of local tire shops, saying they were not heard."
The DMR will help pay for the recycling and waste management of tires, electronic devices, and electrical products like toasters and irons.
The updates were introduced, then stayed in 2016 in response to industry concerns under the Yukon Party government.
Liberal Community Services Minister John Streicker announced last May that the updated surcharges were to come into effect in February 2018.
This date will now be pushed back, he confirmed to the Star yesterday, but to when, he doesn't yet know. It will depend on the length of the consultation period, which the cabinet will decide later this week.
It will be long enough, Streicker said, to ensure "that the industry can share their thoughts and concerns with us."
The rationale for the extended consultation is threefold, according to the minister.
The government is seeking to give every stakeholder more time to be heard, to give local businesses more time to implement the necessary infrastructure to charge the point-of-sale surcharge, and to clarify the facts of the DMR updates.
"I just want to make sure that everybody's on the same page, and I want to make sure that we're hearing from them," said Streicker.
Certainly, local proprietors are calling both for government to listen to industry, and to provide clarity on some pressing questions.
Rick Copes, the manager at Kal Tire in Whitehorse, is questioning how the government came up with its classification system for the three tiers of tire surcharge.
Yukoners will pay $7, $15 or $50, depending on their tire's rim diameter – a flawed system, according to Copes.
"I have a feeling it's people making decisions without actually knowing what they're talking about," he said.
A high-end pickup truck and a mining truck tire could have the same rim diameter, but a weight difference of nearly 1,000 pounds and therefore a different recycling cost, he noted.
"They've done their research, and they're ready to sit down and have a talk," Karp said of local businesses that will be affected by the DMR update.
The Liberal government has consulted with the tire industry on the new regulations since taking power, but not the electronics industry, Streicker said. The latter did not request further consultation than what was done under the previous government, he added.
Streicker was asked why the tire industry consultation isn't posted on the government's new public engagements website.
Announced by Premier Sandy Silver late last month, it lists past and ongoing 2017 government consultations like that on cannabis legalization and the Societies Act and regulations. Streicker said he would have to look into the tire industry consultation question.
The Department of Community Services has yet to answer the same question, posed by the Star Tuesday.
The government has not decided what form the extended DMR consultation will take, but Streicker said anyone with something to say about the subject is welcome to participate.
As far as what elements of the regulations are open to revision? "The kitchen sink," Streicker said.
"We're open to whatever those questions and concerns are. But ... there has been a lot of back and forth about what would work and what wouldn't work ... I think a lot of thought has gone into it already."
Hassard told the Star this morning that while the Yukon Party is awaiting further details about the consultation extension, "We're certainly happy to see that the government is listening not only to ourselves but to industry as well and hopefully going back to the drawing board and getting it right.
"I think that industry certainly has some good ideas that the government could incorporate into these regulations, so I think it's important that they sit down and listen."
Add your comments or reply via Twitter @whitehorsestar
In order to encourage thoughtful and responsible discussion, website comments will not be visible until a moderator approves them. Please add comments judiciously and refrain from maligning any individual or institution. Read about our user comment and privacy policies.
Your name and email address are required before your comment is posted. Otherwise, your comment will not be posted.