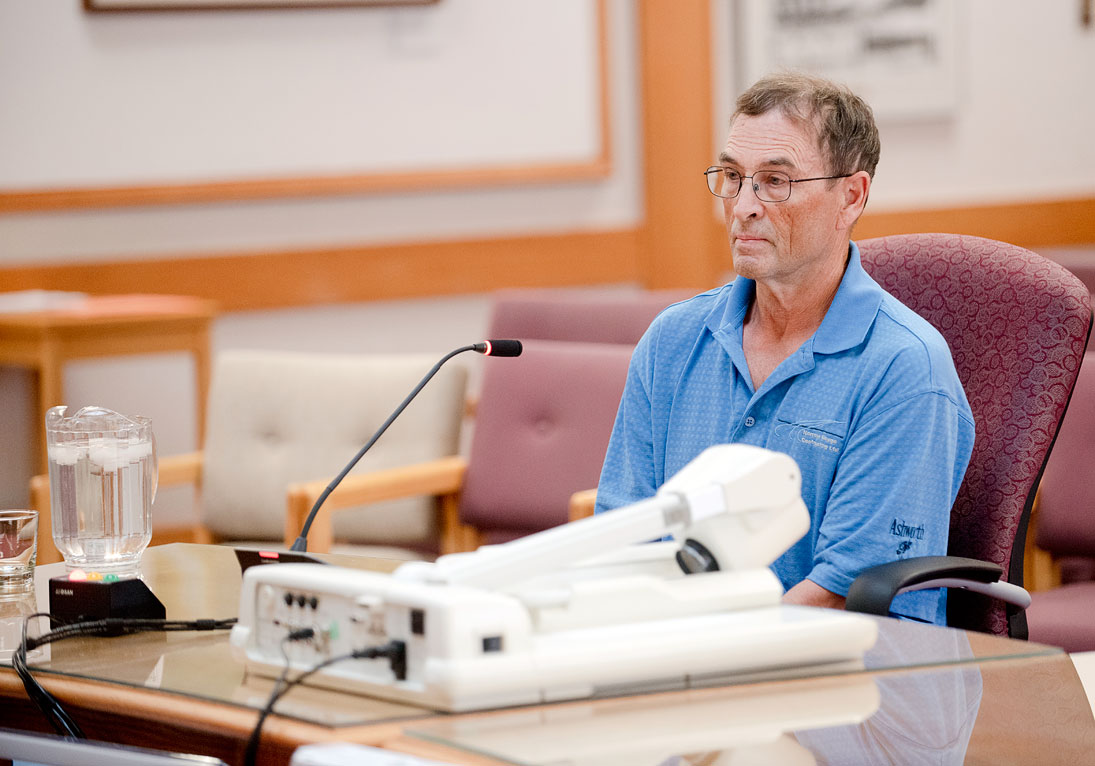 Photo by Whitehorse Star
Doug Gilday
Company withdraws bid to have lane closed
NGC Builders has withdrawn its application to close a portion of a back alley for a year to accommodate its construction of a six-storey condominium complex.
NGC Builders has withdrawn its application to close a portion of a back alley for a year to accommodate its construction of a six-storey condominium complex.
Company president Doug Gilday appeared before city council Monday to withdraw the request and explain the project going up at the corner of Third Avenue and Hawkins Street.
The proposed closure raised the concern of some area residents and businesses. They were afraid it would have a negative impact on regular freight deliveries and other heavy truck traffic that would not have an exit onto Third.
Instead, they'd be forced to back out of the laneway into consistently heavy traffic on Second Avenue.
Council heard from staff that closures of the lane between Hanson and Hawkins streets will still be required periodically, but will be co-ordinated with residents and businesses.
"Administration directed the builder to investigate measures to mitigate the issues raised by citizens," reads the administrative report to council.
"The builder took those issues into consideration and worked with the Yukon government's occupational health and safety branch, which has now authorized the builder to proceed without requiring a full lane closure. A driving width of three metres will remain open, sufficiently wide to address the access and safety concerns that were raised."
NGC had requested the closure to accommodate the placement of a crane or lifts, and the laydown of building materials.
Gilday said his company's modern building standards of today require substantial work on the exterior walls, necessitating prolonged access.
It's not a matter of simple 2 x 4 construction, but multiple layers they're dealing with, he said. The high-density condo complex will be here for 100 years, he added.
Requesting the lane closure, as the company has done in the past, was not about the profit margin, Gilday told council.
Those who raised concerns publicly have all indicated to the Star they've met with Gilday and are comfortable that NGC has addressed their issues.
Larissa Shipman, co-owner of The Deli, said in an interview this morning it was never their intention to disrupt the project.
"I am glad they are going to make those compromises and do the best for everybody," she said.
Local resident Peter Long appeared before council Monday to describe how the condo project got going. A group of friends nearing or in their retirement years wanted a home in south downtown, so they approached Gilday about the project.
Long said having the 20-unit condo complex there fulfills the city's objective of increasing density and creating more vibrancy for the area with a wave of new residents.
"We are hoping we are just making the city better," Long told council.
Add your comments or reply via Twitter @whitehorsestar
In order to encourage thoughtful and responsible discussion, website comments will not be visible until a moderator approves them. Please add comments judiciously and refrain from maligning any individual or institution. Read about our user comment and privacy policies.
Your name and email address are required before your comment is posted. Otherwise, your comment will not be posted.