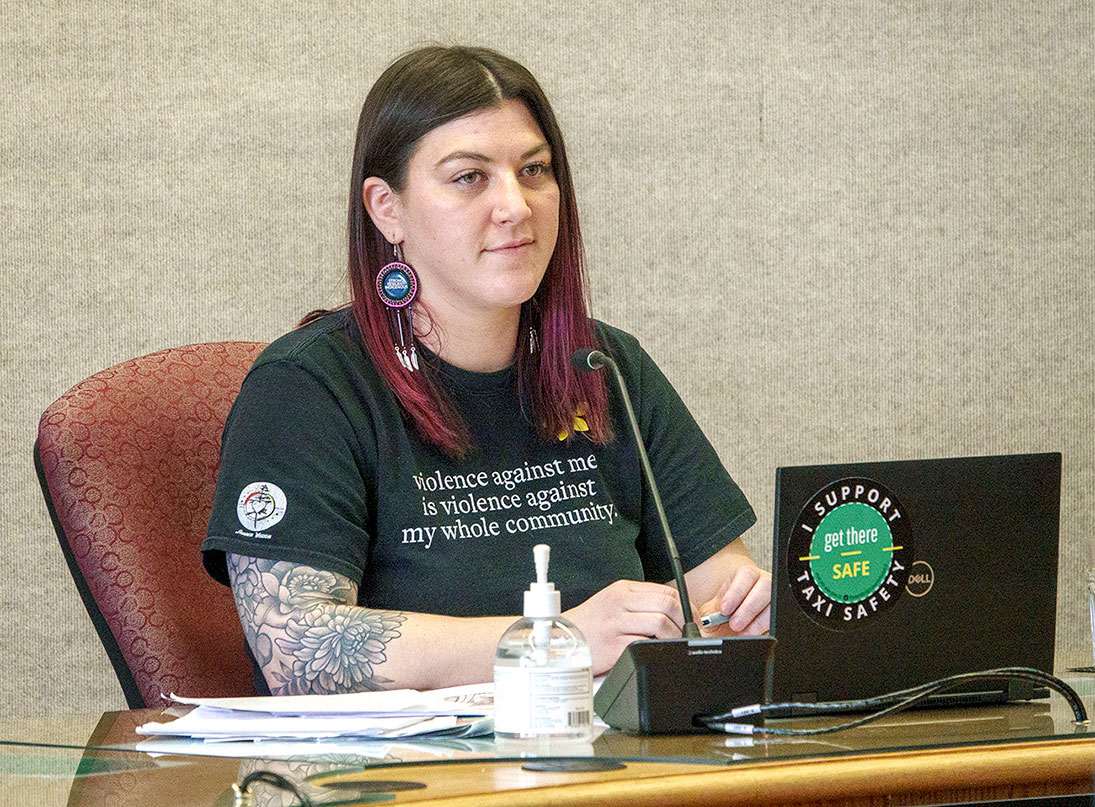 Photo by Whitehorse Star
CityCouncillor Michelle Friesen
Colonialism and racism continue, lawmaker says
The negative effects of Indian residential schools, of colonialism, are still being felt today, says city councillor Michelle Friesen.
The negative effects of Indian residential schools, of colonialism, are still being felt today, says city councillor Michelle Friesen.
She addressed city council at its meeting Monday regarding the history of residential schools and colonialism, and the long-lasting hurt they have caused.
Talking about residential schools is a difficult conversation for many, said Friesen, who went on to first of all provide contact information for organizations that provide support to those who need it.
Locally, she said, people can reach out for outreach and counselling services to the Committee for Abuse in Residential Schools (CAIRS) at 667-2247.
Nationally, the residential school survivors society can be reached at 1-800-721-0066, she pointed out.
"We are still separating Indigenous families," she told council.
"More than 50 per cent of all children in foster care are Indigenous despite the fact that they make up less than eight per cent of the population in Canada.
"Because of this continued colonialism, racism and discrimination, we know that our women are more likely to be murdered, we are over represented in the justice system, we do not receive fair or compassionate care in the health system, we are disproportionately affected by the opioid crisis, homelessness, poverty, and basic needs like clean drinking water continue to be unmet."
Friesen said every single Indigenous person you know feels the effects of residential schools.
The last residential school in the country didn't close until 1996, when Friesen said she would have been five years old, or the same age as many of the more than 150,000 children who were forcibly removed from their homes, their families and their culture.
She said there were six residential schools that operated in the Yukon.
There were also residential schools at Shingle Point on the Beaufort Sea coast and in Lower Post, B.C. that housed Yukon First Nation students.
Some of those schools are considered to be some of the most abusive in the country, she note.
Friesen said it's no coincidence that those communities have experienced some of the highest numbers of opioid deaths in recent years and experience higher rates of violence.
There is, she told council, difficult and important work happening right now by the Chootla Working Group researching and preparing for ground searches at locations in the Yukon.
"I want to acknowledge the strength and courage of all those involved in working to uncover what took place at residential schools not only here but across the country," she said.
Friesen noted that in the spring of 2021, the bodies of 215 children were discovered in unmarked graves elsewhere in the country, shedding light on a truth Indigenous communities have known all too well.
While the the first discovery was in 2021, people knew it would not be the last, she said, pointing out there have been thousands of potentially unmarked graves discovered since then.
People need to ensure that their actions and initiatives toward reconciliation are not just performative, she said.
Friesen said wearing an orange shirt, and giving a land acknowledgement, are signals that people collectively recognize the impact of colonization and cultural genocide.
The councillor said she needs to know that those signals reflect meaningful work that supports arising initiatives like taxi safety for Indigenous women and integrity in the commitments to the Yukon's MMIWG2S+ Strategy.
The signals need to reflect the declaration of commitment to address the calls to action by the Truth and Reconciliation Commission, she said.
"If we truly want to work towards reconciliation and equality, that solidarity needs to be continuous and ongoing every day and in every decision that we make," she said.
"I don't want to leave behind the same barriers or the same conversations for my son or for our youth and the language we use and the messages we allow here matters in how we pave the way for our future generations – just the way those who came before did for us."
Add your comments or reply via Twitter @whitehorsestar
In order to encourage thoughtful and responsible discussion, website comments will not be visible until a moderator approves them. Please add comments judiciously and refrain from maligning any individual or institution. Read about our user comment and privacy policies.
Your name and email address are required before your comment is posted. Otherwise, your comment will not be posted.