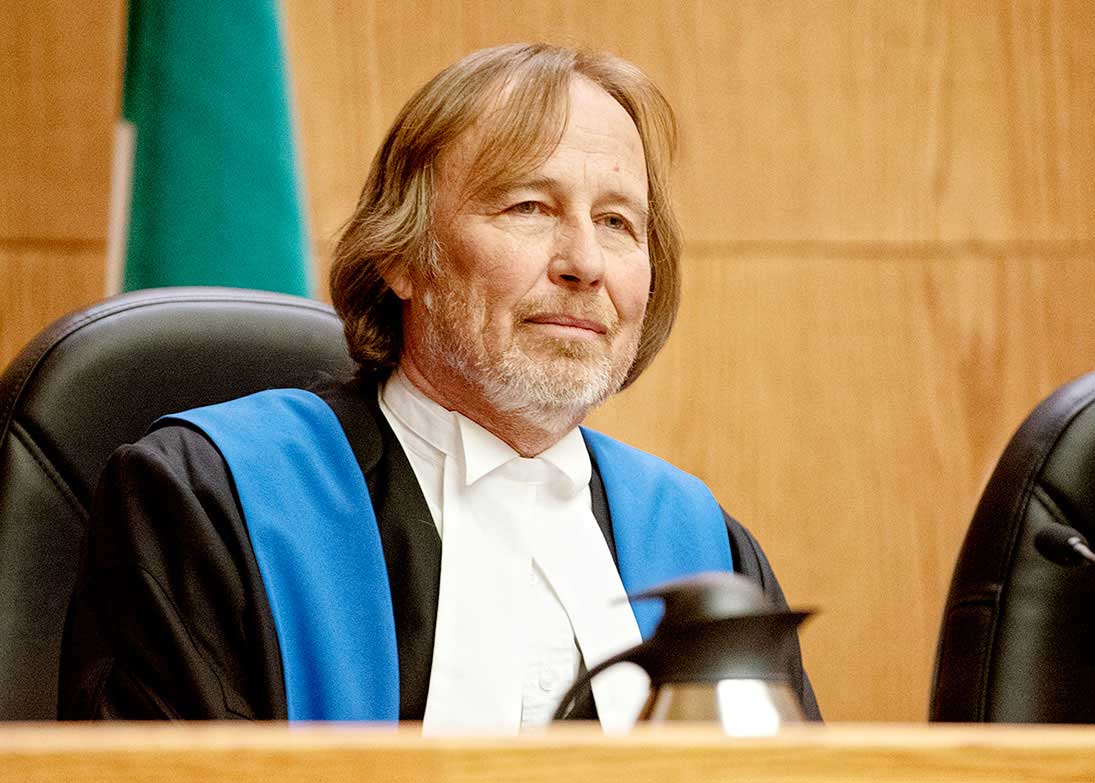 Photo by Whitehorse Star
Judge Michael Cozens
Collision victim was injured, saw car written off
A 23-year-old woman from Vulcan, Alta., was in court recently for a sentencing hearing over impaired driving causing bodily harm.
A 23-year-old woman from Vulcan, Alta., was in court recently for a sentencing hearing over impaired driving causing bodily harm.
Mackenzie Rae Marshall appeared in territorial court before Judge Michael Cozens.
Marshall was charged following a motor vehicle collision on Jan. 8, 2017 in Whitehorse. She rear-ended a vehicle at the intersection for Fourth and Second avenues at the bottom of Two Mile Hill. Both Marshall and the other driver were looking to drive up the hill.
Marshall and the other driver pulled over to the right of the road.
Crown prosecutor Leo Lane said the victim was in court for the hearing and had completed her victim impact statement but has elected to not read it.
The victim impact statement was filled out last October. Lane said he would not read it either but highlighted some of the victim's claims.
He said she had to take four days off work, her car had to be written off, she experiences soreness and is worried about driving.
Lane received Marshall's Alberta Driver's Abstract. The abstract show three charges and fines. Marshall had been issued a $335 fine for speeding in a construction zone, a $217 fine for speeding and a $105 fine for speeding.
The Crown argued that there is a well-established sentence range in the Yukon of four to 10 months in jail for impaired driving. Lane suggested a four- to five-month in-custody sentence.
He said to get a sentence under four months, Marshall would have needed to plead guilty early on.
He outlined the objectives the sentence needs to meet. The sentence needs to denunciate and deter.
He added that the courts need to send the message that they take impaired driving causing injury seriously.
Lane also sought a two-year driving prohibition. The norm would have been one year, but he felt a longer ban was needed due to her record.
Joni Ellerton, Marshall's lawyer, suggested a fine, an 18-month probation and driving prohibition.
She explained that her client was 21 at the time of the accident, and does not have a criminal record.
She grew up in Vulcan and was a productive student both academically and in sports. She did extra work to graduate early so she could go to Australia.
She left Vulcan for post-secondary studies and returned to her hometown afterwards.
When she returned to Vulcan, she was in a relationship with a partner who would frequently abuse her. Ellerton did not give any details of the abuse but said it was a difficult time.
Marshall felt she had to get out of Vulcan and she came to Whitehorse, where her situation did not overly improve.
Ellerton said her client did not have an extensive history with alcohol in school, but she began abusing alcohol once she moved to Whitehorse.
She did not have family members near her to lend support.
The lawyer argued that impaired driving was not Marshall's normal behaviour.
"It was out of character for her," Ellerton said.
Marshall was diagnosed with anxiety and depression, and is taking medication. She has since moved back to Vulcan, has a job at a daycare and is pregnant.
Ellerton went over some aggravating factors. She said her client was found driving with a high blood alcohol reading.
The accident injured the driver of the other vehicle, but Ellerton said the injuries were low on the severity spectrum.
She felt the lack of a guilty plea is not an aggregating factor.
She next listed mitigating factors. She pointed to her client's lack of a criminal record.
She said she has stopped drinking, has a job, has co-operated with police and even helped the victim after the accident.
Ellerton said the accident happened quickly. Marshall saw she had a green light, looked out her passenger window, then crashed into the back of the victim's car.
"Things can happen quickly," she said.
She said that Marshall lives at least 70 km away from the nearest hospital, and could lose her job. She argued that a lost licence would hit her harder than someone in the city who has access to public transportation.
She told Cozens that were was no mandatory minimum and he could impose a lighter sentence than the Crown is seeking.
Cozens was skeptical, saying he has tried to, and the Court of Appeal has disagreed with him.
"I am trying to figure out how we can get around that here," Cozen said.
Ellerton said she read some of his decisions that were overturned and felt the circumstances did not match Marshall's case.
Cozens explained that regardless of the circumstances, in this case, there was an individual who had a high blood alcohol reading driving out in public.
Ellerton did not budge. She felt none of the court decisions set a mandatory minimum for impaired driving causing bodily harm. Her suggested sentence would have support in other parts of the country, she added.
Cozens said this is a difficult case, and he would not be able to make a decision that day.
He reserved his decision to give fair consideration to all options. He warned that he may not be able to reach a decision until sometime in the fall.
He was not sure if that would cause undue hardship to Marshall, but this is how it would go. He was willing to look into options to have her appear over video, but said she may have to attend in person.
Add your comments or reply via Twitter @whitehorsestar
In order to encourage thoughtful and responsible discussion, website comments will not be visible until a moderator approves them. Please add comments judiciously and refrain from maligning any individual or institution. Read about our user comment and privacy policies.
Your name and email address are required before your comment is posted. Otherwise, your comment will not be posted.