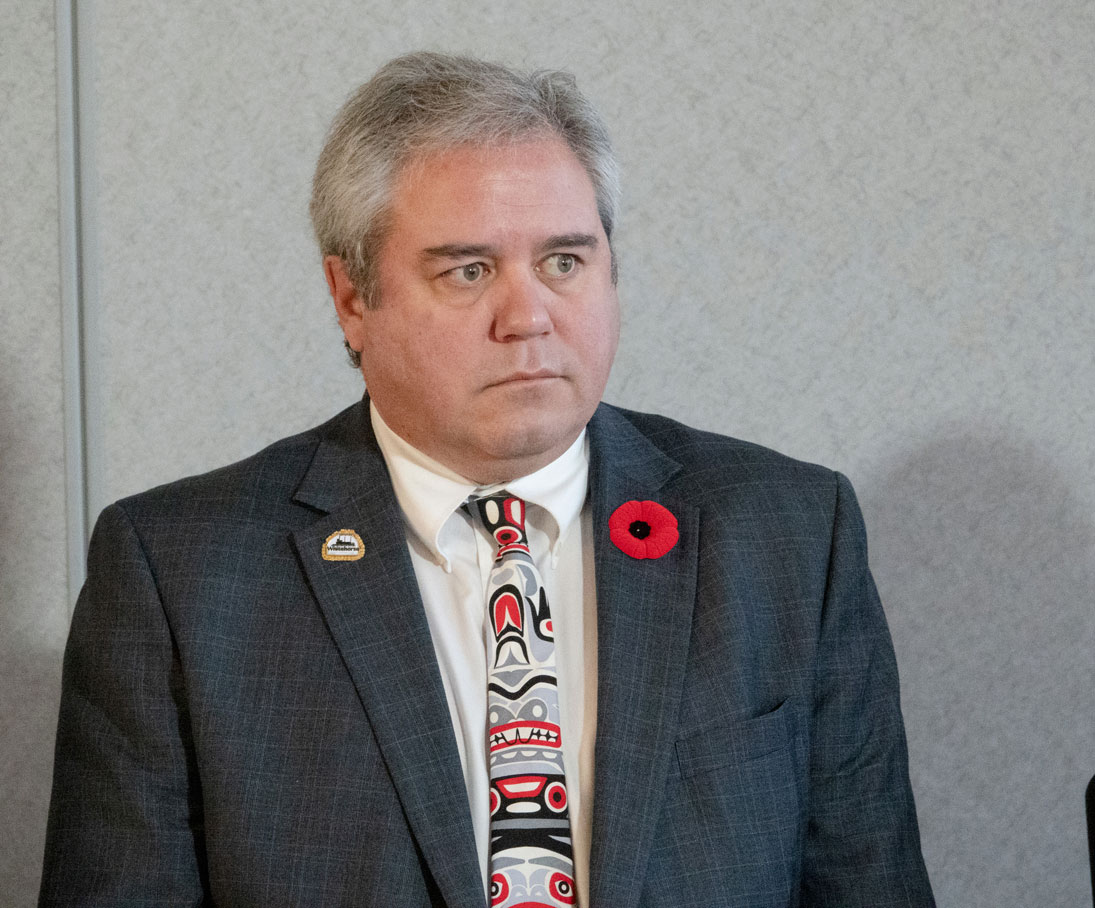 Photo by Whitehorse Star
Mayor Dan Curtis
City council approves Centennial Street complex
A new three-storey apartment building for Centennial Street in Porter Creek was approved by city council Tuesday night, but not unanimously.
A new three-storey apartment building for Centennial Street in Porter Creek was approved by city council Tuesday night, but not unanimously.
The required rezoning of lot 1306 from single-family to multi-family raised the ire of some local residents and had council divided on just how far to push its desire to see increased housing density in the city.
After another lengthy exchange among the elected representatives, the zoning amendment was approved, with councillors Samson Hartland and Dan Boyd voting against the proposal.
Developer Scott Darling sat through last night's proceedings.
In an interview afterwards, Darling said he'll be concentrating on final design of the project with expectations of beginning construction next year.
With frost already in the ground, it's just not possible to do anything further this year, he said.
Darling said he recognized there was some opposition but he also did a little canvassing in the neighbourhood and found that it was not all one-sided.
The neighbours on both sides of him, and the Elm Street resident directly behind him, were in support of the project, he said.
Darling said he recognizes the city is in need of housing, and what he wants to bring to the neighbourhood is a project that fits in, not something to build quickly and then flip.
The project involves a three-storey apartment building with eight units attached to a two-storey, garage-style building that has already been built. The garage and storage area will have one living unit and will house some of the mechanical requirements for the main building.
When asked by council earlier this fall about going ahead with the garage before the rezoning was approved, Darling said if he didn't get approval, he would simply subdivide the lot. The garage structure, he emphasized, was fully permitted.
In approving the rezoning, council attached a requirement that the building be no higher than 13 metres, or two metres shy of what is allowed for in a multi-family zone. They also capped the number of housing units at nine, or two fewer than the maximum density that would have otherwise been allowed.
Darling noted he never proposed anything higher than 13 metres. And while he was originally looking for 10 units – nine in the apartment building and one in the garage – he can live with council's decision.
Concerns expressed by members of council last night and previously focused on changing the single-family flavour of the neighbourhood overnight.
There were concerns about increased traffic on an already-busy Centennial Street. The impact on neighbours who would lose privacy and sunlight by having a building of that height overlooking their yards was a concern raised.
Coun. Hartland reiterated last night he supports densification of the city's neighbourhood to meet the city's housing challenge.
But nine new units in one shot on one lot in a largely single-family neighbourhood was not something he could accept, he said.
Hartland said he would be agreeable to a six-unit development with a 10-metre height restriction like the townhouse development a couple of doors down on the corner of Centennial and 12th Avenue.
Boyd also suggested the jump in density was just too much for him to support, suggesting it was going too far, too fast.
Coun. Steve Roddick, on the other hand, noted the lot on Centennial was a perfect fit for a multi-residential development, and was an opportunity for council to achieve densification under near ideal circumstances.
The location is short walk to a grocery store, to a school, a bus stop, he pointed out.
He said if council's concern was that it was going too far too fast, his was hoping not to find themselves in a situation where they've done too little, too late.
Mayor Dan Curtis told council he grew up on Centennial Street and has seen many changes.
The Super A was an old tire shop when he was a kid, he said.
Curtis said for him, increasing housing opportunities is the most fundamental need the city has.
Add your comments or reply via Twitter @whitehorsestar
In order to encourage thoughtful and responsible discussion, website comments will not be visible until a moderator approves them. Please add comments judiciously and refrain from maligning any individual or institution. Read about our user comment and privacy policies.
Your name and email address are required before your comment is posted. Otherwise, your comment will not be posted.