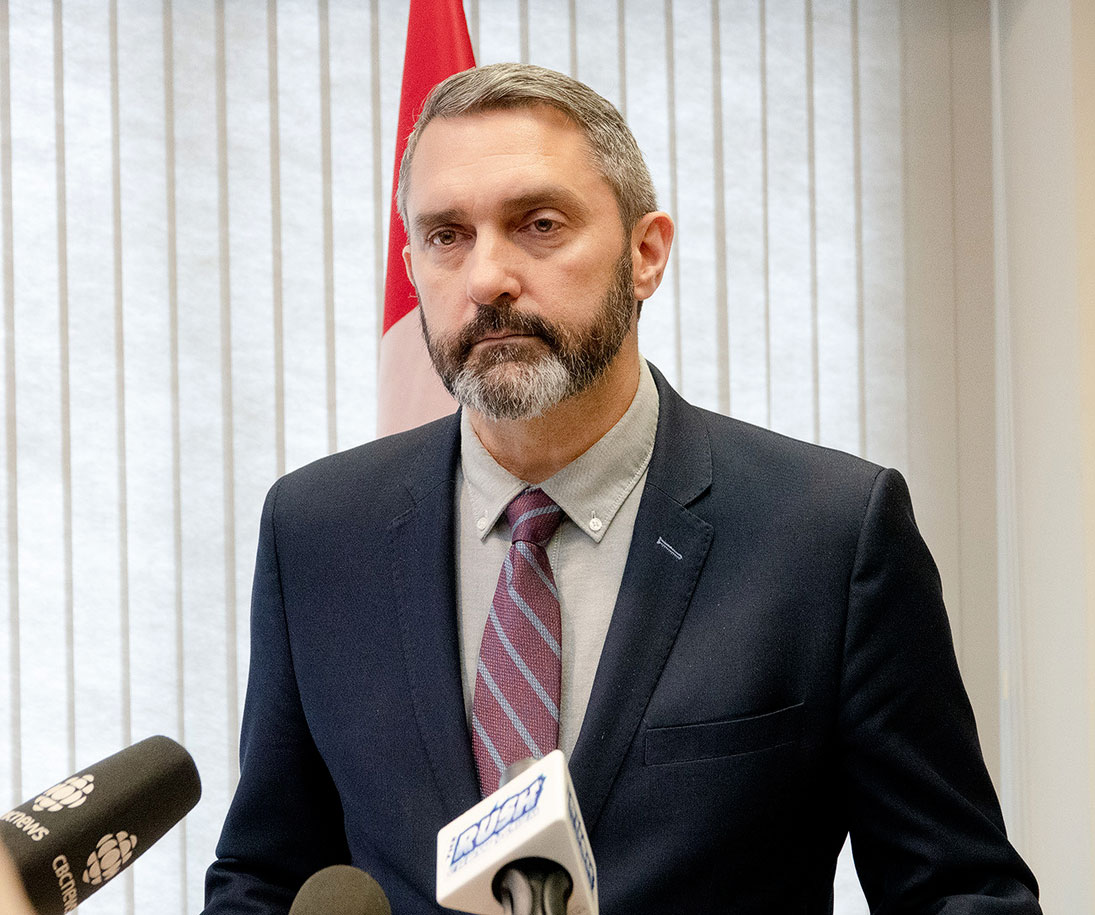 Photo by Whitehorse Star
Premier and Finance Minister Sandy Silver
CIBC to handle YG, community services
The Yukon government will shift banking services in 10 communities from the TD Bank to the CIBC starting in late September.
The Yukon government will shift banking services in 10 communities from the TD Bank to the CIBC starting in late September.
The new banking service contract with CIBC will ensure continued banking services in communities around the territory that would otherwise not be served by commercial services, the government said Tuesday.
It said it's working with both banks to ensure there will be minimal disruptions of service in communities.
The change will occur throughout communities between Sept. 28 and Oct. 15.
Many community users will not need to change accounts nor institutions, as many services can be provided regardless of the institution. Business and government entities can expect the same level and type of service that currently exists.
"Banking services are essential to community residents, First Nation and municipal governments, local businesses and tourists," said Premier and Finance Minister Sandy Silver.
"Having reliable and convenient access to banking services ensures Yukoners in communities can take care of personal financial matters and be part of the economic growth of the territory."
"CIBC is pleased to be appointed to serve these Yukon communities," said Chris Giulekas, CIBC's northern Canada region head.
"Since opening our first branch in Dawson City in 1898, we have been proud of our deep relationship with the people in Yukon.
"Today marks a new chapter in our history with the area. We look forward to providing banking services to First Nations governments and local governments, businesses, community organizations and citizens.​"
The communities affected and their expected date of transition to new provider will be:
• Beaver Creek on Sept. 29;
• Burwash Landing on Sept. 28;
• Carmacks on Oct. 1;
• Faro on Oct. 7, ;
• Haines Junction on Oct. 2;
• Mayo on Oct. 6;
• Pelly Crossing on Oct. 1;
• Ross River on Oct. 8;
• Teslin on Oct. 9; and
• Old Crow on Oct. 15.
Minimizing disruption to communities and individuals is one of the main focal points for the transition, the government said.
"The look and feel of the services may be different, but the same services, location, days and hours open will remain the same," it said.
"The changes will be staggered across the communities and will be communicated in advance to affected communities."
The CIBC currently operates full-service banking centres in Whitehorse, Dawson City and Watson Lake.
It will work to ensure "a seamless experience," Giulekas said.
"We recognize the necessity of uninterrupted service and will ensure a smooth transition for all community members," he said.
Globally, the CIBC – which has handled Yukon government services in the past – has 10 million personal banking, business, public sector and institutional clients.
Add your comments or reply via Twitter @whitehorsestar
In order to encourage thoughtful and responsible discussion, website comments will not be visible until a moderator approves them. Please add comments judiciously and refrain from maligning any individual or institution. Read about our user comment and privacy policies.
Your name and email address are required before your comment is posted. Otherwise, your comment will not be posted.