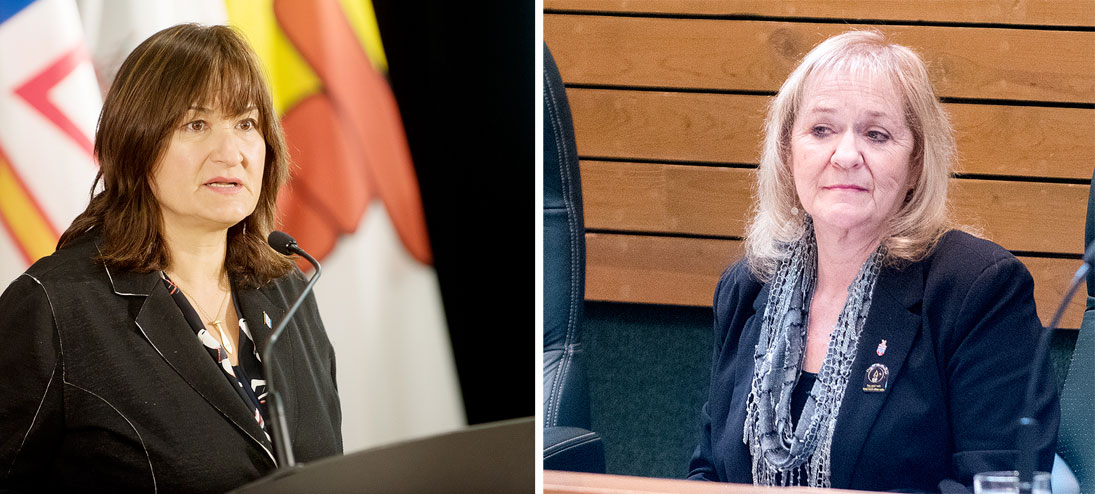 Photo by Whitehorse Star
Patti McLeod and Pauline Frost
Child care deal called 'a great first step'
The Yukon and federal governments have signed a bilateral agreement on early learning and child care that will see more than $7 million flow into the territory.
The Yukon and federal governments have signed a bilateral agreement on early learning and child care that will see more than $7 million flow into the territory.
The agreement allocates $3.2 million over three years to fund an increase to the Direct Operating Grant available to Whitehorse child care programs by 14.5 per cent, and rural programs by 34.5 per cent.
The Department of Health and Social Services administers the grant to licensed day cares and family day homes.
Recipient amounts are dictated by such factors as the ages and number of children enrolled in a care program, staff and operator training levels and whether hot meals are offered.
It's been 10 years since the Direct Operating Grant was last enriched. The new increases will be effective retroactively to April 1, 2017.
"We've heard from many of the organizations that rely on this funding to operate licensed child care facilities. This is long overdue," Health and Social Services Minister Pauline Frost said at a press conference in Ottawa this morning.
The $3.2 million will help early learning and child care programs provide more infant spaces, according to a Yukon government press release, as well as encourage new programs to open and fill child care gaps.
"It is anticipated that parents' fees will stabilize, and rural programs will receive additional funding" as a result of the Direct Operating Grant increase, Frost noted.
The Yukon Party raised the situation of a particular rural community, immediately after the funding agreement was announced.
The only licensed day care in Watson Lake has been shuttered for 93 days, after it was forced to close its doors in November 2017 because it couldn't pay wages high enough to retain staff.
In a press release today, the official Opposition called on Frost to explain "how and when" the bilateral child care agreement with Ottawa will "support Watson Lake parents."
Frost suggested in the legislative assembly last fall that anticipated federal funding could go toward helping the Watson Lake day care reopen.
Patti McLeod , the Yukon Party MLA for Watson Lake, told the Star this morning that a higher Direct Operating Grant could help achieve this goal, if funding is allowed to go toward augmenting employee wages.
As far as McLeod is aware, the minister has yet to meet with the daycare to talk about this and other potential solutions since last year's closure.
Frost was unavailable for an interview before this afternoon's press deadline.
According to a Yukon government press release, the Direct Operating Grant boost is intended to reflect cost of living increases.
"This is a great first step," Kate White, the NDP's Health and Social services critic, told the Star this morning. "But I think one of the critical things is, we can't wait another 10 years before it increases."
White wants to see the grant automatically adjusted each year to match inflation, allowing for "appropriate and predictable funding" to child care operators.
She also said she looks forward to hearing that Watson Lake's day care will be able to reopen.
The remainder of the bilateral agreement funding will go toward a number of priorities, including:
• a new culturally-appropriate curriculum for early learning and child care centres;
• bursaries and support for the education and training of early childhood educators;
• additional subsidies for grandparents providing primary child care;
• funding for First Nations governments to assess early learning and child care needs of citizens, and apply for additional funding;
• five additional child care spaces for children with special needs, and nine flexible child care spaces for children with parents battling addiction; and
• a feasibility study for francophone early learning and child care needs in the territory.
The bilateral agreement was informed by an engagement with Yukon First Nation governments and territorial child advocacy and stakeholder organizations, Frost explained at the press conference this morning.
"We structured the engagement this way to ensure that the agreement would be signed in time to flow the funding this fiscal year," she said.
A second engagement phase will occur this spring with Yukon parents, early childhood educators, and child care operators.
Add your comments or reply via Twitter @whitehorsestar
In order to encourage thoughtful and responsible discussion, website comments will not be visible until a moderator approves them. Please add comments judiciously and refrain from maligning any individual or institution. Read about our user comment and privacy policies.
Your name and email address are required before your comment is posted. Otherwise, your comment will not be posted.