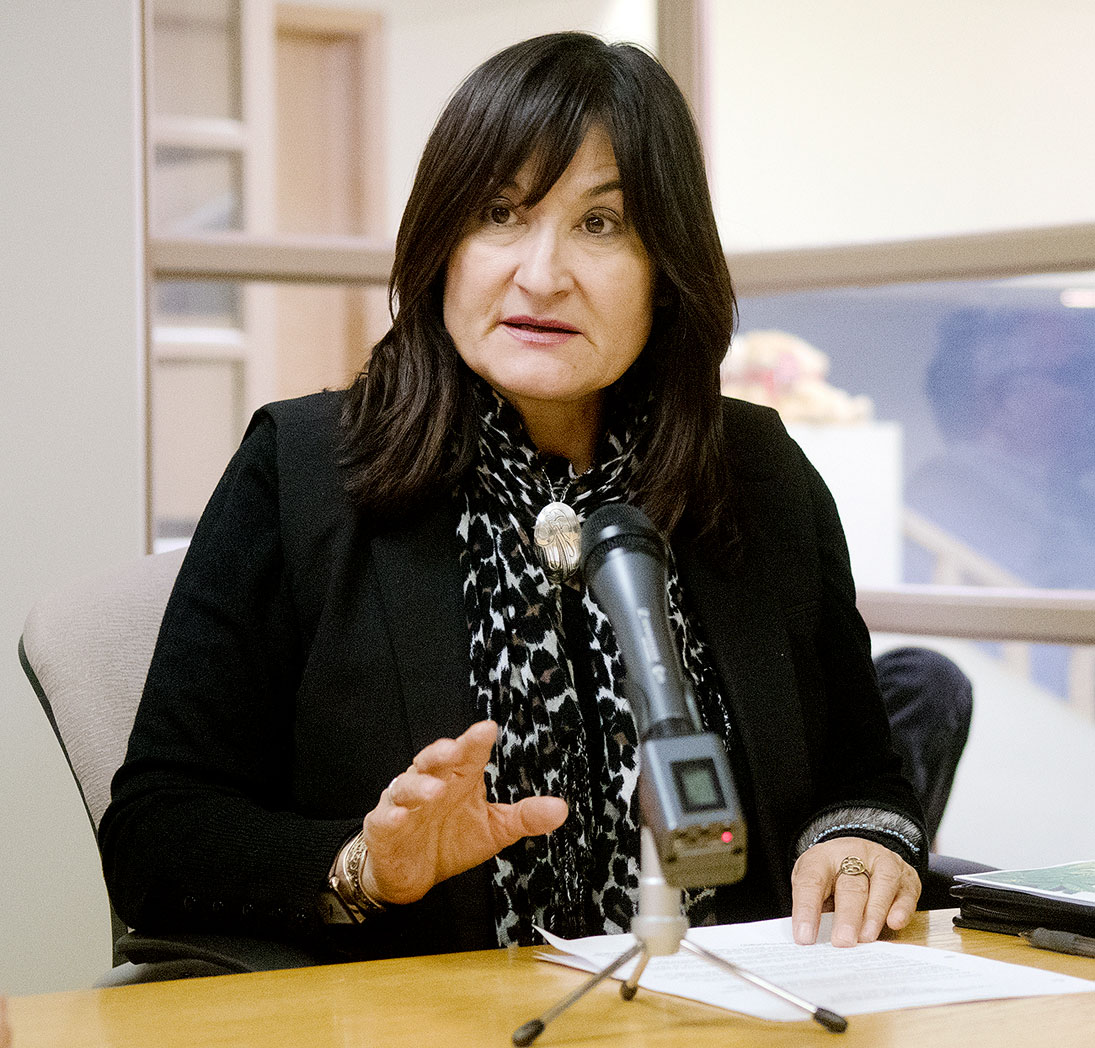 Child and Family Services Act is scheduled for review
With the national proportion of Indigenous children in care having reached crisis-level, the Yukon government is "ready for action," according to Health and Social Services Minister Pauline Frost.
With the national proportion of Indigenous children in care having reached crisis-level, the Yukon government is "ready for action," according to Health and Social Services Minister Pauline Frost.
That action will start with a review of the Child and Family Services Act within the next three months, the minister said in a press release Friday.
This declaration was made after Frost and a convoy of Yukon government and First Nations representatives met with the federal, provincial and territorial governments in Ottawa for an emergency meeting on Indigenous child welfare last Wednesday through Friday.
"We already know the facts," federal Indigenous Services Minister Jane Philpott said in a speech at the meeting.
But to reiterate – Indigenous children from birth to age 14 comprise more than 52 per cent of children in foster care in private homes nationwide, despite representing only 7.7 per cent of all Canadian children.
"Today is not about assigning blame," Philpott said.
"It is about acknowledging the severity and importance of the crisis and determining how each of us can be part of the solution, part of the urgent need for reform – to keep children and families together."
It's not clear what the proportion of Indigenous children in care in the Yukon is.
A spokesperson for the Department of Health and Social Services could not be reached before this afternoon's press deadline.
However, a 2016/2017 annual report by the Yukon Child and Youth Advocate Office (YCAO) states that "although YCAO provides advocacy in all Yukon government services for children and youth, the majority of issues dealt with by YCAO continue to be for First Nations children receiving services from Family and Children's Services."
In 2016-17, 78 per cent of the advocacy issues the office worked on were for First Nations children.
"Therefore, we are interested in the national move to address the over-representation of Indigenous children in the child welfare system as well as the under-representation of Indigenous service providers in government systems," the report reads.
"We observe the intergenerational impacts of residential school in the ongoing harm caused to children, both by their parents and by the systems that intervene."
Supporting Indigenous communities – such as self-governing First Nations – that want to assume jurisdiction over child welfare services was one of six points of action the federal government committed to during last week's meeting.
"Outcomes will only improve when communities regain control over the decisions affecting their children and families," Carolyn Bennett, the federal minister responsible for Crown-Indigenous Relations and Northern Affairs, stated in a press release on the meeting.
In March 2017, Indigenous and Northern Affairs Canada (INAC) conducted a consultation on reforming the Yukon's First Nation child and family services.
After engaging with First Nation organizations, communities and band councils, the review observed that despite 11 of the 14 Yukon First Nations being self- governing and thus eligible to negotiate responsibility for their own child and family services, "the Government of Canada and the Government of the Yukon have not recognized their jurisdiction and they do not have funding to implement their own child and family services and programs."
The Carcross-Tagish First Nation developed its own Family Act, for example, but "a service transfer agreement needs to be negotiated for the act to be recognized and adequately resourced," the INAC report reads.
It goes on to cite many more findings, like the need to ensure First Nation homes providing care to extended family members are funded at the same level as foster families – which the Yukon government subsequently did last November.
It also highlights the upcoming five-year review of the Child and Family Services Act as a chance for the Yukon government to change the way it approaches the care of First Nation children.
The minister responsible for the file came to the same conclusion after her trip to Ottawa.
"Within the next three months we will undertake a review of our Child and Family Services Act, which will represent a critical first step towards ensuring that every child in Yukon has an opportunity to grow and thrive in a safe, loving and supportive environment," Frost said in her statement.
"Like those who came before us, we are here today for our children tomorrow."
Frost, the Yukon Child and Youth Advocate and the Council of Yukon First Nations leadership were not available for comment today.
Add your comments or reply via Twitter @whitehorsestar
In order to encourage thoughtful and responsible discussion, website comments will not be visible until a moderator approves them. Please add comments judiciously and refrain from maligning any individual or institution. Read about our user comment and privacy policies.
Your name and email address are required before your comment is posted. Otherwise, your comment will not be posted.