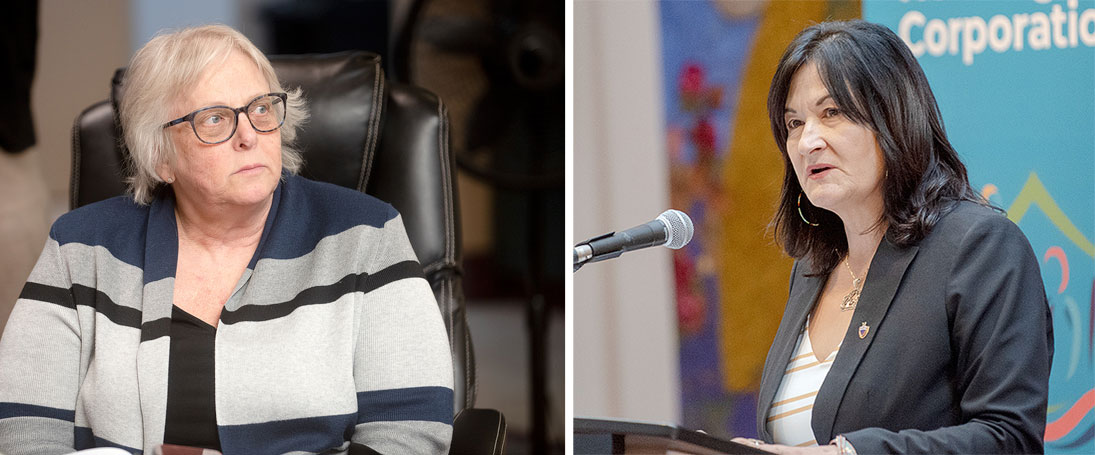 Photo by Whitehorse Star
HSS spokesperson Pat Living and HSS Minister Pauline Frost
Changes for health coming ahead of review: YG
Improvements coming down the pike and pointed to by an internal team of existing Department of Health and Social Services (HSS) workers were made public Thursday – despite YG saying it would likely do so by the end of April.
Improvements coming down the pike and pointed to by an internal team of existing Department of Health and Social Services (HSS) workers were made public Thursday – despite YG saying it would likely do so by the end of April.
Fourteen efficiencies were identified by the so-called tiger team, which was made up of internal employees whose work preceded the independent expert panel's, in the first phase of the overarching health care review.
That tiger team's work wrapped up in late-January and began after YG set parameters for the panel tasked with the overall review late last year.
That means the results of the first phase of the review (that was internal) are now being shared today, more than three months after the tiger team wrapped up its work.
As per the April 16 Star, that panel has now set its own terms of reference that detail what exactly it will be looking at.
But among the changes that HSS will be taking action on internally include those around social assistance payments, electronic drug prescriptions and communication between pharmacies and a prescriber, an online navigator to point Yukoners in the right direction when seeking help and "more flexible staffing."
A release issued Thursday provides more detail into the 14 listed improvements:
• HSS will deposit social assistance payments directly into clients' bank accounts;
• a centralized directory;
• sending prescriptions between a prescriber and the client's pharmacy of choice will be done electronically;
• spending on mobile devices HSS buys has been cut in favour of corporate mobile devices;
• staffing model changes for a clinical psychologist will see the position work across divisions to support programs and reduce YG's dependence on external contracts or medical travel
• restructure the responsibilities of some roles to make use of technology where possible and avoid paper processes;
• social assistance rules will be updated to see electronic funds transfer and direct deposit "within the next year;"
• flexible staffing models;
• align health care cards and driver's licences;
• new ways for continuing care residents to pay their fees;
• ensure all privacy impact assessments are done and reviewed in a consistent manner before leaving HSS to ensure they meet policy and legal obligations;
• policy changes to help those transitioning off social assistance by offering transitional benefits to more clients;
• speak with the Yukon Hospital Corp. about pension solvency; and
• review how HSS buys things like equipment for all divisions and the Yukon Hospital Corp. with an eye of cost savings.
"They (tiger team) said we can see these changes making a difference and the department is implementing them," HSS spokesperson Pat Living said Thursday.
"These improvements are in various stages of planning and implementation and Yukoners will hear more about them in the coming months," HSS Minister Pauline Frost added in a statement.
While these 14 look at fixes within the department, the overarching review could encompass other areas of government, meaning HSS would not be the only one responsive to the recommendations brought forward to YG from the independent expert panel.
That panel is to give draft recommendations to YG by December 2019 and final recommendations by March 2020.
Living added that some of the changes, including the health card and driver's licences , could take "a couple of years" as it requires "significant pieces of work."
Meanwhile, the department was unable to confirm exactly when the results of the NGO review will be made public.
HSS had previously told reporters in mid-April the results of the NGO review were internal and "there's nothing to be made public about that."
But that decision was shortly overturned in the house fewer than 10 days later, when the Liberals committed to making them available.
Add your comments or reply via Twitter @whitehorsestar
In order to encourage thoughtful and responsible discussion, website comments will not be visible until a moderator approves them. Please add comments judiciously and refrain from maligning any individual or institution. Read about our user comment and privacy policies.
Your name and email address are required before your comment is posted. Otherwise, your comment will not be posted.