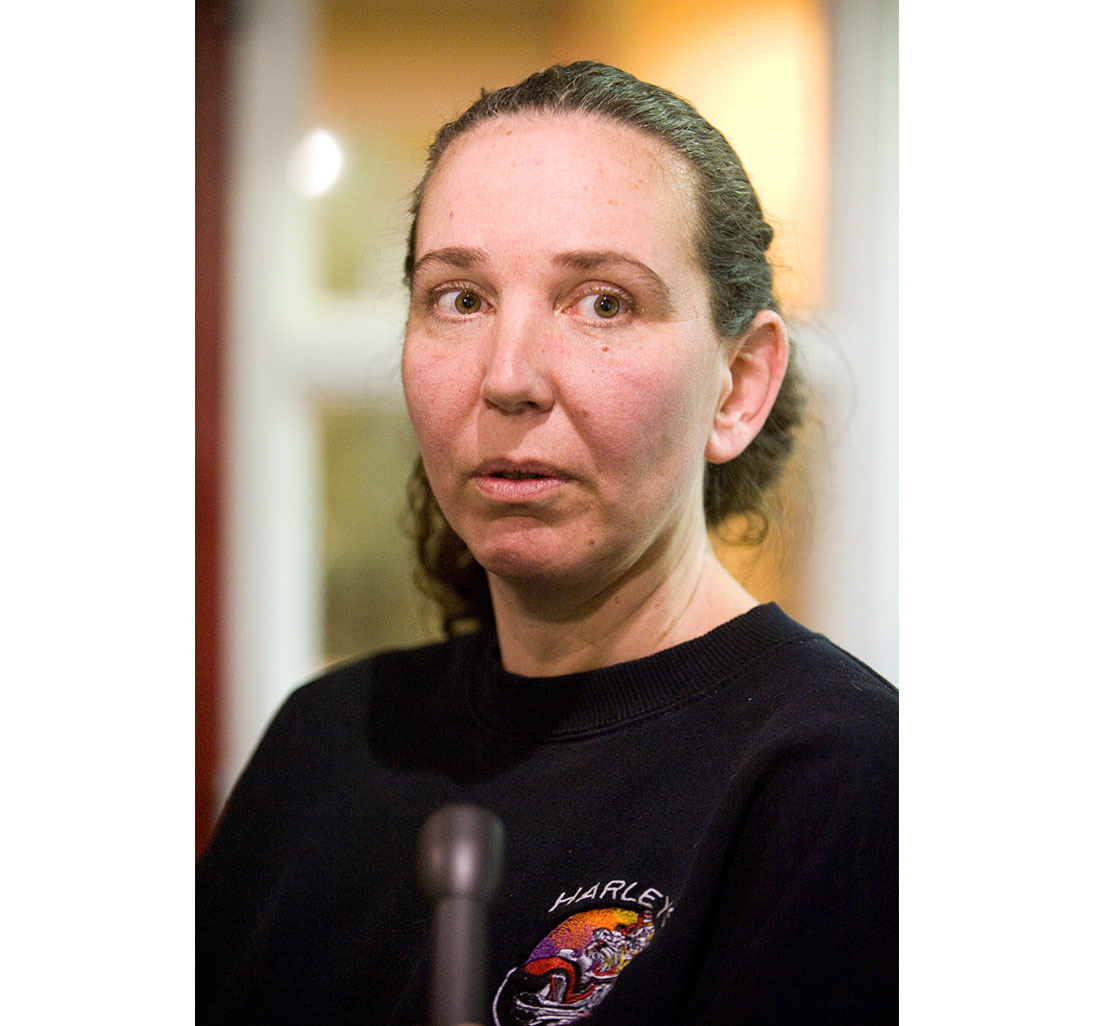 Photo by Whitehorse Star
Shelley Cuthbert
Case raises questions about dispute resolutions
A civil court case is raising questions
A civil court case is raising questions about the role of government and legislation when it comes to addressing disputes in unincorporated communities in the Yukon.
Tagish residents are awaiting a Yukon Supreme Court decision that will determine whether a dog rescue will be allowed to keep operating in the area.
The emotionally charged trial in the case concluded Sept. 22.
On one side of the dispute are six land owners in the Tagish Estates subdivision.
They claim Any Domesticated Animal Rescue and Boarding Kennels has been a nuisance since it opened in 2012, and are fed up with barking dogs and the smell of dog poop.
They filed a lawsuit against the owner of the facility in November 2016 asking the court to impose a limit of two dogs on the property.
On the other side is owner and operator Shelley Cuthbert, who feels she is being singled out and that she has done her best to mitigate neighbours' concerns.
She claims she has been harassed following negative press about her operation and has suffered damage to her property.
But the heated debate begs the question: why did the issue have to end up in court?
During trial, the residents' lawyer, Graham Lang, noted that his clients were "surprised" that they had to file a lawsuit to address their concerns. He said that's due to a "vacuum of law" in Tagish.
The unincorporated community currently does not have land-use planning, zoning nor bylaws that regulate what people can do on their properties.
The Yukon Dog Act also does not regulate the number of dogs that people can have, nor does it address the sounds and smells they make.
The section in the act on nuisance only deals with dogs howling or making noise near a hospital.
And the Yukon Noise Prevention Act also doesn't deal with disturbances caused by animals either.
"If you're having a party, the Noise Prevention Act works; if you have 200 chickens, it doesn't," Lang said.
He added that if the act was improved, it would be a more effective tool for the RCMP to address noise problems.
"The shame of it all is you sort of end up in no-win situations like out in Tagish right now," he said of the legal void. "Nobody wins in this thing; nobody's happy."
Since the rescue does not violate any Tagish nor territorial laws, Lang said, his clients' only remedy was the tort of nuisance.
He noted that even with zoning and bylaws, people can be a nuisance to their neighbours, and disputes can end up in court.
Prior to the lawsuit, some efforts were made by the Tagish local Advisory Council and NDP MLA Kevin Barr to deal with residents' concerns.
The issue was addressed at an October 2012 council meeting.
There, it was explained that dogs running at large may be seized under the Dog Act but that the rescue wasn't violating any laws.
That same year, mediation was arranged between Cuthbert and Leopold and Edeltraus Selinger.
They own a retirement property that shares a fence line with the rescue.
The Selingers were offered a privacy fence to be built from materials from a community ice rink that was being dismantled, but they declined.
During trial, Leopold testified that he didn't want to maintain a fence on his property for a problem he feels isn't his fault.
"Of course, I don't want that on my property because I don't have dogs," he said via a German translator. "Why should I have to do that?"
Cuthbert said she was never offered the fence. Prior to trial, she said, she was under the impression that the Selingers refused because it would be "unsightly".
Several residents testified they were frustrated with the response to their concerns.
"I really thought there was going to be something that could be done to at least allow us to sleep at night," Anne Middler said. Her home is one lot away from the rescue.
While local advisory councils provide advice to the minister of Community Services on matters of concern, they have no legislative authority nor real power beyond giving recommendations.
A local area plan is currently in the works for Tagish; it's an obligation under the Carcross-Tagish First Nation's self-government agreement.
According to Jerome McIntyre, the director of land planning with the Department of Energy Mines and Resources, officials are getting close to drafting a plan.
Once that is approved, zoning will be implemented.
But any prior land use like the rescue would be grandfathered, or exempt from new rules.
In 2007, during public consultations about a land use plan in Tagish, McIntyre noted, there were reservations about regulations that could restrict property rights.
"Sometimes people view the cons as 'my property rights are going to be restricted,' but the upside is everyone gives up a little of their own freedoms in order to create harmony within the community," he said.
As the population grows, he noted, there is greater potential for conflict among neighbours.
Since 2004, zoning regulations have been created in 23 areas in the Whitehorse periphery.
As for the fate of the dog rescue in Tagish, Cuthbert and her neighbours will have to wait to see what Yukon Supreme Court Justice Leigh Gower decides.
Add your comments or reply via Twitter @whitehorsestar
In order to encourage thoughtful and responsible discussion, website comments will not be visible until a moderator approves them. Please add comments judiciously and refrain from maligning any individual or institution. Read about our user comment and privacy policies.
Your name and email address are required before your comment is posted. Otherwise, your comment will not be posted.