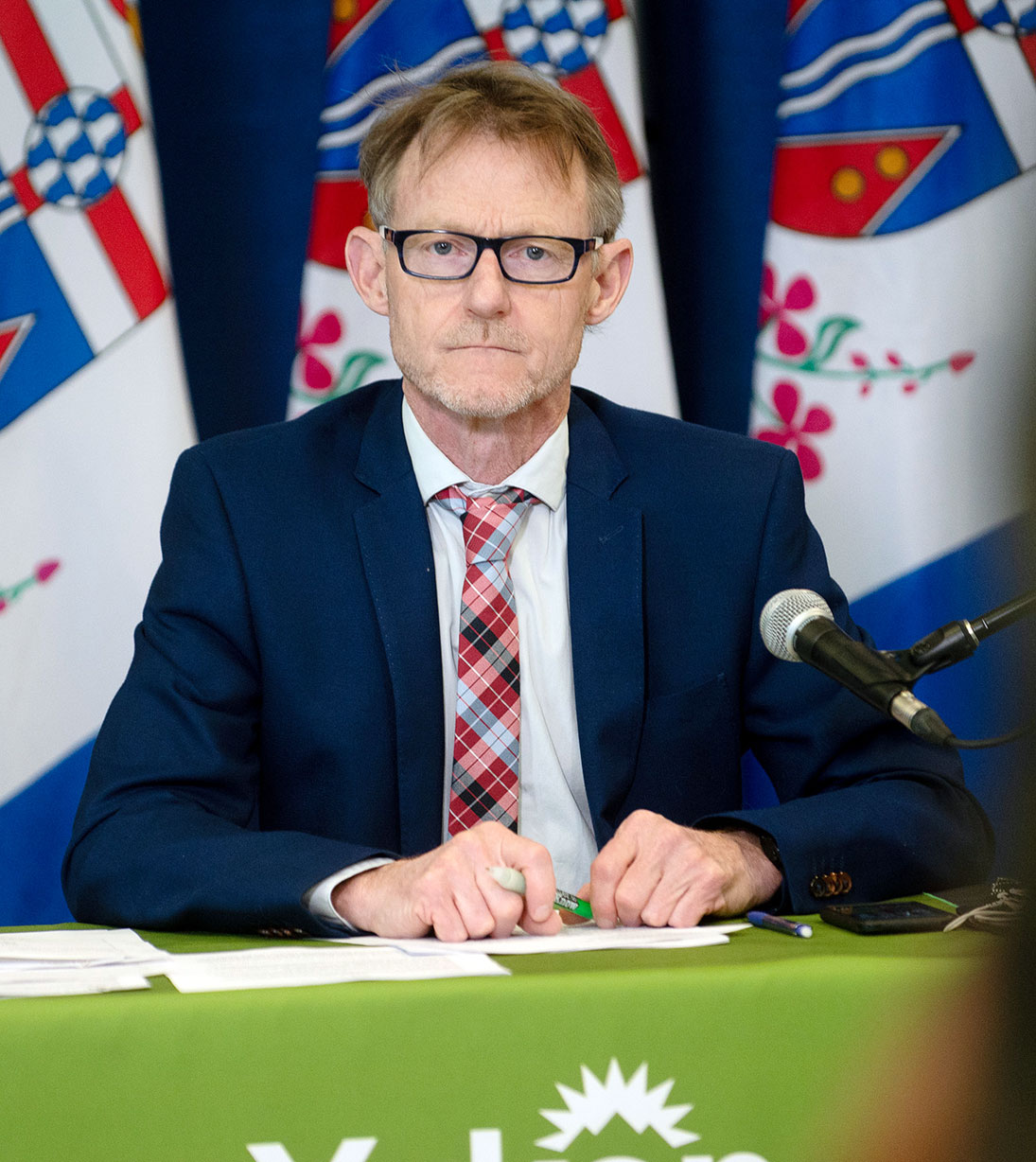 Photo by Whitehorse Star
Dr. Brendan Hanley
Case count rises; enforcement details released
Nine more cases of COVID-19 have been announced by Dr. Brendan Hanley, the Yukon's chief medical officer of health.
Nine more cases of COVID-19 have been announced by Dr. Brendan Hanley, the Yukon's chief medical officer of health.
The new numbers were made public late Thursday afternoon.
There are now 54 active cases in the territory, including one probable case and two out-of-territory cases.
While only 11 are confirmed as Gamma variant, it is presumed that all recent cases are this variant of concern.
The territory now has 145 confirmed and one probable case.
Eight of the new cases are in Whitehorse with one in a rural community.
Hanley also announced in the release specific new measures showing how enforcement of the pandemic-related health measures are to be ramped up.
That was first announced on Wednesday – but Premier Sandy Silver was unable to provide any details.
"Here is what Yukoners can expect heading into the long weekend and coming weeks," said the advisory issued late Thursday afternoon.
"The CEMA (Civil Emergency Measures Act) Investigations Unit has brought on additional staff and shifting has doubled to manage the expected increase in complaints.
"There will be an increased presence of officers and inspectors who are able to lay charges under the CEMA; focusing their efforts on ensuring restaurants and bars are following their operational plans and guidelines, and that patrons of these establishments are following the rules.
"Officers will have a presence in all Yukon communities to assist and provide follow-up to CEMA complaints that we receive from the public."
Officers will be visiting local businesses, workplaces and mine sites to ensure compliance with COVID-19 orders, the advisory said.
"These officers and inspectors come from various Government of Yukon departments to ensure that we have people on the ground educating the public, assisting with compliance, and, when necessary, bringing charges under CEMA.
"We continue to work with our partners at the RCMP in Whitehorse and communities to support CEMA enforcement officers when required."
Meanwhile, the Yukon Party criticized Silver for not releasing details of the strengthened enforcement measures during Wednesday's weekly COVID briefing.
"(Wednesday), the premier was unable to answer simple and straightforward questions at the COVID press conference," the official Opposition said.
"With the territory experiencing an outbreak, the premier announced that COVID enforcement would be increased.
"Reporters asked Premier Sandy Silver four times how enforcement would be increased and what he meant by his statement of redoubling efforts. The premier was unable to answer the questions.
"As was the case during the spring sitting, the Liberals are unable to explain or provide details about announcements they are making," the Yukon Party said.
See editorial and letter.
Add your comments or reply via Twitter @whitehorsestar
In order to encourage thoughtful and responsible discussion, website comments will not be visible until a moderator approves them. Please add comments judiciously and refrain from maligning any individual or institution. Read about our user comment and privacy policies.
Your name and email address are required before your comment is posted. Otherwise, your comment will not be posted.