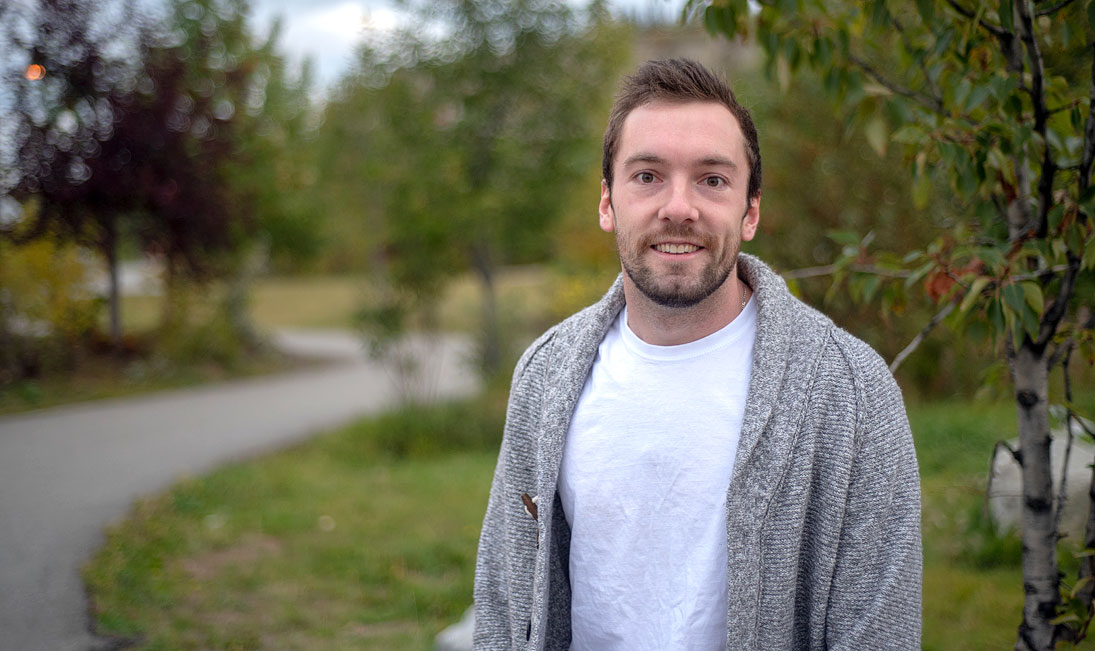 Photo by Whitehorse Star
Oshea Jephson
Candidate sets his sights on council
Two years after moving to Whitehorse, the city has become home to Oshea Jephson, who's hoping to take on the role of city councillor.
Two years after moving to Whitehorse, the city has become home to Oshea Jephson, who's hoping to take on the role of city councillor.
Jephson announced on Thursday his plans to run for council in the Oct. 18 municipal election.
"Like so many more before me, moving to Whitehorse was a call to adventure and the draw of the unknown," he said in a statement.
"This community is now a place I call home and a city I want to help shape, which is why I'm thrilled to announce my plans to run for councillor on Whitehorse city council."
Jephson has worked in communications for the Yukon government since July. He came to the territory from Vancouver in 2016 to work as a reporter for CKRW.
"As a news reporter in a smaller community, one of the highlights was being able to cover municipal politics," he said.
"I tried to boost engagement and awareness of municipal issues through the use of social media and if elected, would continue that trend."
Stating he's always looking for the best solutions and different ways to improve how things are done, Jephson stressed that candidates and politicians should not be "permanently tied to their ideas."
He went on to praise some of the current efforts underway by the city such as those outlined in the new downtown plan, "which has some exciting ideas for a downtown core with a civic plaza for arts and entertainment" as well as work to improve the transit system and plans for the Marwell neighbourhood.
Noting the relationships with local First Nations, Jephson said he would like to continue improving on those.
He went on to highlight a number of issues that could be addressed, including the rising housing prices.
"Increasing housing stock in line with neighbourhood aesthetics throughout the city would be a key priority," Jephson said.
"The 2018 'Point in Time Count' found there were 195 people who experienced homelessness in Whitehorse.
"With a focused effort, Whitehorse should aim to eliminate homelessness within five years by supporting community organizations and housing first initiatives brought forward by community partners."
He then pointed to traffic and parking as a "big stressor" for those in the downtown core, suggesting that reducing duplicate pedestrian crossings along with education efforts for both drivers and cyclists and improving access and available parking spaces is critical for a downtown that supports both business and culture.
He noted that "none of this is possible unless people turn out to vote. Municipal elections have some of the lowest voter turnout. Let's change that.
"I want the rest of the country to know that despite our small size, we have citizens who are active and engaged in our community. Let's make this year's election a national record-breaker!"
In the 2015 municipal election, a total of 6,650 ballots were cast.
While there were 18,675 names on the voters list for that election, some were unable to vote as they lived outside of city limits, with names provided to the city by Elections Canada that included voters just outside the municipal boundaries.
To cast a ballot in the municipal election, voters must have lived within the city for at least one year, be a Canadian citizen and at least 18 years old.
Eileen Melnychuck, a unsuccessful Yukon Liberal Party candidate in the 2016 territorial election, also plans to run for council.
She was unavailable for an interview either Thursday or before press time today.
Add your comments or reply via Twitter @whitehorsestar
In order to encourage thoughtful and responsible discussion, website comments will not be visible until a moderator approves them. Please add comments judiciously and refrain from maligning any individual or institution. Read about our user comment and privacy policies.
Your name and email address are required before your comment is posted. Otherwise, your comment will not be posted.