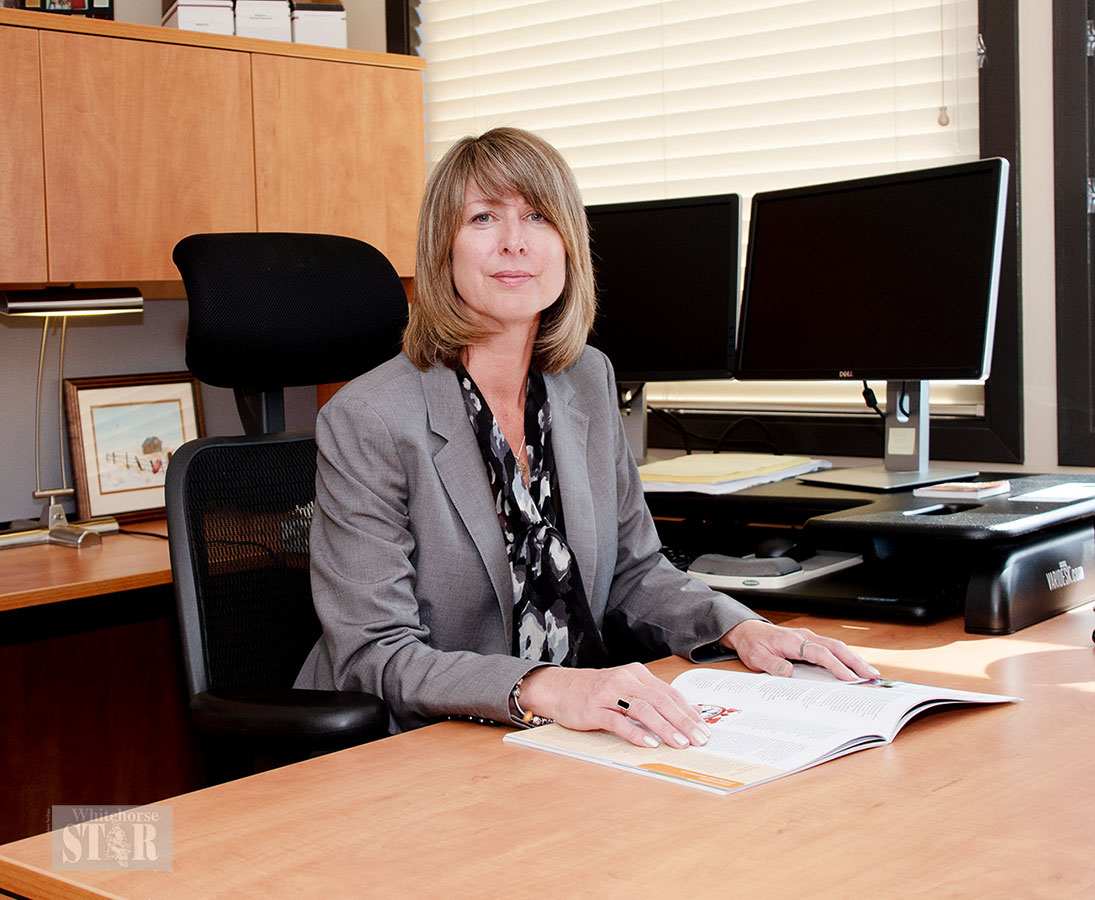 Photo by Whitehorse Star
Diane McLeod-McKay
Cameras collect 'highly sensitive' information'
An investigation by the territory's Privacy Commissioner's office finds seven Whitehorse schools are using video surveillance.
An investigation by the territory's Privacy Commissioner's office finds seven Whitehorse schools are using video surveillance.
The investigation by the former Information Privacy Commissioner says the territory's schools should stop collecting personal information through video surveillance immediately.
The Department of Education, however, has rejected that recommendation, and the three others issued in the report regarding the use of security cameras in schools. 
The investigative report was completed June 14, but only published on the Information and Privacy Commissioner's (IPC) website Wednesday.
In it, former commissioner Diane McLeod-McKay writes she started investigating the use of video surveillance technology (VST) in schools after a complaint about its use in one school was submitted to her office last February. McKay-McLeod left the office in July to take a job in Alberta.
That complaint, she writes, led her office to discover video surveillance was being used in several Yukon schools.
She said the private, sensitive nature of information collected through surveillance cameras, and the vulnerabile position of those being surveilled – namely, children from Kindergarten to Grade 12 – led her office to investigate "whether the Department has authority under the ATIPPA (Access to Information and Protection of Privacy Act) to collect, use and disclose personal information through its use of VST in Yukon schools.
 "After reviewing the Department's submissions and supporting documents, the IPC found that the Department (of Education) is not authorized to collect the personal information that it is collecting through the use of VST (video surveillance technology) in the seven schools," the report states.
Based on that finding, the former commissioner issued four recommendations – all rejected by the department:
• All collection of personal information through video surveillance must stop immediately.
• The department must securely destroy any personal information recorded from video surveillance.
• The department should then confirm video recording has stopped and information has been destroyed.
• Finally, a privacy impact assessment must be submitted to the IPC for review should the department wish to try using video surveillance again in any school. 
The seven schools the department identified for the Privacy Commissioner are all in Whitehorse – F.H. Collins Secondary, Vanier Catholic Secondary, Ghùch Tlâ Community School, Porter Creek Secondary, École Whitehorse Elementary, Centre scolaire secondaire communautaire Paul-Émile Mercier (CSSC Mercier) and École Émilie-Tremblay.
Those last two schools are operated by the commission scolaire francophone du Yukon (CSFY).
The use of cameras at these schools varies.
F.H. Collins, for instance, uses 67 cameras, indoors and outdoors; CSFY schools use only 14 cameras, all outdoors.
The department says no school cameras record audio.
In its submissions to the Information and Privacy Office, the department provided its video surveillance policy.
The reasons given for using video surveillance, the commissioner writes, are to ensure security and safety for students and staff, as well as school property.
McLeod-McKay found the department collects "highly sensitive" personal information from students, staff, parents and visitors in its video recordings.
She also found that, despite the department's video surveillance policy, which doesn't allow filming in classrooms, cameras are used in theatres, gyms and studios, where students are taught.
Further, cameras in some schools monitor the entrances of washrooms, with some catching parts of the "common area" of these bathrooms.
The amount of personal information collected is not "properly limited," according to the commissioner's report.
The department submitted to the IPC that collected information is stored from seven to 14 days, depending on the school.
That collected information, the report says, can track a student's daily activities and routines, despite absence of wrongdoing.
More sensitive information can also be inferred, such as "medical conditions, emotional state, sexual orientation, and religious affiliation," the report finds.
The report cautions that video surveillance has become pervasive in society, and should be carefully considered before being used in schools.
While constant surveillance at a low cost is "tempting," the report states, "there is little evidence that video surveillance works in any deterring capacity."
Video surveillance should only be used as a last resort, according to the report.
"Whenever possible, the goal should be to preserve the rights and freedoms of students and other citizens, including the right to be free from unwarranted surveillance in schools, and that using this technology should only be resorted to when the benefit to the school community outweighs, to a substantial degree, other competing social interests and individual rights, especially the preservation of personal privacy."
Were the department to accept the recommendations, it would need to prove that video surveillance was "necessary" to increase safety and deter threats to property and persons.
In an email this morning, department spokesperson Michael Edwards wrote that it takes student and staff privacy seriously and is working to update video surveillance technology policies, procedures and practices.
However, he confirmed the department does not accept the commissioner's recommendation to immediately stop using video surveillance in schools.
"It is the department's position that VST is an effective tool," Edwards wrote.
"Some schools have integrated it as part of their overall approach to enhancing student and staff safety. Therefore, use of VST will not cease while our work is underway.
 "VST systems support safer schools and protect our students and staff. They serve as a deterrent to acts of vandalism and destruction of school property, as well as a tool to assist in addressing incidents of concerning behaviour on school grounds."
Edwards said there have been no reports of misuse or mishandling of information gathered by video in schools, nor any breaches of privacy.
Recent controversies at Jack Hulland Elementary School included the use of video surveillance to watch children held in seclusion.
Allegedly, a camera was installed to monitor the window of small three-foot by three-foot holding areas in classrooms where students were sometimes kept for bad behaviour.
Allegations in a pending class action lawsuit say these rooms were mostly watched by staff in person, but could also be viewed by video feed on a monitor in the school office.
That school does not currently use that method of surveillance or isolation.
Add your comments or reply via Twitter @whitehorsestar
In order to encourage thoughtful and responsible discussion, website comments will not be visible until a moderator approves them. Please add comments judiciously and refrain from maligning any individual or institution. Read about our user comment and privacy policies.
Your name and email address are required before your comment is posted. Otherwise, your comment will not be posted.