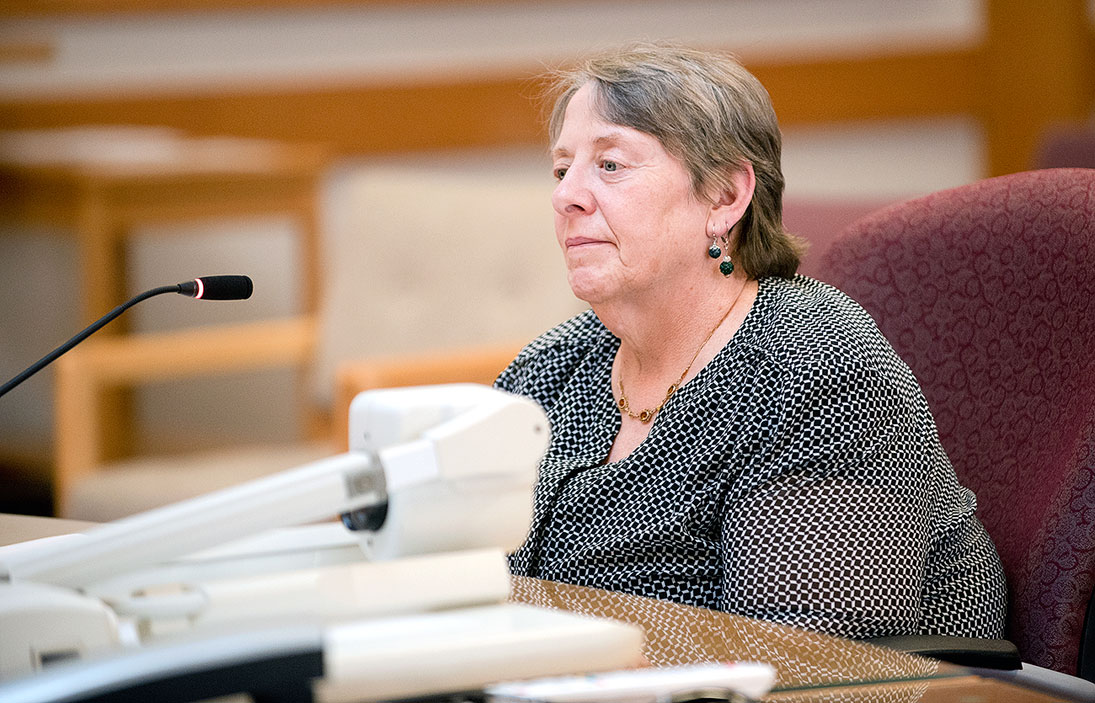 Photo by Whitehorse Star
Norma Felker
Bylaw sets out rules for pending election bylaw
A city councillor has raised questions about the use of proxy votes in the next civic election.
A city councillor has raised questions about the use of proxy votes in the next civic election.
Coun. Samson Hartland brought up the issue when the election procedures bylaw came forward at Monday's council meeting. The bylaw will govern the Oct. 18 civic election later this year.
Hartland was quick to point out that other levels of government, including the territory, are getting rid of proxy voting. The system permits eligible voters to have another person vote in their place.
It had been announced prior to the November 2016 territorial vote that proxy voting would no longer be used after that election. Controversy, however, arose around the use of proxy votes being organized.
Tamara Goeppel, the unsuccessful Liberal candidate for Whitehorse Centre in that election, has pleaded not guilty to breaching the Yukon Elections Act.
She is facing charges of:
• Assisting voters to make applications to vote by proxy ballots that were not in accordance with the Elections Act; and
• Assisting voters to cast proxy votes that were not in accordance with the act, and falsely declare they would be out of the Yukon on voting day.
Goeppel's case is scheduled to be heard in August. Incumbent NDP Leader Liz Hanson retained the riding in the election.
At last night's council meeting, Hartland raised the proxy issue with assistant city clerk Norma Felker, who had brought forward the bylaw.
"My concern is assigning your vote to someone else can be problematic," Hartland said.
Felker noted the tight timelines outlined in the Municipal Act for civic elections see the vote just 18 days after candidates are confirmed for the ballot.
With that timeframe, it can be extremely difficult for those who are employed at work camps or may even be away on vacation during the vote to actually cast a ballot even with advance polls and special ballots, Felker pointed out.
Hartland noted that while he would like the city to eventually move away from proxy voting, he can appreciate that "this is where we are now" and such a change may not happen for the fall election.
Along with detailing how ballots may be cast, the bylaw also would appoint Felker as returning officer and name Freda Smith as the alternate returning officer,.
It would also set honouraria at $294 for the deputy returning officer and $252 for poll clerks and operators of the tabulators that will be used in the vote.
The bylaw also sets out regulations around nominations, the Oct. 11 and 13 advance polls, special ballots and for election day itself.
Under questioning by Coun. Rob Fendrick, Felker told council officials are aiming to have 12 polls opened for election day, including one in Whistle Bend if possible.
With few locations available in the city's newest neighbourhood, Felker said the city may end up with a mobile poll in place there.
Mobile polls are also planned for Whitehorse General Hospital, the Macaulay Lodge, the Thomson Centre, Copper Ridge Place and the Whitehorse Correctional Centre.
Council will vote on whether to move forward with the election procedures bylaw next week.
Mayor Dan Curtis has confirmed he will pursue a third three-year term. No one has stepped forward to challenge him.
Add your comments or reply via Twitter @whitehorsestar
In order to encourage thoughtful and responsible discussion, website comments will not be visible until a moderator approves them. Please add comments judiciously and refrain from maligning any individual or institution. Read about our user comment and privacy policies.
Your name and email address are required before your comment is posted. Otherwise, your comment will not be posted.