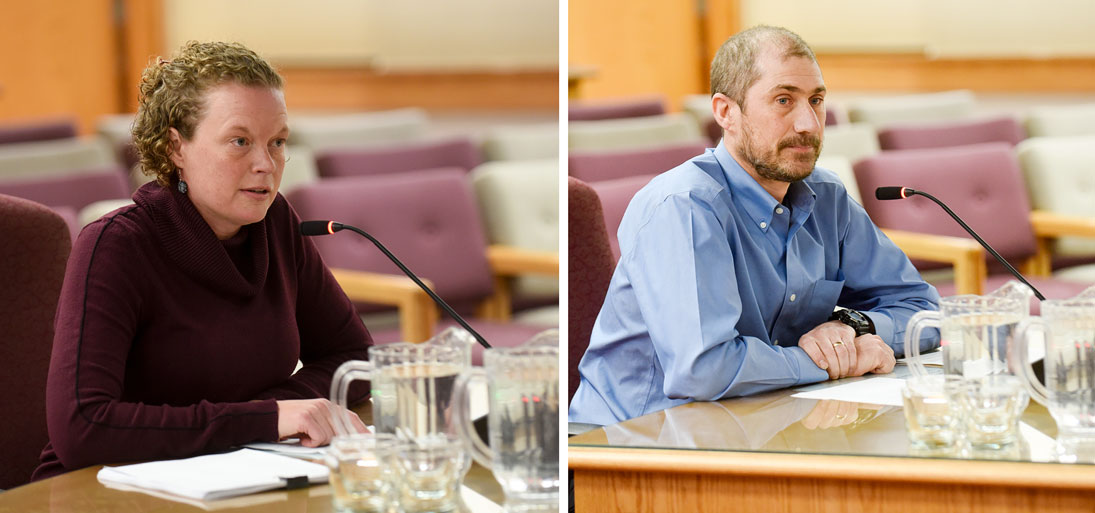 Photo by Whitehorse Star
Jocelyn Land-Murphy and Forest Pearson
Budget has little for cyclists, council told
The city's proposed capital budget for 2020 lacks a commitment to cyclists, city council heard at its meeting Monday evening.
The city's proposed capital budget for 2020 lacks a commitment to cyclists, city council heard at its meeting Monday evening.
Forest Pearson of the Whitehorse Urban Cycling Coalition appeared before council to suggest there is insufficient commitment in next year's budget to advance a connected network of bicycle lanes to encourage cycling as a means of fundamental transportation.
For 70 years, the city has been building the community around vehicle transportation, he pointed out.
It's time, Pearson insisted, to address the inequity and start accommodating those citizens who prefer to cycle, whether it be for economic reasons or personal choice.
Pearson said the benefits of promoting active transportation are many, and they are substantial, and not just for the physical fitness and health care aspect.
The city, he reminded council, has just declared a climate emergency, and promoting more cycling is a vote for the environment.
From an infrastructure point of view, building and maintaining a network of bicycle lanes and paths is a fraction of the cost of maintaining roadways for cars and trucks, he said.
Pearson said employees who bike to work have an absentee rate that is far below their colleagues who don't while their productivity is noticeably higher.
From an economic perspective, cyclists spend more money in local businesses, he said.
"Cycling just makes good business sense for the city."
Pearson said with all the benefits of cycling, there still remains a lack of commitment in the 2020 budget to build a better network.
There remain barriers in place that discourage more cycling, he said, suggesting a lack of connected lanes and trails can make people uncomfortable if they have to cycle in close proximity to vehicles.
Pearson pointed out the city needs to make a greater financial commitment to promoting cycling.
Most of the city's capital budget comes from the federal government in any case, so it's a matter of the city ensuring there is the capacity to access that money, he said.
The capital budget of $7.5 million received first reading on Nov. 12. Second and third readings are scheduled for Dec. 9.
Council is also scheduled on Dec. 9 to introduce its proposed operation and maintenance budget for 2020.
There is nothing in the capital budget that speaks to the network of bicycle lanes and paths.
Jocelyn Land-Murphy told council Monday there is no commitment, not even a mention, in the budget to implement the Bicycle Network Plan adopted by city council in June 2018.
The city's transportation plan of 2014 does authorize the use of the city's parking reserve to advance a network of cycling infrastructure, and there is funding available from the federal gas tax fund, she reminded council.
But yet, she emphasized, there's nothing in the budget for the cycling community.
Land-Murphy and others – mostly young students – appeared before council earlier this month to lobby for a greater and safer network of connected bike paths.
Several of the youth bike to school every day from the Takhini subdivision down to École Whitehorse Elementary School, with Land-Murphy as one of the lead guides. They call themselves the bike bus.
They told council the city needs to improve its network for cyclists, and they've begun an on-line petition to support their case.
The petition calls on the city to develop a specific timeline by 2022 for implementing the priority items identified in the Bicycle Network Plan.
Land-Murphy told council the petition has received support from more than 2,300 signatories as of Monday.
The lead cyclist for the bike bus emphasized a connected network is necessary to improve safety.
In addition to lacking a financial commitment to the network, the budget doesn't even have a line item to at least serve as a place holder in the budget forecast going forward to the end of 2022, Land-Murphy said.
With no money, she said, it's not possible to fulfill the promises in the Bicycle Network Plan.
Add your comments or reply via Twitter @whitehorsestar
In order to encourage thoughtful and responsible discussion, website comments will not be visible until a moderator approves them. Please add comments judiciously and refrain from maligning any individual or institution. Read about our user comment and privacy policies.
Your name and email address are required before your comment is posted. Otherwise, your comment will not be posted.