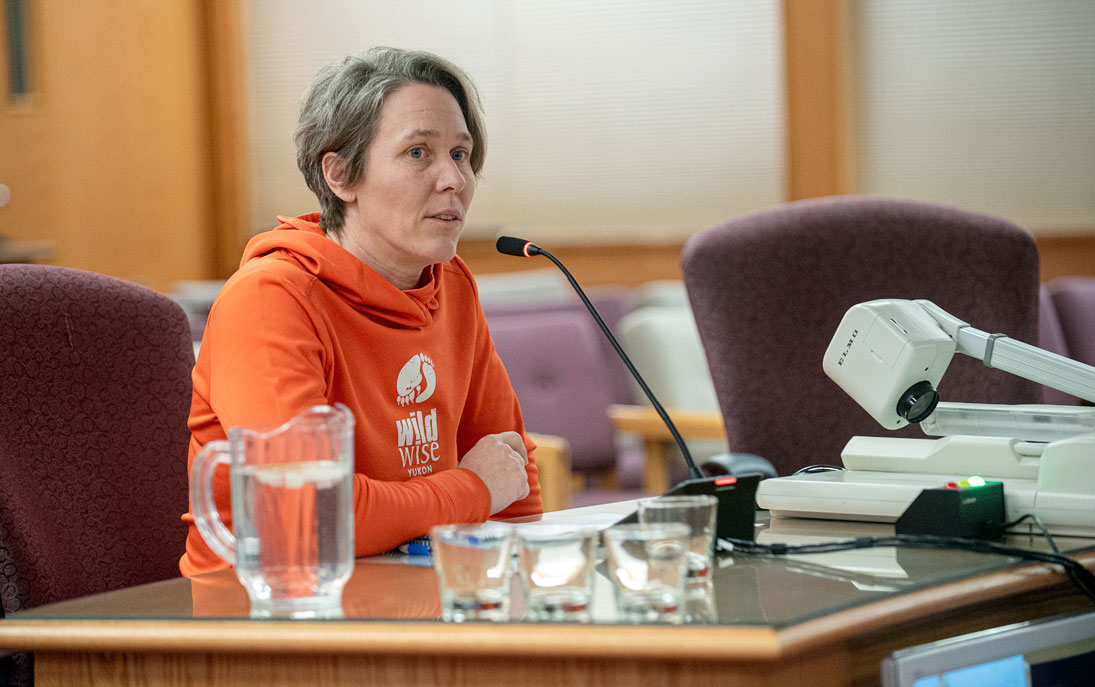 Photo by Whitehorse Star
Heather Ashthorn
Budget doesn't further bear-resistant garbage containers: advocate
The city's capital budget lacks a commitment to advance the use of bear-resistant garbage containers, says the executive director of WildWise Yukon.
The city's capital budget lacks a commitment to advance the use of bear-resistant garbage containers, says the executive director of WildWise Yukon.
Heather Ashthorn told city council at its meeting Monday evening that the city should at least be conducting a neighbourhood pilot project to test what type of bin would be suitable for Whitehorse.
There were 130 reports of bears getting into garbage bins between 2012 and 2018, she said.
"We know there is a problem," Ashthorn said. "We would really like to see more action on the city's behalf to address the problem."
She said between 40 and 45 per cent of the incidents occur in the urban subdivisions, with 55 to 60 per cent occurring in the country residential subdivisions.
"We believe a pilot project in both of these areas would really give us a lot of information about what works, and what could work and what people living in those areas have an appetite for."
Records show that many bears are shot every year because they've become nuisance garbage bears.
In 2018, for instance, 54 bears had to be killed across the Yukon, of which 33 were shot be conservation officers and 21 others were shot by people in defence of life and property. In 2017, there were more than 60 bears killed.
Ashthorn noted the city currently orders about 1,000 regular bins a year to address wear and tear and the expanding population, such as with the growth in Whistle Bend.
The situation does present an opportunity to implement a pilot project, she suggested.
Ashthorn recommended the city focus on a subdivision like Copper Ridge, where there has been an issue with bears getting into garbage.
WildWise would also like to see the city look at the use of central bear-proof storage containers that could be used by residents in country residential subdivisions, she said.
Ashthorn mentioned how the Yukon's recently released grizzly bear conservation plan says there is a need to become a bear-smart community, territorially.
It notes in order to do that, the Yukon needs to adopt a bear-proof waste management system, she said.
"To come into alignment with that conservation plan, we need to act together as non-profit organizations, as a municipal government and citizens to move forward on that very important recommendation," she said.
Ashthorn suggested that by initiating a pilot project, the city could produce some tangible statistics about the effectiveness of bear-proof garbage bins.
WildWise has distributed a few bear-proof bins they have been supplied with.
Councillors Steve Roddick and Jan Stick, the only two councillors who live in urban subdivisions, are both using them.
Roddick explained in an interview he's had the bin since late summer and so far so good, though he hasn't been through the winter yet.
"It's great," he said. "It's got a latch that only opens when tipped upside down, that only works when it's tipped upside down into the truck."
The price points between a regular curbside cart and a bear-proof cart were not available.
But Coun. Laura Cabott did note that the city, both council and administration, has put a lot of work into the question of bear-proof bins. Some of the bins are prohibitively expensive, she suggested.
Add your comments or reply via Twitter @whitehorsestar
In order to encourage thoughtful and responsible discussion, website comments will not be visible until a moderator approves them. Please add comments judiciously and refrain from maligning any individual or institution. Read about our user comment and privacy policies.
Your name and email address are required before your comment is posted. Otherwise, your comment will not be posted.