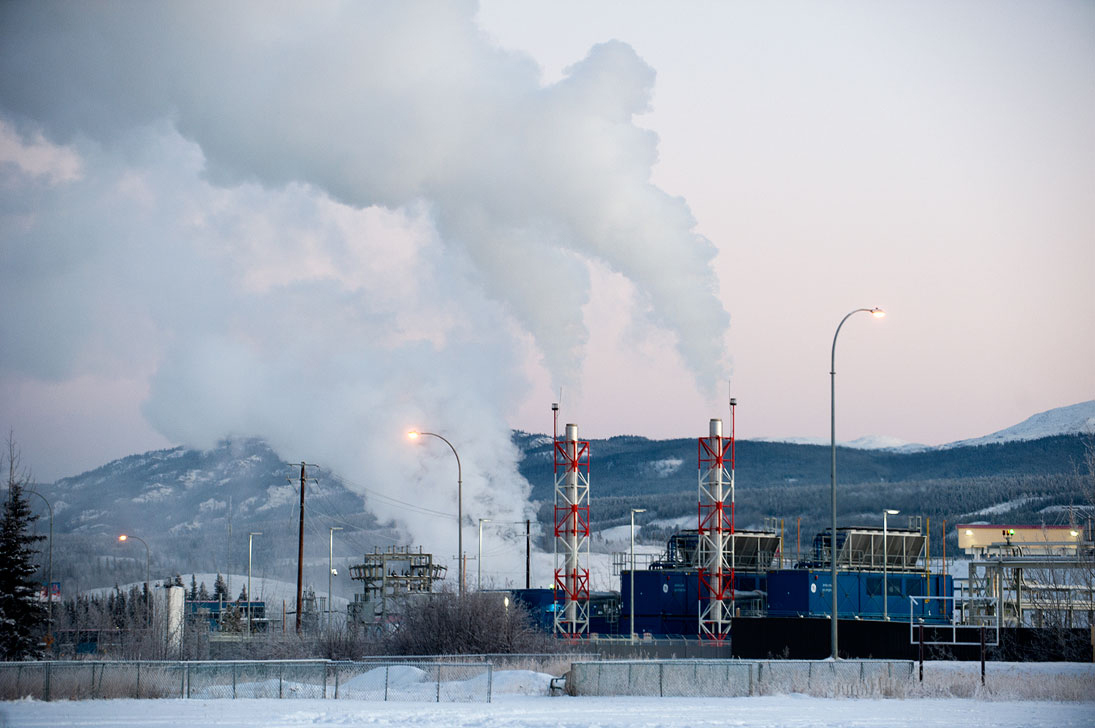 Photo by Whitehorse Star
.
Big power outages plague Whitehorse, the Junction
Some Alaska Highway and North Klondike Highway residents were still without power at 11 a.m. today following a large outage at 3:30 this morning.
Some Alaska Highway and North Klondike Highway residents were still without power at 11 a.m. today following a large outage at 3:30 this morning.
General manager Jay Massie of ATCO Electric Yukon said in an interview this morning the outage affected approximately 2,000 customers.
The Whistle Bend subdivision, Porter Creek north, Crestview, the Alaska Highway west to the Takhini subdivision and the North Klondike Highway out to Deep Creek all lost power, he said.
"We had a broken wire on the main line just north of the city, right near the Mayo Road corner," Massie said. "We're not sure what caused it to break. It's very odd."
Massie said they will be examining the wire after they're done restoring power.
As of 11 a.m., only the North Klondike Highway from the Hot Springs Road out to Deep Creek and the Alaska Highway was still out, he said.
The general manager said they expected to have everybody back on by 11:30 a.m.
Temperatures north of the city were hovering around -38 this morning.
He said power was re-routed to Whistle Bend, Porter Creek north and Crestview at 6:30.
"Everybody else had to wait until we got that wire back in the air."
He said the Alaska Highway was back up at 9:15 but tripped off again a short time later. It was restored by 12:21.
Customers on the North Klondike up to the Hot Springs Road, including the Hot Springs Road, had power restored by 10:15.
Meanwhile, it's been determined the cause of a lengthy power outage on Sunday in Haines Junction was a malfunction of one of the breakers, though it's still unclear what caused the malfunction, Massie said.
Power to 500 customers in the community went out at 4:51 p.m. but was restored to 205 customers in five or 10 minutes.
Most of the 295 remaining customers had their lights back at 8:30 p.m. as temperatures hovered at around -40.
Between 30 and 40 customers, however, were without power for 5 1⁄2 hours.
Amy McKinnon of the Champagne and Aishihik First Nations said they were on the verge of moving elders when the power came back on.
The communications manager said Champagne and Aishihik opened its community hall at the Takhini subdivision west of Whitehorse this morning after the power went out to provide any community members with a warm place to go if they needed it.
Energy consumption records maintained by Yukon Energy show that Sunday's frigid temperatures caused the highest single-day energy demand of the winter so far.
Sunday's demand peaked at 85.5 megawatts in generation as the temperature dipped to -35.
At mid-morning today, the demand on the grid was sitting at 80.1 megawatts, of which 61.7 megawatts or 77 per cent was provided by hydro and 19.3 megawatts was provided by diesel and natural gas generators.
The highest daily demand on record was set during a cold snap last February. At that time, the peak demand required 93 megawatts of generation at 7:44 a.m., with temperatures hovering at around -35.
After a frigid work week, Environment Canada is calling for temperatures to rise by Saturday to a daytime high of -11 and a nighttime low of -22.
Add your comments or reply via Twitter @whitehorsestar
In order to encourage thoughtful and responsible discussion, website comments will not be visible until a moderator approves them. Please add comments judiciously and refrain from maligning any individual or institution. Read about our user comment and privacy policies.
Your name and email address are required before your comment is posted. Otherwise, your comment will not be posted.