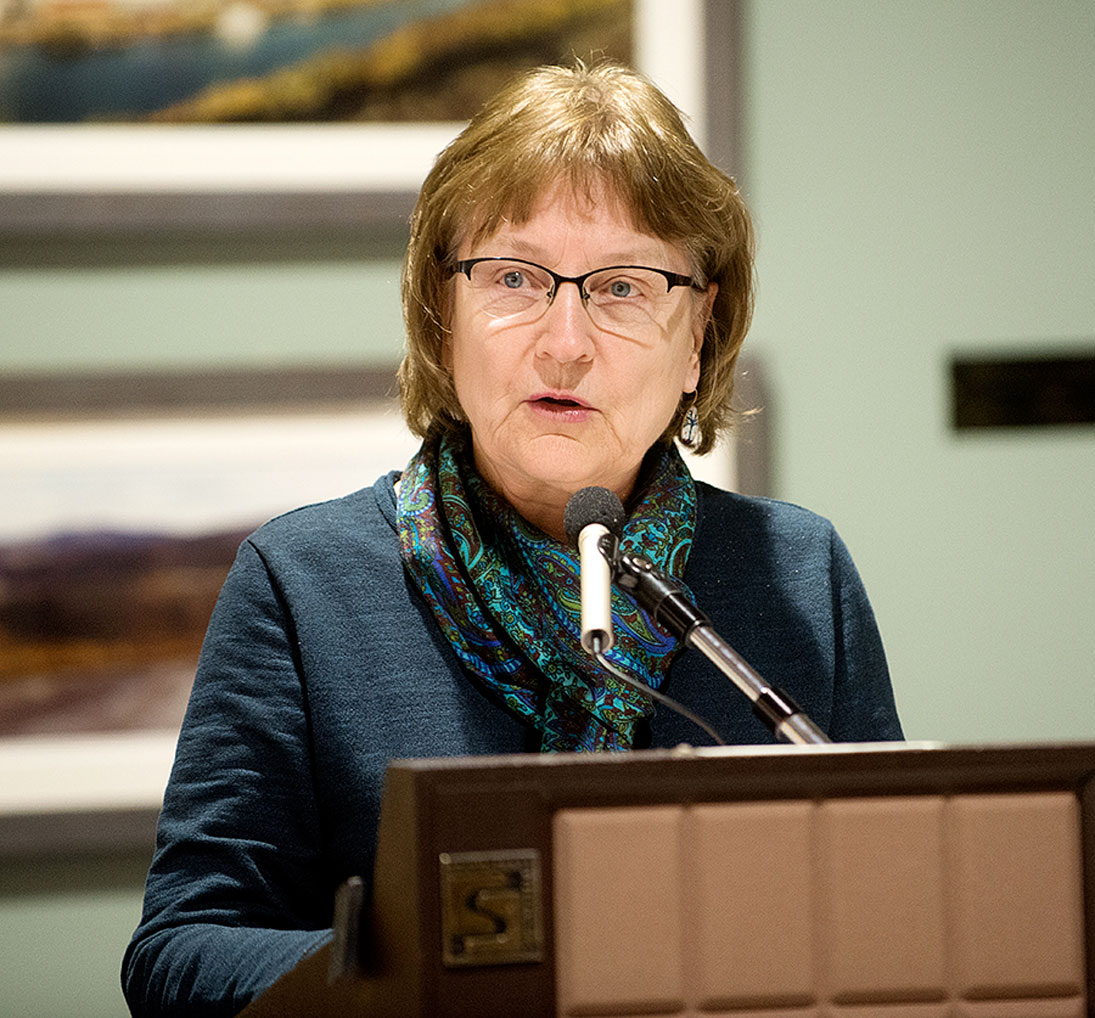 Photo by Whitehorse Star
Charlotte Hrenchuk
Anti-Poverty coalition applauds health report's conclusions
Members of the Yukon Anti-Poverty Coalition (YAPC) have congratulated a committee on its comprehensive review of the territory's health and social programs and services.
Members of the Yukon Anti-Poverty Coalition (YAPC) have congratulated a committee on its comprehensive review of the territory's health and social programs and services.
The coalition has praised the "breadth and vision" of the report and recommendations contained in Putting People First.
"We commend the panel for the comprehensive report and commendations that can truly our transform our health system and create a better client-centred experience for all Yukoners," Charlotte Hrenchuk, the coalition's co-chair, said Wednesdahy.
"There was definite excitement at the coalition's regular monthly meeting about the tone of the report and the progressive nature of the recommendations."
Coalition members recognize that the report included an honest assessment about the need for improvements across the entire health and social services sector, the organization said.
It points to a range of problems in the system. Those include its being hard to navigate, lacking in cultural safety and integration, insufficient support for low-income Yukoners and failing to put people first.
The report, released May 13, delineates 76 recommendations. Among them are taking a population health approach, creating a universal pharmacare system, reconfiguring the delivery of health services, and working for and with Indigenous communities and community partners.
Chapter 5 – "Closing the Gaps for Lower Income Yukoners", highlights 17 recommendations, including the introduction of a basic minimum income program.
"We urge the government to begin the work outlined in the report and re-vision the department," said Kristina Craig, the coalition's executive director.
"The coalition has already struck a working group to review how we can help bring these large-scale innovations to fruition."
The organization is urging its members to write to Pauline Frost, the minister of Health and Social Services, Premier Sandy Silver and their MLA "to support a rethinking of how we put people first in the health and social services system."
The review panel, consisting of five experts in health and public policy, was established by the Yukon government in 2018.
The panel spent a year and a half reviewing the territory's health and social services programming.
It found that:
• many aspects of the system are not communicating with each other;
• there are insufficient supports for seniors, people with disabilities and low incomes;
• many Yukoners do not have access to a primary care provider; and
• many First Nations people have experienced racism in the health system.
The 207-page report includes sweeping recommendations for a whole-system overhaul, which the panel says will address the base issues in providing care.
"We decided that it was far better to get to the root of what was causing gaps in care and provide recommendations that would fix these problems," the report said.
It calls for a new model of care, in which every Yukoner is matched with a primary care provider, as close to home as possible.
This requires the establishment of primary care teams, which would each be responsible for the care of 1,200 to 1,400 Yukoners.
The care teams would operate through community health centres and wellness hubs.
Each care team would include a primary care provider, a nurse who also acts as a case manager, a medical assistant and administrative support workers.
These teams would have access to a broader network of specialists, including pharmacists, dietitians, midwives, mental health resources, and more.
The anti-poverty coalition's vision is: "All people in the Yukon live in an inclusive community free from poverty where diversity is respected and human rights are upheld."
Add your comments or reply via Twitter @whitehorsestar
In order to encourage thoughtful and responsible discussion, website comments will not be visible until a moderator approves them. Please add comments judiciously and refrain from maligning any individual or institution. Read about our user comment and privacy policies.
Your name and email address are required before your comment is posted. Otherwise, your comment will not be posted.