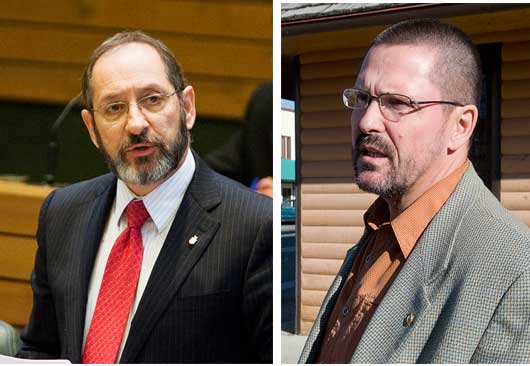 Photo by Whitehorse Star
ARTHUR MITCHELL and KIRK CAMERON
All Liberal MLAs plan to run again
Yukon Liberals gathered in Whitehorse on Saturday to retool policy and party leader Arthur Mitchell,
Yukon Liberals gathered in Whitehorse on Saturday to retool policy and party leader Arthur Mitchell, girding for his second run at the territory's top job, rallied his troops for the electoral battles that lay ahead.
Mitchell told party members at the weekend's annual general meeting to prepare for two possibilities – that Premier Dennis Fentie will call a byelection for the vacant Whitehorse Centre riding first, or that he will forego that and call an early general election.
Fentie has until Jan. 21, 2011 to call a byelection for Whitehorse Centre, but speaking to the Star last week, he did not rule out taking the entire territory to the polls, as early as before the end of this year.
The latest the premier can call a general election is Oct. 14, 2011.
Either way, Kirk Cameron, the Liberal candidate for Whitehorse Centre and the party's outgoing president, is "ready to go ... and look(s) forward to some good old-fashioned debates" with challengers about issues facing the downtown riding.
"The platform is being developed now," Cameron said.
The party's 'five pillar' approach – good governance, the economy, the environment, social justice and family wellness – make up "the foundations for details of what candidates are going to take to the doorsteps."
The party's election readiness committee informed members gathered at the MacBride Museum on Saturday that a new branding regime for the party will be unveiled at a Nov. 13 fundraising event.
Along with Mitchell, all sitting Liberal members – Darius Elias (Vuntut Gwitchin), Eric Fairclough (Mayo-Tatchun), Gary McRobb (Kluane) and Don Inverarity (Porter Creek South) – said they will defend their seats in the looming general election.
Former high school principal Kerry Huff will seek the Liberal nomination for Porter Creek Centre on Oct. 28, and Whitehorse city councillor Doug Graham announced last May that he would seek the Liberal nomination for Porter Creek North.
At the beginning of July, Sandy Silver, a well-known teacher in Dawson City, was acclaimed as the Liberal candidate for the Klondike seat.
And according to a member of the party's election readiness committee, a candidate-nominee for the riding of Lake Laberge will be announced in the coming weeks.
In his speech to party faithful at the close of the AGM, Mitchell slammed the Yukon Party government for a "scale of borrowing that has never before been seen in the Yukon."
The Liberal leader went on to criticize the government for saddling Crown corporations with infrastructure debt, including the $100-million, 30-year bond Yukon Energy issued for its Mayo B project and $67 million worth of hospital corporation loans to pay for two new hospitals and a nurses residence.
"This is our government, folks, and they've left us in a real mess," Mitchell said. "The Yukon will be paying off debt for years to come."
Any election promises the Liberals make, said Mitchell, would be tempered with the financial reality of servicing the debt the Yukon Party government has accumulated.
The Liberal leader also took a shot a Fentie for failing to call a byelection for Whitehorse Centre before the fall sitting, which began Sept. 21.
"I doubt the premier would've felt the same way if the vacant seat had been Watson Lake," Mitchell said, in reference to Fentie's home riding.
The Yukon Liberal Party's general meeting saw new executive members acclaimed.
Cherish Clark takes over from Cameron as president, Mike Kokiw was named vice president, John Skilnyk, treasurer, Karsten Henricksen takes on secretary duties, Jean-Sebastien Blais represents the francophone commission, while Doug Tremblay, Blake Rogers, Shaw Kokiw and Louis Gagnon fill out the remaining directors' positions.
Add your comments or reply via Twitter @whitehorsestar
In order to encourage thoughtful and responsible discussion, website comments will not be visible until a moderator approves them. Please add comments judiciously and refrain from maligning any individual or institution. Read about our user comment and privacy policies.
Your name and email address are required before your comment is posted. Otherwise, your comment will not be posted.