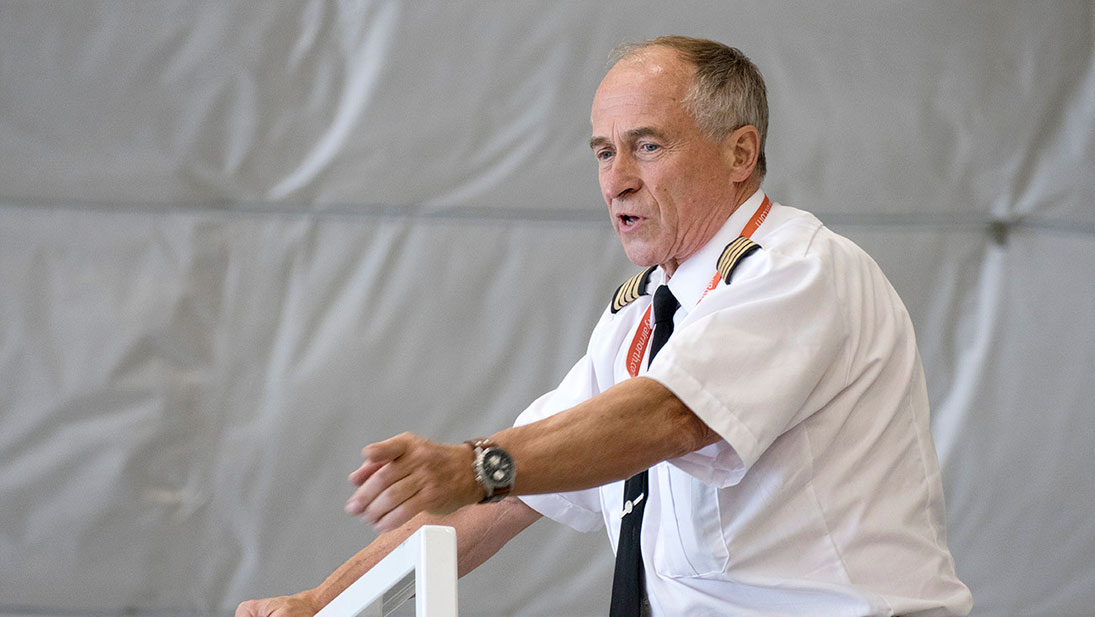 Photo by Whitehorse Star
Air North president Joe Sparling,
Photo by Vince Fedoroff
AFTERNOON ARRIVAL – An Air North plane taxis to the terminal at the Erik Nielsen Whitehorse International Airport on Tuesday afternoon. COVID-19 is prompting major operational changes at the airline.
Airlines pares staff in wake of plumetting demand
Air North is reducing flights and staff as the number of travellers plummets in the wake of COVID-19.
Air North is reducing flights and staff as the number of travellers plummets in the wake of COVID-19.
"If our flying is half or less than what it was before, you would expect workforce reductions of that magnitude as well," Joe Sparling, Air North's president, told the Star this morning.
Dr. Brendan Hanley, the Yukon's chief medical officer, officially recommended the suspension of non-essential travel last Sunday evening, on the same day the territory discovered its first two cases.
Air North's passenger traffic dropped 35 per cent in March and is likely to drop 70 per cent in April, Sparling said.
The company is working on reducing flights to balance sinking numbers.
"People are cancelling faster than we can adjust," Sparling said.
"We're finally getting caught up to where we think we're going to be at a stable level of demand."
Air North is planning for six jet flights to Vancouver per week, nixing flights to Vancouver Island and elsewhere.
There will also be one flight per day within the territory to Dawson City, Old Crow and Inuvik. These regional flights will carry groceries and mail, as well as passengers. 
Sparling said some staff members have already been laid off and the process is ongoing.
Last week, Premier Sandy Silver urged all Yukoners outside of the territory to return home as soon as possible.
Sparling noted there is currently a higher number of people flying into the territory than out of it, due to people following that recommendation.
Air North is attempting to manage capacity on flights, to enable physical distancing, without causing booking delays. Sparling said the airline has the option of intentionally blocking middle seats on planes from being sold.
"You want to accommodate people who want to get home, so it's a bit of a challenge for sure," Sparling said.
"Ultimately, we'll be down to a reduced ridership on the aircraft so we can provide physical distancing."
Sparling said Air North is waiting to hear what supports will be provided to the airline industry from the federal government.
Across the board, airlines are requesting rebates and the return of infrastructure fees and taxes, like NavCanada fees and jet fuel taxes.
He noted the territorial government has already committed to waiving some fees, but there is uncertainty about how much support Air North can expect.
Silver told the Star this morning that Air North is on his radar as he works to establish funding from the federal government. 
Sparling said that a month ago, he imagined traffic would drop 10 per cent due to COVID-19. He is now facing losses seven times greater than that.
"It's very concerning," he said.
"We will get through it, but we have to become a smaller airline almost overnight."
Sparling noted that when the virus subsides, it will take some time before people start travelling again. This will mean a delay in improvement for airlines.
"The whole industry is going to be faced with less air travel for quite some time now," Sparling said.
"It's a new situation almost every day."
Add your comments or reply via Twitter @whitehorsestar
In order to encourage thoughtful and responsible discussion, website comments will not be visible until a moderator approves them. Please add comments judiciously and refrain from maligning any individual or institution. Read about our user comment and privacy policies.
Your name and email address are required before your comment is posted. Otherwise, your comment will not be posted.