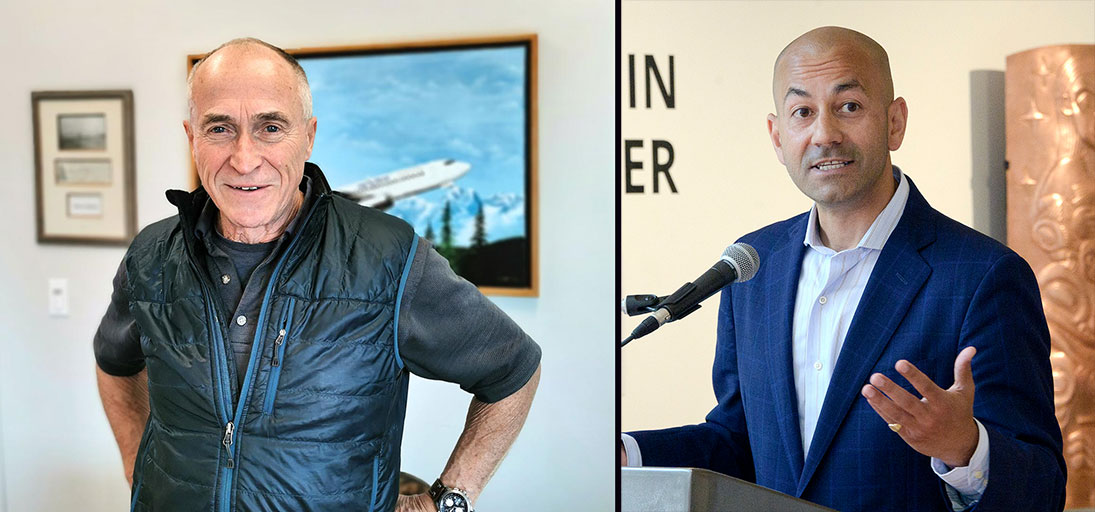 Photo by Whitehorse Star
Air North's president Joe Sparling and Economic Development Minister Ranj Pillai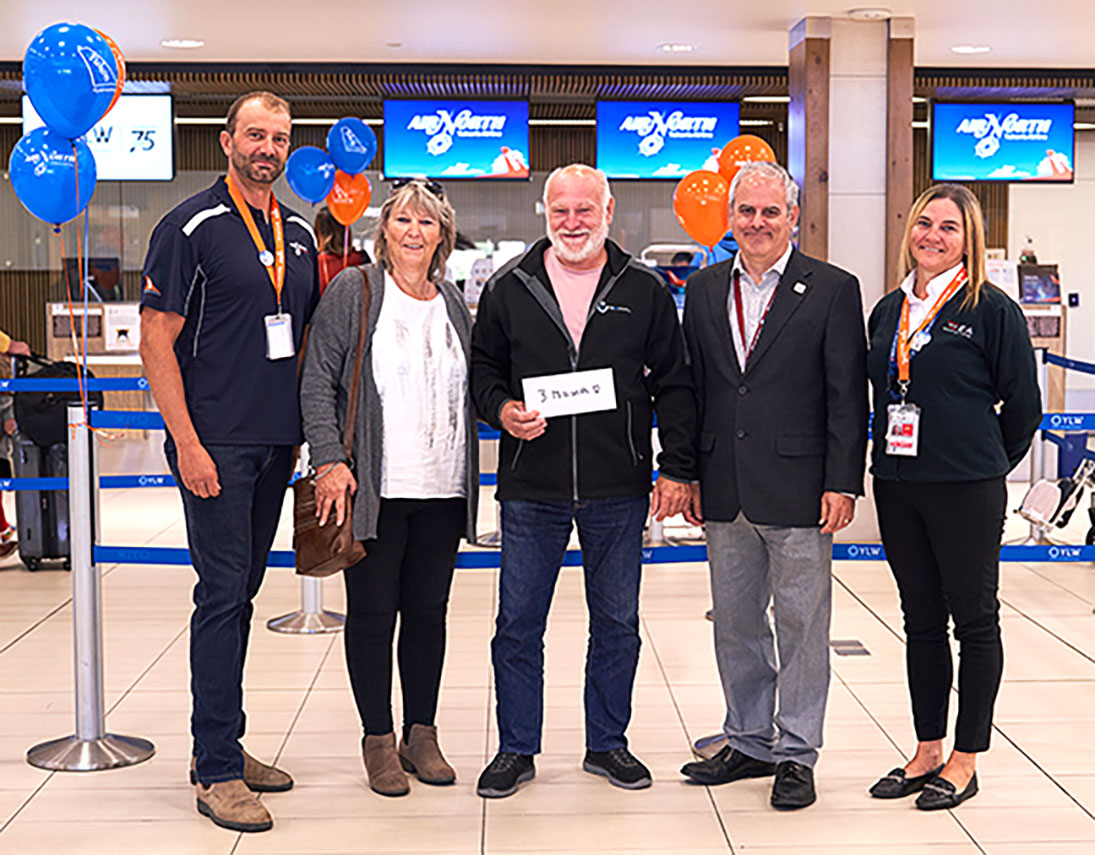 Photo by Photo Submitted
MARKING A MILESTONE – This was the celebratory scene Wednesday at the Air North check-in counter at the Kelowna airport. From left to right are Joshua Clark, the director of charters, FBO and corporate sales for Air North; Eva M., the spouse of Anton M., the three millionth jet passenger; Anton M.; Phillip Elchitz, the airport's senior manager, airport operations; and Bev Blair, a passenger service agent. Photo courtesy AIR NORTH, YUKON'S AIRLINE
Air North celebrates three million jet passengers
Air North welcomed its three millionth jet passenger Wednesday aboard its Boeing 737-500 C-FANF operated by a Yukon-based crew.
Air North welcomed its three millionth jet passenger Wednesday aboard its Boeing 737-500 C-FANF operated by a Yukon-based crew. Members included Capt. Corie Faulkner, first officer Ricardo Espinosa and flight attendants Susan Gregory-Allen, Nona Faulds and Janmae Valdez.
"Congratulations go to Yukon resident Anton M., who boarded Air North Flight 540 (Wednesday) morning from Kelowna to Vancouver and Whitehorse," the airline said.
"He was presented with a complimentary round-trip airfare as a thank-you."
Air North began Boeing jet service in 2002, and, in the first 10 years, saw its first millionth passenger.
"Another 10 years, and today we see that number has tripled," the airline said. "Air North thanks its staff, who have been instrumental in achieving this milestone.
"The flight crews, passenger service agents, reservations, flight kitchen, cargo crew, IT and administrative staff have all contributed to this moment."
"This milestone is incredible for the company," said Joe Sparling, Air North's president.
"Three million passengers is a relatively small number for a big airline, but for a small airline like us, it is huge.
"Over our 20 years providing jet service based in the Yukon, this represents the equivalent of about 20 round-trips 'Outside' for every Yukoner, plus about 1.5 million flights for visitors to the Yukon.
"By transporting three million passengers on our 100-per-cent Yukon-owned air service, about $600 million has either remained in our economy or has flowed into our economy, providing employment, supporting Yukon businesses, broadening the horizons of our youth, and making the Yukon a better place to live and work."
Greg Charlie is a Vuntut Gwitchin member and has been a member of Air North's board of directors for the past 21 years.
"Three million passengers in 20 years is a remarkable achievement, and one which provides real meaning to reconciliation," Charlie said.
"Prior to 2002, aviation was an imported product for the Yukon. Now it is a locally produced product with a major First Nation ownership stake, and it not only ensures affordable travel out of and into the territory, but it also ensures affordable travel within the Yukon."
The airline is "proud to be able to facilitate connectivity between the traditional territories of Yukon First Nations and the traditional territories of First Nations throughout Canada," Charlie added.
"(Wednesday's) milestone wouldn't have been possible without the support of Yukoners, shareholders, and passengers over the past 20 years."
Air North, founded on Feb. 1, 1977 by Sparling and Tom Woods, has grown exponentially over the last 45 years.
With a fleet of Boeing 737s and ATR-42 aircraft, the airline connects travellers between Whitehorse, Vancouver, Kelowna, Victoria, Calgary, Edmonton, Yellowknife, Ottawa, Dawson City, Old Crow and Inuvik.
A new direct service from Whitehorse to Toronto began this past summer, connecting the capitals of the Yukon and Ontario and further expanding the airline's Canadian network.
Air North also flies charter services for both passengers and cargo across North America.
"Yukoners across the territory are proud to fly with Air North, and with three million passengers and counting, the future is looking bright for Yukon's renowned airline," the Yukon government said Wednesday.
"Congratulations to Air North, Yukon's Airline on their remarkable achievement of hosting three million passengers," added Economic Development Minister Ranj Pillai.
"It is great to see Yukon's airline continue to succeed and expand, including the recent announcement of direct flights to both Yellowknife and Toronto.
"These new expanded routes will give more Yukoners the chance to explore their country and other parts of the world while allowing more visitors to be welcomed to the Yukon."
Air North currently employs more than 400 full- and part-time workers.
Air North also flies charter services for both passengers and cargo across North America.
Add your comments or reply via Twitter @whitehorsestar
In order to encourage thoughtful and responsible discussion, website comments will not be visible until a moderator approves them. Please add comments judiciously and refrain from maligning any individual or institution. Read about our user comment and privacy policies.
Your name and email address are required before your comment is posted. Otherwise, your comment will not be posted.