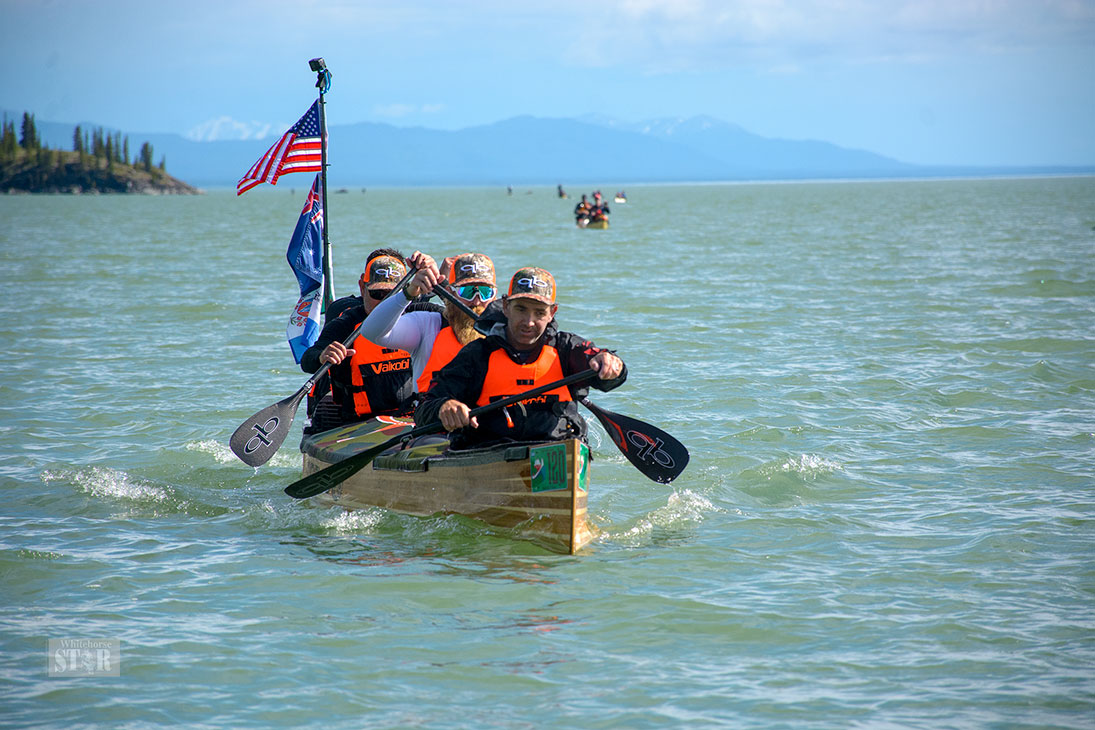 Photo by Morris Prokop
CUTTING THROUGH – Team Quickblade of the Yukon River Quest crosses Lake Laberge Wednesday.
Active second day for the Yukon River Quest
It's been an active second day for the Yukon River Quest.
CARMACKS – It's been an active second day for the Yukon River Quest.
Many of the teams are in Carmacks, after having left Whitehorse on Wednesday, and a few have already left to head to the checkpoint at Minto.
At this writing early this afternoon, the overall leaders are Team 114, Something Else Entirely, a Men's Four-Person Canoe, who left Carmacks at 9:11:19 this morning.
Second is Team 130, https://www.tyreorder.com Elite Team, a Men's Tandem Kayak team from Estonia. They left Carmacks this morning at 9:48:29.
Third overall is Team 111, Pagunpogo, a Men's Voyageur team from Whitehorse. They are still in Carmacks, but can leave anytime.
In fourth place are the Denesuline First Nations' team from Hatchet Lake, Team 147, a Men's Voyageur team. They came in at 7:07 this morning and were scheduled to leave Carmacks at 1:07 p.m.
Rounding out the top five are Team 120, Quickblade, a Men's Four-person Canoe team. They left Carmacks at 10:55 a.m. today.
Several teams have scratched, and there are now fewer than 100 left in the race.
The odyssey will end in Dawson City.
The Star will have more in-depth coverage of the race in Friday's edition.
Add your comments or reply via Twitter @whitehorsestar
In order to encourage thoughtful and responsible discussion, website comments will not be visible until a moderator approves them. Please add comments judiciously and refrain from maligning any individual or institution. Read about our user comment and privacy policies.
Your name and email address are required before your comment is posted. Otherwise, your comment will not be posted.