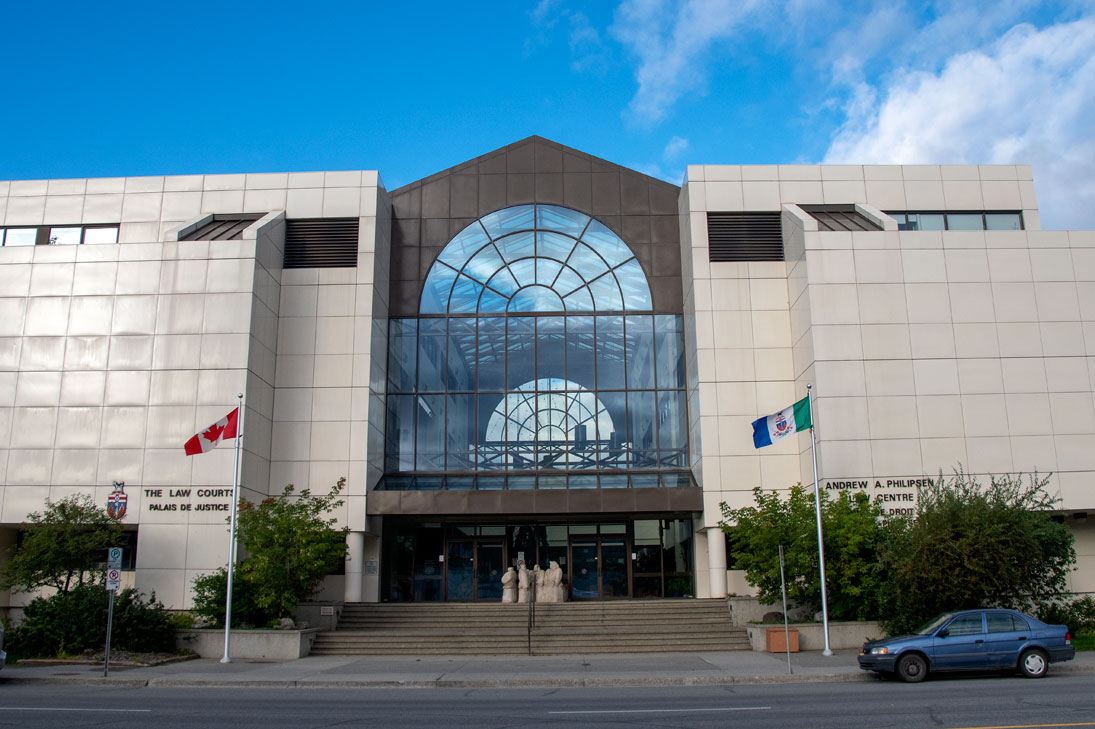 Accused admitted to murder, court is told
A Whitehorse woman has alleged that the man accused of murdering Adam Cormack admitted to the crime and threatened to kill her.
A Whitehorse woman has alleged that the man accused of murdering Adam Cormack admitted to the crime and threatened to kill her.
The jury trial of Edward James Penner continued last Wednesday in Whitehorse with two civilian witnesses being called.
Penner, 22, is facing one count of first-degree murder in relation to the 25-year-old Cormack's death. Deputy Justice Scott Brooker is presiding over the Quesnel, B.C. man's trial.
Amber Taylor-Fisher took the stand. She had begun dating Cormack several weeks before he was found dead in 2017 in a gravel pit area northwest of Whitehorse.
Taylor-Fisher had known him for a few years before they started dating.
She told the court that she was living in an apartment building on Alexander Street around the time that Cormack was murdered.
She supported herself by selling drugs, and used drugs. She has since moved and stopped using.
Taylor-Fisher explained that the last time she saw Cormack alive was at her apartment. They had been in a fight over money.
He left the residence, and she believed he went to stay with family members.
"I think he went to his mom's," Taylor-Fisher said.
She learned of his death four or five days later. She clarified that it's hard to remember details from this period.
"Things were quite a bit hazy back then," Taylor-Fisher said.
She learned of the death as she listened to the radio in her residence. It was reported that a male around Cormack's age had been found dead.
Taylor-Fisher said she went to the 98 Hotel to find out more. Cormack's sister worked there, but was not on shift. A staff member told Taylor-Fisher that Cormack was dead.
She returned home and fell asleep. She did not know how long she slept, but when she awoke, she wasn't alone in the apartment.
She said Teneil Arcand, who previously testified in the trial, was one of the people in the apartment.
She told the court that Penner was one of these people. She knew him as Tanner.
He had buzzed to be let in to her building. She was under the impression it was someone else based on the buzzing pattern he used.
When Penner entered the apartment, she claims he had a gun with him, which she said he waved around aggressively.
She felt Penner was trying to act "cool." She added the gun was pointed at her and she felt he was trying to intimidate her.
Taylor-Fisher did not know this man. She said she may have met him among a group of other people once before at a hotel she called the Paddlewheel. She recalled that there was a "drunk kid" that Penner allegedly "punched out" on that occasion.
"I didn't know him (Penner) all that well," Taylor-Fisher said.
She said the sight of the gun made her nervous and scared in her own home. She does not like guns and admitted to not being knowledgeable about them.
She said it was three feet long and black, and figured it was a semi-automatic rifle.
The buzzer rang after he arrived, and she answered and realized it was the RCMP. She met with the police in their vehicle.
The officers wanted to talk to her about Cormack. She did not tell the police what was happening in her apartment. She was apprehensive to speak with them and was not forthcoming with information.
Taylor-Fisher explained she was afraid of what could happen to her if she told police what she knew. Now that she is out of the drug world, she felt she should come forward. She also wants Cormack to get justice.
"I don't want him (Penner) to get out," Taylor-Fisher said.
When she finished speaking with the authorities she went back upstairs. Everyone was gone. Penner had left with his gun.
Under cross-examination, she admitted that her apartment was a party place. She also told the court that Cormack was involved in the drug scene and owed money to people.
She said he owed money to his boss and family, adding he was often hiding and was afraid. She clarified that Cormack was not involved with the same people with whom she was.
She knew he was nervous, and barely left either her place or his mother's residence.
The next witness to testify that day was Juanita Johnson, who also lived in Whitehorse.
She tearfully admitted that she did not want to be in court.
"I don't want to be here," Johnson said, crying.
She explained that she was anxious, sad and sorry that so many lives are not the same.
She told the court she was at a party at a friend's place in Hillcrest in late June 2017.
The friend, who she had known since high school, did not live alone.
She had not gone to the party intentionally. She had been drinking before going, and was hoping to sober up. She was looking to find a way to her home in the McIntyre subdivision.
The 10 to 15 people at the party included Penner and Cormack, Johnson testified. She knew Penner as Tanner. Cormack was beside him.
She had never met Penner, but already had tension with him, she told the court.
She said she didn't really know Cormack either, having met him once a couple of weeks earlier.
Johnson said Cormack was holding what she referred to as a "little machine gun". She said he was checking it out, and Penner was telling him about the firearm.
She told the court that people did not treat Cormack well, as far as she knew. She felt everyone's behaviour toward him seemed out of the ordinary that night.
During this time, Penner told her he was from Prince George, B.C. She has ties to the community and they ended up both knowing people there. 
Penner and Cormack left the residence together. Someone came to pick them up. She said she checked in on her friend's place to make sure she was all right since she was not known to party.
She estimates she was there for 15 to 20 minutes. She had an accident at the party where she had to borrow clothes due to someone spilling something on her.
She returned to the home the next day but her friend was not there. The person she lived with was. People began banging on the door.
She saw the window open and someone came through. After that, five people were in the house with bats. They beat up the person who lived with Johnson's friend.
She told the court she left the house but was forced back to it 30 minutes later by Penner. She alleges that he slapped her and hit her with the firearm she saw the night before.
She said he was not alone. He had a man and a woman with him who were scared. She said Penner was acting like he had lost control of a situation.
"He was a mess, he was all over the place," Johnson said. "He was trying to be assertive."
She alleges that he told her that if she did not follow his instructions, she would be killed like Cormack was.
She alleges the forced her to the Family Hotel, in a little black car with several people.
She was left alone in a room with Penner. He would leave but came back to get his gun when he allegedly had an altercation with somebody in the parking lot.
Penner also had an appointment to get a tattoo, Johnson said. She used his absence to escape.
The trial resumed this morning.
Add your comments or reply via Twitter @whitehorsestar
In order to encourage thoughtful and responsible discussion, website comments will not be visible until a moderator approves them. Please add comments judiciously and refrain from maligning any individual or institution. Read about our user comment and privacy policies.
Your name and email address are required before your comment is posted. Otherwise, your comment will not be posted.