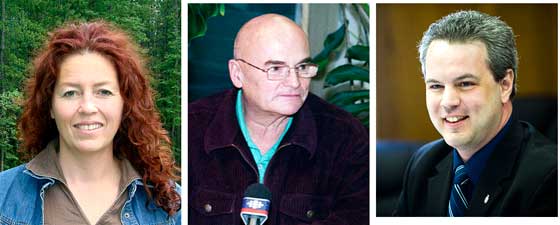 Photo by Whitehorse Star
Teena Dickson, Al Falle and Brad Cathers
'A vote for him just causes more divide'
Incumbent MLA Brad Cathers has secured the Yukon Party's nomination to seek a third term in Lake Laberge in the coming territorial election.
Incumbent MLA Brad Cathers has secured the Yukon Party's nomination to seek a third term in Lake Laberge in the coming territorial election.
The heated nomination race between Cathers and newcomer Teena Dickson saw Yukon Party membership in the riding swell to 428.
Of that number, 380 voted in the advance poll, attended Wednesday evening's nomination meeting or voted Thursday in a phone-in poll.
Cathers prevailed with 216 votes, over Dickson's 163. There was one spoiled ballot.
"I am honoured to have the support of Yukon Party members, and to be nominated for the third consecutive time as the Yukon Party candidate for Lake Laberge," said Cathers.
"I want to sincerely thank everyone who voted for me in this election, and encourage Teena and all who supported her to come to me with their ideas, and work together as a part of Team Yukon."
Cathers said he has enjoyed working with new Premier Darrell Pasloski, and is looking forward to continuing to do so in the future. He thinks Pasloski's approach to politics signals a shift in the Yukon Party.
"I think Darrell, as I noted in the leadership campaign, has a good, common sense approach where you bring the best ideas to the table," he said.
"I think that's the right approach."
Cathers said he is thrilled by the turnout at the nomination meeting, and by the number of new supporters he gained during his campaign.
"I ran on my track record. I listen to ideas, I translate them into action and I get things done," he said.
"I have a number of long-time supporters, and others who have never been members before. Either way, I appreciate their support," he said.
"I hope everyone in that room recognized my desire to keep working hard for them."
Cathers said he has a number of priorities to address in the Lake Laberge area, but he'll bring them up at a later date.
The election has been divisive for the riding, as Cathers continues to be a controversial figure following his high-profile exit from the Yukon Party cabinet in August 2009.
He recently returned to the fold after former premier Dennis Fentie left office last month.
"I think now that he has retired, he deserves to have the focus on the good things he did," Cathers said of Fentie. "It was a very specific situation that led to my resignation, and we've heard enough about that."
(When Cathers abruptly quit the cabinet, he alleged Fentie was holding secret talks about the possible privatization of the Yukon Energy Corp.)
Though Cathers is optimistic, Dickson is dubious about Cathers' future with the party.
"The 89-per-cent voter turnout speaks volumes," said Dickson.
"This riding over the last two years has not had adequate representation from the Yukon Party. People were ready for a change."
Dickson said she didn't believe the nomination process was fair or democratic.
"I ran my campaign with a committed team. I ran it honestly, with integrity. I had a group of supporters who were hard-working business people.
"And I didn't run it on taxpayer dollars. I did it completely on my own time, while the incumbent ran his campaign on government time," she said. "I have a challenge with that."
Dickson said there are serious concerns in the Lake Laberge riding that have not been dealt with during Cathers' tenure. She also took issue with Cathers entering the race when he did.
"When I put my announcement forward, the timing of our independent candidate being invited back was extremely difficult," she said.
Dickson said she believes the government interfered in the nomination process.
"I want to emphasize that I was the good, well-behaved politician. And there were a lot of things through this campaign that could have come up. I chose to take the high road and not compromise the party.
"I could have brought up several things and I chose not to, and maybe someone will bring those out eventually," she said.
"If people voted for me, it was a vote to bring this community back together again. A vote for him just causes more divide," she said.
Dickson declined to comment on whether or not she would vote for Cathers in the election. She said many Lake Laberge residents would be similarly hesitant to make a decision one way or another at this point.
"He's got some mending fences to do," she said. "It's not over. There are a lot of people thinking out there right now."
As for herself, Dickson said she's open to running for political office again, but right now she has to keep her focus elsewhere.
"I have a family and a business and a lot of other projects that need my attention. I have no shortage of work. Right now, I need to focus on what's close to home and pay some bills," she said.
Meanwhile, a group of Cathers' detractors is upset over the results.
"He wasn't our choice," said Shirley Ford, who, along with her husband, David, supported Dickson.
"We would've liked to see someone who is inside the party, who can be paying attention. He had every opportunity to return, his constituents wanted him to return, but he didn't," she said of Cathers.
Besides party politics, Ford also feels Cathers has accomplished little during his two terms.
"Nothing has gotten done in our riding," she said. She expressed disappointment that the proposed residential development around the Takhini Hot Springs hasn't gone ahead.
"That was supposed to be done years ago," she said. "But he's too busy fighting with his own party."
Al Falle represented the former riding of Hootalinqua in the late 1970s and early1980s for the Conservatives, the Yukon Party's predecessor.
He told the Star today he feels the race between Dickson and Cathers has strengthened the party.
"All it does is increase the number of members. It makes the party stronger. Teena contributed a lot and worked hard. This is strictly a benefit to the party," said Falle.
He said he is pleased Cathers won the nomination.
"One thing Brad has proven is his integrity. That's his main accomplishment. Honesty and integrity is his hallmark. He won't lie to his constituency," he said.
Falle estimated Cathers lost $30,000 to $60,000 when he downgraded himself from minister to MLA, a move Falle believes proves that he stands by his beliefs.
"Brad's different," he said. "It's unbelievable what he's done."
Falle pointed to Cathers' accomplishments—including the installation of two new cell phone towers, encouraging doctors to come to the territory when he was the health minister and getting highway improvements in the area.
"He'll look after the majority of his constituents before he starts hollerin' about his own problems," he said, noting that Cathers doesn't have cell phone coverage at his own home.
Falle also credited Cathers for helping in the creation of a new subdivision in the area, Grizzly Valley.
Cathers has lived in the riding since 1983. His ministerial portfolios have included Health and Social Services, Energy, Mines and Resources and he was responsible for the Yukon Workers' Compensation Health and Safety Board, the Yukon Liquor Corp. and the Yukon Lottery Commission.
"My door is open now and will remain open after the election," he said.
Add your comments or reply via Twitter @whitehorsestar
In order to encourage thoughtful and responsible discussion, website comments will not be visible until a moderator approves them. Please add comments judiciously and refrain from maligning any individual or institution. Read about our user comment and privacy policies.
Your name and email address are required before your comment is posted. Otherwise, your comment will not be posted.