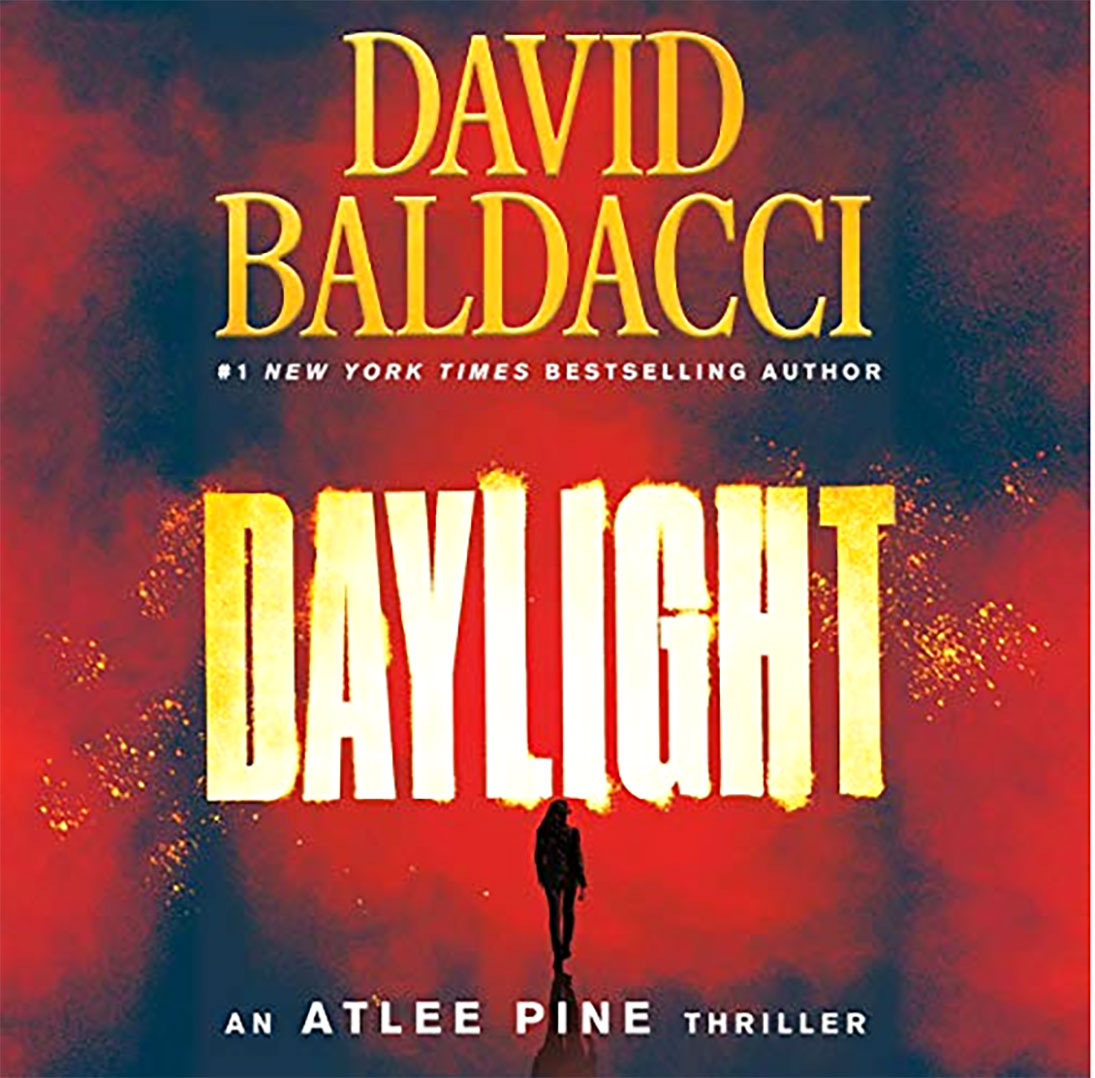 The search for the missing Mercy continues (Bookends)
Prolific authors often have more than one project under way, and sometimes it works out that they cross over. This is the case with this book.
Daylight
by David Baldacci
narrated by Brittany Pressley
and Kyf Brewer Grand Central Publishing
Audible
11 hours and 37 minutes
Prolific authors often have more than one project under way, and sometimes it works out that they cross over. This is the case with this book.
Nominally, it is the third entry in Baldacci's Atlee Pine series, but it is also the fifth entry in the John Puller series, even though Puller spends a good portion of the story in a hospital bed.
Pine is the resident FBI agent stationed in a small city near the Grand Canyon, but most of her stories take place elsewhere.
She is searching for her twin sister, Mercy, who was abducted from their twin bed when she was six, leaving Atlee nearly dead from injuries afflicted by the man who apparently used the "Eeny, meeny, miny, moe" method of deciding which one to take and which one to kill.
While Atlee is an effective agent, and has solved lots of cases, she is sometimes distracted by her trauma, and her regional supervisor has decided that she needs to get this problem out of her system, so he is allowing her time – a limited time – to resolve the matter.
Previously, Atlee has learned the secret history of her parents and how her mother's undercover work for the CIA may have led to what happened to her and Mercy.
With the help of her assistant, an older woman named Carol Blum, she has tracked down relatives of the man who probably kidnapped her sister.
Pursuing that lead causes her to blunder right across the path of military investigator John Puller (think Jack Reacher when he was still an MP), who was planning to arrest the man, a relative of Ito Vincenzo, who she wanted to question.
It turns out that fellow was involved in what initially appeared to be a drug-smuggling operation at a nearby base near Trenton, New Jersey.
But actually, this as a much larger global blackmailing scheme with international implications and, in the course of what becomes their joint investigation, Atlee is kidnapped and Puller is seriously injured.
These problems are resolved and Atlee uncovers information that seems to point to Mercy being alive and having been secretly fostered by a family in a rural area.
Tracking them down leads to a number of dead ends and finally links to another family who has no idea what used to go on in the cave down at the end of their property.
What probably happened to Mercy and what the horrors to which she was likely forced to endure may have turned her into are lingering questions which will, I suspect, get resolved in the fourth book in the series.
It's called, appropriately, Mercy, and I'm looking forward to listening to it the next time I have to make a medical trip from Dawson City to Whitehorse.
Since this is largely Atlee's story, Pressley controls the narrative voice for the book, while Brewer handles the Puller dialogue and other male voices. It's a very effective division of labour.
I've just sketched the outline of the two largest plot threads, but Atlee also learns who her birth father really is, and uncovers enough clues to suggest that her mom and her dad may still be alive and in hiding.
All these mysteries are yet to be resolved. This book ends with a bit of a cliff-hanger feel, unlike the first two.
Baldacci has some eight different series on the go, totalling about 50 books between 1996 and 2022.
So far, this is the only time there has been a cross-over.
He was a lawyer before he turned to writing. His books feature a balance of power between male and female characters, which is unusual in the thriller genre. His audio books usually have both male and female narrators.
Add your comments or reply via Twitter @whitehorsestar
In order to encourage thoughtful and responsible discussion, website comments will not be visible until a moderator approves them. Please add comments judiciously and refrain from maligning any individual or institution. Read about our user comment and privacy policies.
Your name and email address are required before your comment is posted. Otherwise, your comment will not be posted.