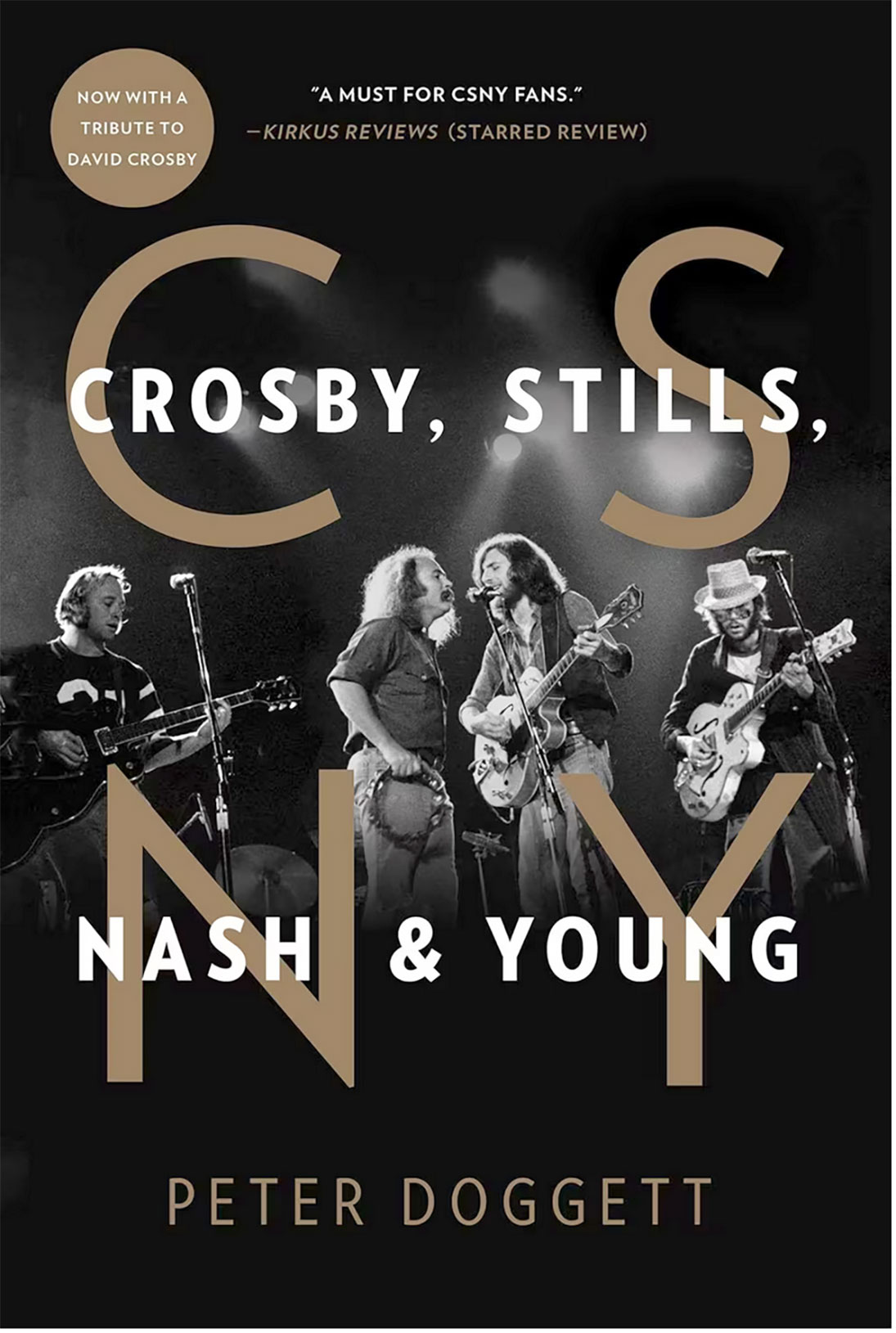 Reflections on a truly legendary supergroup

The recent death of David Crosby put a definite end to any hope that Crosby, Stills, Nash & Young might ever have patched up their differences and had one more reunion.
CSNY: Crosby, Stills,
Nash and Young
by Peter Doggett
Atria Books
384 pages
$25.99
iBooks edition
$17.99


The recent death of David Crosby put a definite end to any hope that Crosby, Stills, Nash & Young might ever have patched up their differences and had one more reunion.
In some of his last interviews, Crosby himself took the blame for much of that, particularly for his rift with Young over comments he made about Young's current wife.
But he also agreed with Nash's assessment of how much his drug issues had impacted the group.
Supergroups – bands which had come together after serving time in other groups – abounded in the late 1970s.
David Crosby cut his teeth as one of the key members of the Byrds, a group that continued after he left it, but never quite hit the heights it had flown with him.
Stephen Stills and Neil Young had served in different bands before they came together with other musicians in Buffalo Springfield.
That group broke apart after only a few albums, spinning off other successful acts like Poco and Loggins & Messina.
Graham Nash was a key member of the Hollies, although they did survive his departure after he abandoned the U.K. to follow Joni Mitchell, writing the lovely little tune "Our House" while they were a couple.
Doggett spends a good bit of time tracing the musical routes of these four, who were all successful before they got together, and who had varying degrees of individual success as their supergroup splintered due to internal strife.
Just how Crosby, Stills, Nash & Young came together has spawned a number of stories.
Mitchell, who dated both David and Graham (and a host of others), has related that they were singing in her living room when they (and she) realized what a vocal sound they had.
Doggett maintains that they had jammed together both before and after that time, and that Mama Cass Elliot has a lot to do with it. The truth is probably somewhere in between.
Stills was certainly the key to the initial formation of the trio (with several drummers and bass players), having provided a lot of the actual instrumentation for the first album. For a long time, he was seen as the leader, in spite of Crosby's star status on the west coast.
It was Stills who pushed to add Neil to the mix.
There is no doubt that this addition altered the sound and the group dynamics, with Young eventually eclipsing his former band mate, if for no other reason that it didn't bother him to just simply walk away or not show up and go do his own thing.
Stills had some things to do on his own as well, and his cred was sufficient to induce folks like Eric Clapton and Jimi Hendrix to act as session soloists on his first solo album.
Crosby's drug use – and it's fair to say that he was simply the worst of them, though they all indulged – was a different sort of threat to the group. Eventually, it got him arrested and imprisoned in Texas, which, he says, saved his life.
Doggett's research unearths how much material the three had nearly ready to record by the time they rented a studio, and how they influenced each other's nearly-completed work.
The same thing happened when Young came on board.
The way they took Mitchell's wistful, somewhat melancholy tune about Woodstock and tuned it into a rock anthem is perhaps reflective of the fact they were there when she wasn't.
This was a band where the clash of egos was bound to be more than the bond that kept bringing them back together, with gaps of five to seven years between some reunions.
Doggett admits to being a fan of the group.
He does his best to present their best face to the world, but there were low moments as well as high ones, and he doesn't shy away from these.
This has the feel of a thoroughly researched and balanced overview of their time.
It's one that has had me make sure that the records in my vinyl collection finally made it onto my iTunes library as well.
Add your comments or reply via Twitter @whitehorsestar
In order to encourage thoughtful and responsible discussion, website comments will not be visible until a moderator approves them. Please add comments judiciously and refrain from maligning any individual or institution. Read about our user comment and privacy policies.
Your name and email address are required before your comment is posted. Otherwise, your comment will not be posted.