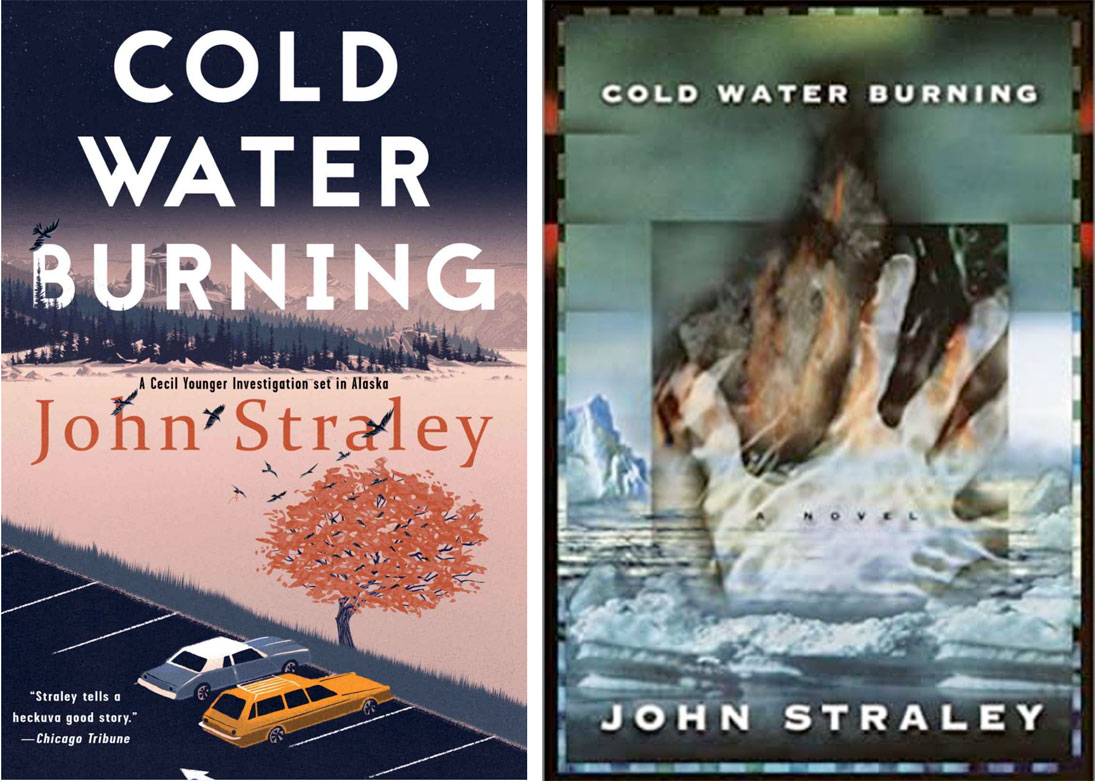 In search of the real killer (Bookends)
Cecil Younger seems to have taken a hiatus from his job as a private eye as this book begins.
Cold Water Burning
by John Straley
Bantam Books
208 pages
Kindle edition
$7.99
Cecil Younger seems to have taken a hiatus from his job as a private eye as this book begins.
One big case left him disillusioned, but with enough money to rest a bit.
He's not above hiring himself out to chop wood for a recently retired police chief.
But he's really not looking to take on another investigation, especially not one connected to that big case, in which he managed to throw enough shade at the prosecution's theories to get the client of the lawyer he was working for out of jail.
Cecil was triumphant in his task, but was never satisfied with the outcome.
There was no Perry Mason conclusion in which the actual murderer was exposed and convicted. The outcome continues to bother him and make him question the righteousness of his work.
For a recovering alcoholic, this is not a good frame of mind to be in.
There had been a multiple murder on a boat in the Sitka, Alaska harbour, and things had looked pretty bad for Richard Ewers. They still did, really.
Most people believed he was guilty, even if the verdict said otherwise, and he and his wife are not doing well.
Richard's been offered a lot of money to tell his story to a big magazine, and it's about then that he disappears.
When Patricia turns up at Cecil's home, virtually begging him to find her missing husband, Cecil is reluctant to go anywhere near the job.
At first, he turns her down and goes about his other business, but he can't quite keep away from the young men who didn't die on that boat, and who have had such hard scrabble lives since then.
While he had effectively saved the man they blamed for the deaths of their parents, they seem to be willing to let him help them when they get into trouble, which they often do.
So it happens that Cecil is pretty close to the scene when Patricia is shot by the police while waving a gun around at the trailer home of Kevin and Sean Sands.
Cecil finds himself needing to know just how all that happened and where Richard's magazine advance money of $50,000 went.
The later death of Sean, who is shot by police while carrying an assault rifle onto the grounds of the school he attends, is the last straw, as far was staying away from this case is concerned.
He has always wondered just what did happen on the MyGirl three years earlier, and now he needs to find out.
In spite of his new resolve, Cecil remains a reluctant investigator in this case, in large part because of the role that was played in it by his mentor, retired police chief George Doggy, who has always been convinced that Richard was guilty.
There's a lot happening in this book. Cecil and his family are threatened; his faith in several people he was fond of is broken; and he nearly dies in a storm at sea.
One of the many advantages of e-books, as Alaska mystery writer Dana Stabenow reminded me at one of the North Words Writers Symposia in Skagway a few years ago, is that it costs the publishers very little to keep an author's backlist in "print" and available.
This version of Cold Water Burning, which was one of the first physical books I enjoyed reading after my recent corrective cataract surgery, is a paperback that is no longer in print.
I've had the book for years, and it just got buried on my "to read" shelf.
I'm happy to have rectified that omission and, in the process of doing some research, I discovered that John, who is also a North Words alumnus, has recently written another of Cecil's adventures of which I was unaware.
Straley is a former investigator himself from 1985 to 2015, though probably a bit better at it than his first person alter-ego, Cecil.
When he's not writing novels, he writes haiku poetry every day.
The one disadvantage to the e-book is the generic cover they gave it, which is not nearly as evocative as the original.
Add your comments or reply via Twitter @whitehorsestar
In order to encourage thoughtful and responsible discussion, website comments will not be visible until a moderator approves them. Please add comments judiciously and refrain from maligning any individual or institution. Read about our user comment and privacy policies.
Your name and email address are required before your comment is posted. Otherwise, your comment will not be posted.