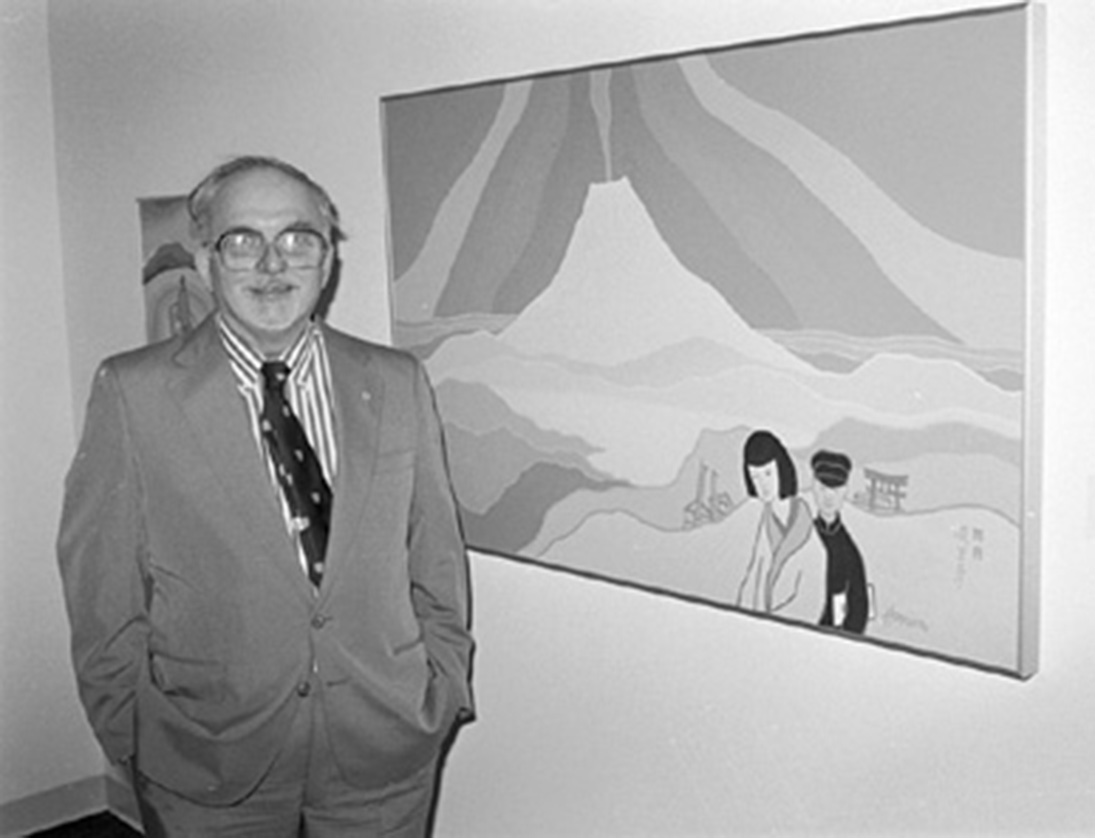 Photo by Whitehorse Star
Ted Harrison
They slept in the Art Gallery to bid on a prized Harrison
For what may have been Ted Harrison's last art show in his hometown, a dozen people slept in the new Yukon Gallery Tuesday night to be assured first dibs on the 20 Harrison paintings up for sale.
"He is a prominent artist, and I do not know how many more times his originals are going to be going on sale here," said Jennifer DeHart, one of the dozen who overnighted in the gallery.
"His paintings are on sale in New York and Toronto, and it was very nice of him to put them on sale here because he could probably get twice as much down there..." DeHart said gallery owner Daniel St. Jean was a good host, permitting the 12 people to sleep inside the gallery and not on the street, which is typical in southern centres.
Aside from the 20 pieces being sold, what was also the grand opening of the new Yukon Gallery location on Second Avenue featured three fundraising measures.
One of the pieces sold, the three top sellers went for $8,600. They were bought, said St. Jean, by local art collector John Reid, Keith Byram for his Pelly Construction company - for whom DeHart stood in line - and a third party who wished to remain anonymous.
Reid ensured himself first choice by arriving at the gallery at 3 p.m. Tuesday, and then waiting 17 hours for the gallery doors to open Wednesday morning so his name would appear first on the buyers list.
St. Jean said almost $100,000 was generated by the sale of 18 of the 20 pieces, with the most expensive work going first.
"It's like people wanted the big ones, and when they went, they settled for smaller ones," he said.
St. Jean is also skeptical whether Whitehorse will see another Harrison sale, noting his growing international status may prevent it.
This was the first Harrison show since 1986. The previous show was 1983. In the intervening years, Harrison has had shows in Toronto, New York City and Japan.
Harrison is also uncertain whether he'll have another show here, but his uncertainty is tied to life, and not international status.
"I don't think it would be the last show," the 63-year-old artist said in an interview this afternoon. "I do not see why it should, if I am going to hang around here."
Harrison was quite enthused about the evening. He noted the crowds here and their appreciation for his work are second to none, including New York.
Harrison was equally pleased with the gallery itself, saying it's the best he's seen in Canada and definitely a credit to Whitehorse.
St. Jean said the Ted Harrison original "White Hat" was auctioned off by the gallery for $6,666, with half the profits - $1,560 - donated to Kaushee's Place, the women's transition home in Whitehorse.
Three bids were received for "White Hat," which has a listed retail price of $5,300. The winning bid came from a Montreal businessman who wishes to remain anonymous, said St. Jean. He added all of the bids received were from the Montreal region.
An additional $1,000 was raised for Kaushee's Place by selling 200, $5 envelopes to the 260 people on hand for the opening. Some envelopes contained various gift certificates and others were empty, explained St. Jean.
Another Ted Harrison original, "Our Boats" was auctioned off for $2,100, which was donated to the Society of Yukon Artists of Native Ancestry.
For more Yukon history, purchase the three editions of history totaling over 300 pages and covering 100 years of stories reported in the Whitehorse Star from 1900 up to 2000. $3.00 per copy (shipping not included) To order e-mail: circulation@whitehorsestar.com
Add your comments or reply via Twitter @whitehorsestar
In order to encourage thoughtful and responsible discussion, website comments will not be visible until a moderator approves them. Please add comments judiciously and refrain from maligning any individual or institution. Read about our user comment and privacy policies.
Your name and email address are required before your comment is posted. Otherwise, your comment will not be posted.