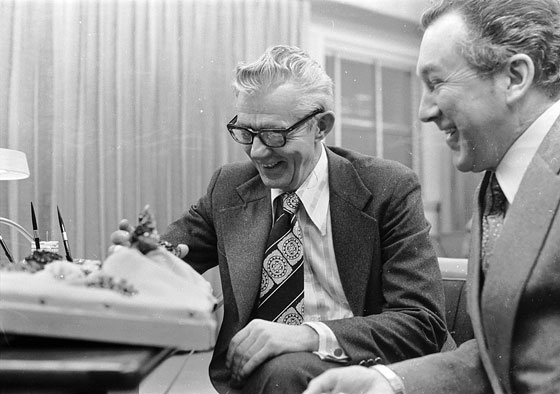 Photo by Whitehorse Star
Former Commissioner James Smith and Al Kulan with specimen of Lazulite.
Ross River "In Shock"
Ross River is "in shock" as a result of the point-blank gun slaying Monday night of prominent Yukon mining man Al Kulan.
"Literally, the whole town is in shock," a Ross River resident who wishes to remain anonymous told the Star.
John "Jack" Rolls Sr., 57, was officially charged with first degree murder yesterday in Whitehorse as a result of the incident. After spending the night in the Ross River jail, the owner of the Timberline Trading Post was flown to Whitehorse for the court appearance. Rolls was remanded over until next Wednesday Sept. 21 for a show-cause hearing.
Kulan was sitting with associates at a table in the bar of the Welcome Inn around 9:30 p.m. Monday when a man came in the door. He simply walked over to Kulan, pointed a 357 Magnum pistol at his head and fired at point blank range.
"He just walked over to him and blew him away." the Star was told.
"The bar just went completely quiet. Then Kulan slumped over and blood started pouring out.
The gunman walked up to the bar, set the pistol down and told the barmaid:
"There. Now call the RCMP."
He then picked up a drink he had bought earlier and began to finish it.
"Then everybody started sliding out (of the bar)."
Within minutes, Kulan and the gunman were the only two bodies in the room.
Rolls was arrested shortly afterwards.
The gunman had apparently been seen in the bar earlier that evening - coming in the door then leaving quickly, on two or three occasions.
Several witnesses were severely shaken up by the incident. Many in the bar knew him and some of his closer friends are reported as being "very seriously upset".
The town's only bar has been closed until Friday.
Kulan was described by close friends as an extremely pleasant and easy-going man with a tremendous amount of endurance and drive and a thin sense of humour.
He was in the area searching for semi-precious stones, an interest he had taken up in the past few years since becoming a millionaire as a result of his co-discovery of the Anvil ore body, which is currently being mined by Cyprus Anvil Mining Corp.
Other than mining, Kulan is remembered for owning at one time the only Rolls Royce car in the territory, and for his "castle" built in the early sixties for $130,000 in Ross River.
He and his family left their home of many years in Ross River earlier this year to take up residence in Vernon B.C.
Kulan 55, is survived by his wife Wynne, sons Barry 26 and Brian 17, and daughter Beverley, 14.
His body will be cremated Friday at a private funeral ceremony in Vernon.
There will be a memorial service in Ross River next Wednesday morning at 10:30 a.m. The family requests that donations be made to cancer research in lieu of flowers.
Kulan's death is the second sudden passing of a co-discoverer of the Anvil ore body, Dr. Aro E. Abo died earlier this year in a tractor accident at his farm.
By Star Staff
Add your comments or reply via Twitter @whitehorsestar
In order to encourage thoughtful and responsible discussion, website comments will not be visible until a moderator approves them. Please add comments judiciously and refrain from maligning any individual or institution. Read about our user comment and privacy policies.
Your name and email address are required before your comment is posted. Otherwise, your comment will not be posted.