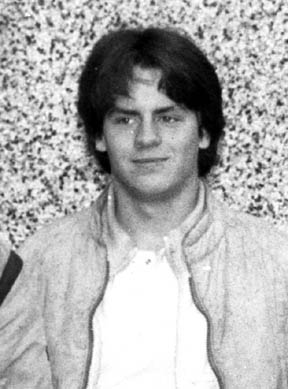 Photo by Photo Submitted
John Moffatt
Remains of missing youth discovered
Human remains found along the Long Lake Road Aug. 15 are those of John Brent Moffatt. The Whitehorse youth mysteriously disappeared from the Klondike Inn nine years ago.
Dental records were used to make the identification during an analysis of the remains, Whitehorse RCMP said this morning. Foul play is not being ruled out, although nothing in the analysis of the bones to this point is suggesting foul play, Cpl. Jim Baker said in an interview.
"We have just reopened the investigation now that we have identified the remains," Baker said. "We treat everything as suspicious until such time that we rule it out.
".... But there are no clues to indicate what happened that night. Somebody knows, or somebody knows something, maybe not about how he got there, but there is somebody out there that knows something that may not be telling the whole truth."
The Nov. 29, 1986 disappearance of the then 19-year-old captured the curiosity of the city, given that Moffatt's coat was left behind in the bar on a night of -15C temperatures. His car was in the parking lot of the then popular rock n' roll club.
Rumors abounded about his fate. There was a thought that he'd consciously decided to take a break from routine and go underground. Moffatt and his friends that night were using LSD, and perhaps he'd just wandered off confused, some thought. Suicide was a possibility, but a police search of the riverbank and area found no tracks leading to the river nor to open water. That was some distance from the Klondike Inn. Murder was also a possibility. Nobody, however, could think of any motive for killing the teenager.
Whatever the reason, fewer than 24 hours after his disappearance, his family started what was to become a long and extensive public campaign for any information that would assist in the investigation.
Posters were printed and circulated. The police stated publicly that the use of the LSD that night was not an issue with them - finding Moffatt was. Police and the Moffatt family called for anonymous tips.
In an interview a year into the investigation, Const. Pete Thompson said: "The only thing we're certain is that people in that bar who were with him, John, aren't telling the whole truth...No one saw him leave with anybody; no-one saw him leave by himself.
".....It was cold outside and usually I think somebody running around without a jacket would be noticed by somebody, by the staff or the stands of taxis outside. I can't believe that in a town this size, somebody wouldn't know something.
In an interview also a year after Moffatt's father, Gayle Moffatt, said: "It is like something came down and plucked him away. Every time you think of a possibility, there's a reason it can't be ....... I'm just as confused tonight as I was when he didn't show up Sunday, and I started making phone calls."
The remains of the body were discovered by a survey crew about 135 metres east of the Yukon River between the river and the road. Baker said investigators still do not want to say exactly where the body was found.
There was no evidence to suggest the body had been buried, Baker said. Then again, there is no evidence to suggest it hadn't been buried and subsequently dug up by a bear or other animals, he said.
The bones, he added, were not all in one place, but scattered about in one general area. The analysis of the remains indicates the bones had been there for a "significant" amount time. Assessing whether they had been there since his disappearance, however, is "virtually impossible," Baker said.
The corporal said more examinations on the remains will be done as part of the reopened investigation, which will include a closer look for hints of foul play.
The Whitehorse Star, September 11, 1995
Add your comments or reply via Twitter @whitehorsestar
In order to encourage thoughtful and responsible discussion, website comments will not be visible until a moderator approves them. Please add comments judiciously and refrain from maligning any individual or institution. Read about our user comment and privacy policies.
Your name and email address are required before your comment is posted. Otherwise, your comment will not be posted.