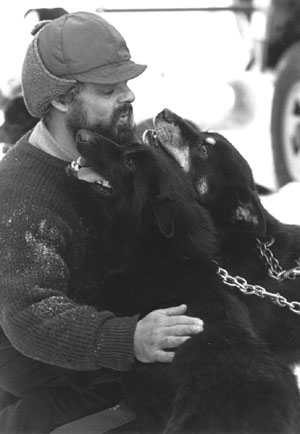 Photo by Whitehorse Star
Frank Turner
Record-setting Turner: 'I owed it to the dogs'
FAIRBANKS - It took him 12 tries to do it, but at 4:40 this morning Alaska time, Frank Turner finally won his first Yukon Quest. He did it in record fashion. No other winner has ever turned in the 10-day, 16-hour performance that the 47-year-old Whitehorse resident did.
"I kind of owed it to the dogs and to a lot of people to make sure we didn't underachieve on this one," said Turner, the only musher who has entered all 12 Quests.
"This was the only year I thought, with the dogs I had, that winning might be in the cards," he said moments after crossing the finish line of the 1,600 kilometre race. "Winning has never been a motivation for me... it's never been a personal goal."
Jim Wilson of Ambler, AK, finished in second place, 50 minutes behind Turner. Jay Cadzow of Fort Yukon, AK, placed third, finishing at about 7:45 this morning. The old record for the Whitehorse to Fairbanks run was the 10 days, 21 hours, 12 minutes turned in by Charlie Boulding in 1991. The record for the Fairbanks -
Whitehorse run was the 10 days, 22 hours that winner Lavon Barve ran it in last year. About 70 people greeted Turner at the finish line:
"Frank was just sort of holding back this whole race," said Wilson. "I only really saw him when he got to Dawson City (last week), and I didn't see him again until he caught me coming into Angel Creek. That's when I knew he had a real team."
The victory also dispelled notions that Turner and his dogs are "too nice" to win a race as gruelling as the Yukon Quest. "This is a pretty tough team right now," he said. "We've never been big on this tough, macho image the Quest sometimes presents.
"I'm not big on this image of the Quest as the toughest race in the world or the hemisphere or whatever. It's not something I've ever bought in to. You've got to be mentally and physically prepared for the race. You can't win if you're not strong mentally." Turner was the first musher out of the Angel Creek checkpoint, leaving at 8:30 Wednesday night with a three-minute lead over Wilson.
About 60 people vacated the greasy confines for the checkpoint cafe to crowd the starting line and watch the mushers leave on the race's final 120-kilometre push to the finish.
"I went out real slow out of Angel Creek and the dogs probably would have preferred to stay on their straw," said Turner. Wilson led his team to the starting line right behind Turner. Wilson's dogs barked and howled, straining at their harnesses long before the starter would let them go. It looked like a good sign for the pre-race favorite.
"Barking and woofing doesn't always make the difference," Wilson commented dryly at the finish line. Wilson did manage to get an early surge out of his team, catching up to Turner about 11 kilometres out of Angel Creek. The pair travelled together for a while. Turner admitted it was a situation he and his dogs wanted to get out of as quickly as possible.
"We didn't want to get into a pack out there, they don't like a lot of yelling, it's really distracting for them and for me." Turner didn't have to wait long before separating himself from Wilson. The two teams hit a patch of river overflow and headed in opposite directions to escape the icy water. Wilson had a further delay when he had to stop to remove his dogs' booties. Turner left Angel Creek without booting his dogs.
"I probably should have booted," he said. "They got some cuts coming over Eagle Summit last night ... (but) dogs will run faster without boots. Also, if you have the boots on and you go through overflow, you've got to stop (to remove the frozen fleece boots)." Turner ran what he considered a very controlled race.
"Compared to everyone else, I just pace my own race," he said. "I made sure they got lots of rest after runs, and we didn't get caught up in what the other teams were doing.
"Probably, of all 12 Quests that I've gone into, this was the easiest. It seemed like everything fell into place, tickity-boo, at the right time." Said Wilson: "If there's a proper way to do this race, he did it right. We came in pretty good, we were moving at what I thought was pretty fast, but he was flying. What you saw at Angel Creek, he kept that going."
The victory is an emotional one for Turner, who has been mushing in the Yukon for 15 years. In November 1993, he lost one of his closest friends when Bruce Johnson of Tagish drowned after falling through the ice with his dog team.
"I had a lot of time to think about what winning means on a personal level and on a competitive level," he said. "Often during this race, I have felt very close to Bruce ... I think the way I ran this race is really closely associated with him. I know Bruce wanted to run this race this year and win it one more time .. This would have been Bruce's type of race."
Turner said at times it felt like somebody was watching out for him. In a couple of instances, he was running low on snacks and he came across food a previous musher had dropped beside the trail.
The only other Canadian to win the race was Johnson, in 1986. The first Yukon Quest was in 1984.
The Whitehorse Star, Thursday, February 23, 1995
Add your comments or reply via Twitter @whitehorsestar
In order to encourage thoughtful and responsible discussion, website comments will not be visible until a moderator approves them. Please add comments judiciously and refrain from maligning any individual or institution. Read about our user comment and privacy policies.
Your name and email address are required before your comment is posted. Otherwise, your comment will not be posted.