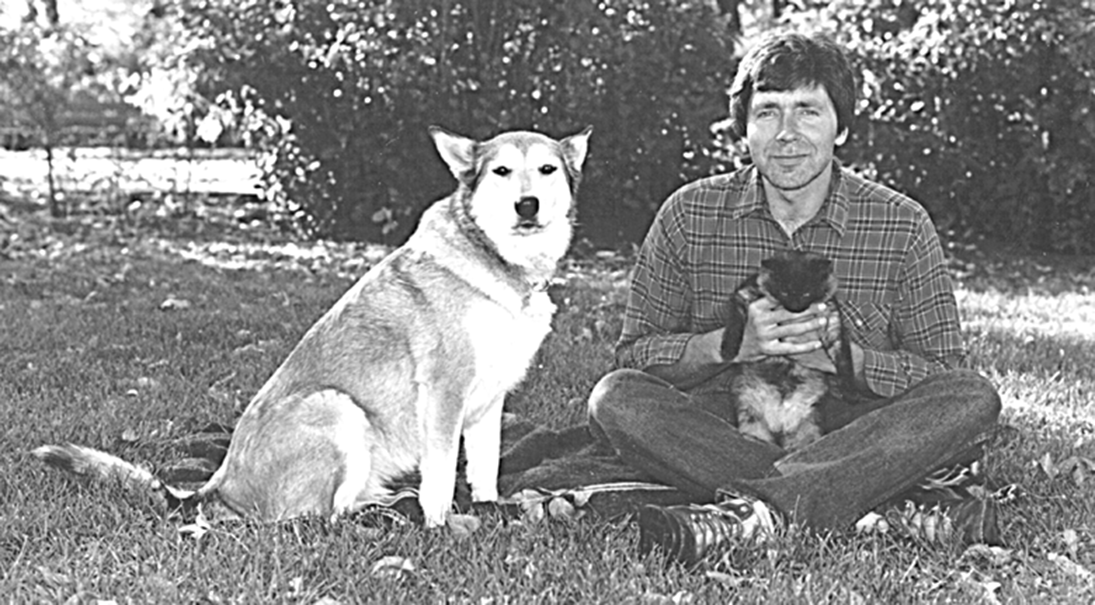 Photo by Whitehorse Star
Klassen with pets
Klassen appeal dismissed
An appeal of Ralph Klassen's five-year prison sentence for strangling his wife in a fit of rage was dismissed today by three B.C.-Yukon Appeal Court justices.
The ex-Whitehorse resident is currently serving time in a Vancouver Island prison. He was convicted of manslaughter for using a pillow case to end Susan Klassen's life on Nov. 2, 1995.
Susan's sister, Brenda McDonald, 37, choked back tears this morning while reading the decision in her Alberta home. "I think women should be absolutely appalled and terrified," she said. "You are a piece of property; you are a possession when you walk down the aisle. "It's unbelievable," said the Edmonton woman, who has launched a fight to change laws around spousal homicides since her sister's death. More than 10,000 people have signed a petition in support, or logged onto a web site about Susan. Now, McDonald is bending the ear of the new federal justice minister, Anne McLellan. She will not give up. She wants the case to go to the Supreme Court of Canada next so evidence of Klassen's past that was never used during the trial can be introduced.
"Susan had every right to live." A month ago, a federal Crown argued in a Yukon court that Klassen's sentence was too short and should be doubled. Federal Crown prosecutor David Frankel urged three justices to rethink the way spousal homicides are sentenced. In their final judgment, Chief Justice Allan McEachern, Justice David Hinds and Thomas Braidwood said: "As it cannot be said that the sentence imposed in this case was demonstrably unfit, we have no alternative but to dismiss this appeal." In their written decision delivered today, the justices outlined the case and commented on the lack of any evidence of previous violence. "The accused had no criminal record prior to this offence. Since his sentence, there has been some adverse publicity in the local media about the accused having some violent propensities, but no such evidence was presented in the trial.
"Certainly, there was no suggestion of violence in the many family victim impact statements provided to the court ...The Crown not having sought to introduce any such evidence, we are confined to the evidence actually presented at the trial." On May 28, the XStarX reported that a court document filed in Manitoba decades ago offered some insight into Klassen's past. The July 1977 divorce petition says Klassen "tried to choke" his first wife, who eventually sought divorce on the ground of "physical or mental cruelty." Susan's family urged the Crown to introduce this new information at the appeal and update their victim impact statements, but say they faced a stone wall of refusal.
"This case was mishandled, and I want some answers," McDonald said this morning. A Vancouver federal Crown prosecutor said fresh evidence can be introduced at the appeal level, but the rules are strict. In an interview this morning Frankel said ,"It's been done any number of times, but there are some statutory requirements. We took a decision not to." He said the case can still go to the Supreme Court of Canada. In court last month, Frankel had argued that the range of sentences for cases relating to spousal violence (from a suspended sentence to eight years) was inappropriate.
"We knew it was an uphill battle," he said this morning. In the justices' final decision, they focused on the evidence around the pivotal moment before Klassen strangled his estranged wife. In court, Klassen said a disparaging remark was made about his low sperm count, and that there was some suggestion of his wife's relationship with another man during their separation. "The accused expected to have sex with his wife, but when he touched her, she said: 'What's the point; it's dead sperm, anyways. Besides, you already know about Gord.' "
For McDonald, these words are difficult to read. "How do they know ... " she asked, her voice cracking. "He's a killer and he's not going to lie?" In the reasons for the dismissal, the justices make it clear the incident which allegedly sparked Klassen's rage was not an excuse for his actions. "We mention these facts not to assign blame upon the deceased, but merely to explain the facts. There is nothing to suggest the deceased was responsible for her wholly unnecessary death." For Susan's family, the words are hollow.
McDonald hung up today dreading the moment she tells Susan's father about the decision. "Susan was not recognized in this courtroom. Her name was not even mentioned at the appeal," she said. "She was called 'his wife'... not 'estranged wife.' " McDonald sees no justice. She only sees a man who killed, then tried to commit suicide by driving into a propane truck on the Mayo Road, for which he never faced any charges. "It's a very scary country we live in if men's anger, simple anger, means if you kill somebody, it's almost OK. It's an accident because you were angry. You didn't mean to do it."
---
Ralph Klassen's "deep blind rage" and lack of evidence about any previous violent outbursts were some of the reasons his prison sentence was not lengthened. After 30 days of considering the evidence, three B.C.-Yukon Appeal Court Justices decided that the 45-year-old man's prison term was not "unfit", despite calls for tougher sentencing for spouses who kill their partners.
Klassen, who was originally charged with second-degree murder, was tried by a judge and jury last January and found guilty of manslaughter for strangling his wife with a pillow case in the couple's Lake Laberge home. By then, he had been in custody almost 15 months.
"So the sentence is really in excess of six years," Chief Justice Allan McEachern, Justice David Hinds and Justice Thomas Braidwood said in an eight-page decision released by the Yukon court services office today.
The document outlined the facts of the case and highlighted the fact that trial evidence did not support "provocation", a defence often used for murder. Provocation is legally defined as a situation when victim provokes an accused, making him or her so intensely angry, "(they) may not contemplate the consequences of an act, and might not in fact intend to bring about those consequences," reads the decision.
In cases like this, it can be argued that the accused did not have the "intent" needed to prove murder. The trial judge told jurors that the evidence in the Klassen case did not support "provocation". Despite this, the jury returned a verdict of manslaughter instead of second-degree murder. In their decision, the B.C.-Yukon Appeal justices pointed out that, despite the fact that provocation was disallowed by the judge, the Klassen verdict was not appealed.
In an "unusual" move, the federal Crown only appealed the sentence after a public outcry about the case. During the appeal, federal Crown prosecutor David Frankel told court that Klassen did intend to assault his wife, and the only defence he had for her death was his rage.
"He intended to assault her when he put his hands around her throat and squeezed the life out of her ... He was so blinded by rage that he took a life," he said last month.
Frankel wanted a longer sentence. He asked the appeal court to ignore precedents, which he felt went too easy on men who killed their spouses. He raised concerns about other manslaughter cases which he said do not properly reflect societal concerns, yet stand as bench marks to determine sentencing ranges.
On May 27, he told court, "We are here to determine whether a (this sentence) is an appropriate and fitting one when a 36-year-old victim is brutally strangled in her own home and her own bed," he said. Klassen can apply for day parole in March 1998, and vie for full parole by September 1998.
Despite arguments to toughen his sentence, a panel of legal minds pointed to the mitigating circumstances which arose during Klassen's trial — the accused pleaded guilty, there was no evidence of prior violence, the jury found no intent to kill and the trial judge said Klassen showed deep remorse by trying to commit suicide (by drving "head-first" into a propane truck) the day he strangled his wife.
"An examination of comparable cases suggests a sentence of five years for this offence is within the usual range," the document released today states. It points to similar cases where moves to lengthen sentences lost upon appeal. "In a number of recent cases, the Supreme Court of Canada has authoritatively stated that Appeal Courts should be very slow to interfere with sentences imposed by trial judges."
By YVETTE BREND Star Reporter
Add your comments or reply via Twitter @whitehorsestar
In order to encourage thoughtful and responsible discussion, website comments will not be visible until a moderator approves them. Please add comments judiciously and refrain from maligning any individual or institution. Read about our user comment and privacy policies.
Your name and email address are required before your comment is posted. Otherwise, your comment will not be posted.