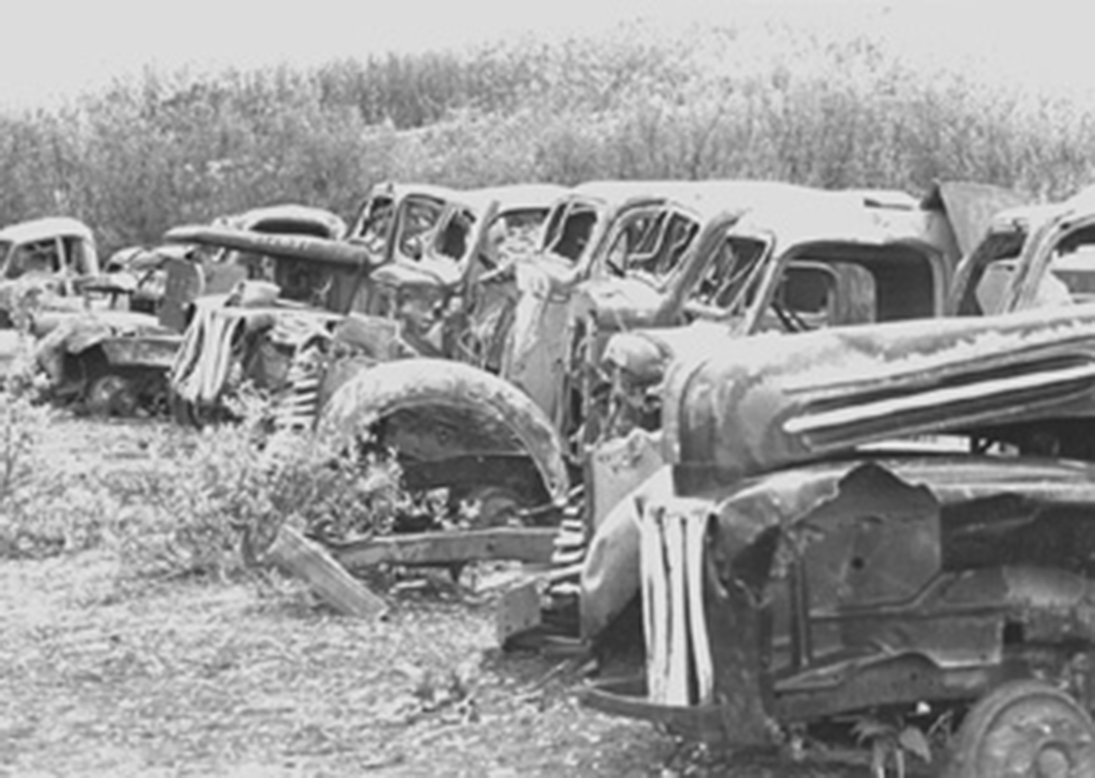 Photo by Whitehorse Star
Old army trucks Canol Road.
Canol Road to be honoured as historic site tomorrow
The Canol Road is about to assume what many consider to be its proper place in history.
At 2 p.m. Saturday, at the S.S. Klondike in Whitehorse, various officials will unveil a special plaque commemorating the Canol Road as a National Historic Site.
The plaque will be erected along the road, a reminder to travellers that they are making use of one of this century's largest and most expensive construction projects.
"It was an enormous project," Doug Olynyk, historic sites coordinator for the Yukon government's Department of Tourism, said in a recent interview.
Between 1941 and 1945, more than 30,000 people flooded to the remote Canadian North to work on the Canol (Canada Oil) Project.
At its completion, more than 2,500 kilometres of pipeline, along with a system of winter trails, all weather roads, telephone lines, airstrips, and camps, stretched from the Norman Wells oil field on the Mackenzie River to a refinery in Whitehorse, with terminals in Watson Lake, Fairbanks, and Skagway.
"The idea was to take advantage of known oil reserves at Norman Wells on the Mackenzie," said Olynyk.
Japanese aggression in the Pacific, including attacks on America oil tankers, and the invasion of islands in the Aleutians, persuaded the allies to take on the Canol.
It was billed at the time as the largest construction project since the Panama Canal, and its significance was matched by its price.
It cost somewhere between $150 million and $300 million, which in today's terms works out to about $2 billion, said Olynyk.
Once built, however, it became a white elephant.
The military situation had changed substantially by the time the first oil flowed in April, 1944. So in, April, 1945, the project was mothballed.
The Canol's significance as an oil producer is limited, said Olynyk. The first oil reached Whitehorse in April, 1944, where production of aviation gas and highway fuels lasted for only one year. Only one million barrels of oil were piped to Whitehorse during the year it operated.
"That's a very minute amount compared to today's shipment standards," said Olynyk, citing the United States' daily production of nine million barrels per day as a comparison.
The plaque set to be unveiled Saturday consists of precis of the Canol Road's history.
Canol Road builders shared a strong sense of camaraderie
For people who worked on the Canol project, it was an interesting and exciting time. Gertrude Gillis, 71, arrived in Whitehorse just two years after escaping from the Sudetenland in Germany. Even though she was a refugee with poor English at the time, Gillis has fond memories of her time working as secretary to the Officer in Charge of the project.
"To be young and a maid among a million men, oh, it was terrible life, just terrible," she joked in a recent interview.
Gillis regrets not keeping a diary, but recalls a strong sense of camaraderie among the many troops stationed in Whitehorse during that time.
She said communications were a problem because there weren't phone lines out along the road as it was being built.
"We had to send reports to Washington every week on how far the pipeline has progressed and we always laughed because we didn't know...
The government thought we could just call up the bush."
She remembers the winters being much colder than they are now. Although she never visited the road and pipeline as it was under construction, she knew "it was not easy."
"But I know that they did have some fairly good facilities out there, of a barracks type." Gillis left when the project was cancelled in 1945, but she returned permanently to Whitehorse six years later.
She has witnessed Whitehorse's history from the sudden expansion during the war, then its return to a small community after the war, and, finally its steady growth to its present size of almost 21,000 residents.
"To come from Europe, to come to the Yukon, and see this project, and see Whitehorse progress to what it is now, it's been a terrific experience," she said.
For more Yukon history, purchase the three editions of history totaling over 300 pages and covering 100 years of stories reported in the Whitehorse Star from 1900 up to 2000. $3.00 per copy (shipping not included). To order e-mail: circulation@whitehorsestar.com
Add your comments or reply via Twitter @whitehorsestar
In order to encourage thoughtful and responsible discussion, website comments will not be visible until a moderator approves them. Please add comments judiciously and refrain from maligning any individual or institution. Read about our user comment and privacy policies.
Your name and email address are required before your comment is posted. Otherwise, your comment will not be posted.