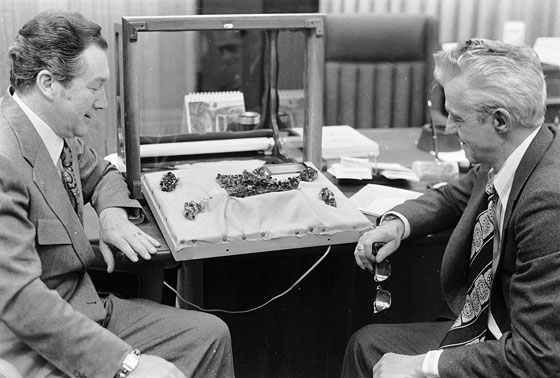 Photo by Whitehorse Star
Happier days - former Commissioner James Smith and Al Kulan with specimen of Lazulite.
Appeal Filed In Rolls Murder Case
John Rolls was found guilty of first degree murder in 1978 and was given a life sentence but the conviction was overturned by the Yukon Court of Appeals on the grounds that the presiding judge misdirected the jury.
Lawyers will definitely appeal a Yukon Supreme Court jury's decision April 4 which convicted John Rolls for the first degree murder of mining man Al Kulan Sept. 12 in a Ross River bar.
Henry Regehr, one of the Rolls' two Vancouver lawyers, told the Star Thursday that a "notice of application for leave to appeal was filed at the Yukon Territory court of appeal in Vancouver" that day.
The appeal, which Regehr told the Star in mid-April will be focused on allegations of "misdirection and non direction" in Justice H.C.B. Maddison's giving of his charge to the jury, could be held in either Vancouver of Whitehorse, said Regehr.
He said then that there will also be allegations that Maddison erred in his "rulings through the course of the trial"
Rolls is presently serving a life imprisonment term for having shot Kulan, at point blank range, through the head with a bullet from a .357 Magnum. The murder itself was coloured with absurdities.
Rolls, who testified that he had long felt persecuted by Kulan, casually walked over to the man, and in the midst of a crowded bar, shot him in the head. Rolls then turned and walked back to the bar, lit a cigarette and finished his drink.
"He's dead. He deserved it," Rolls was heard to have said after the shooting.
Rolls' lawyers, relying heavily on the evidence of two psychiatrists, attempted to convince the jury that Rolls had been in a "dissociative state" or trance at the time of the murder and was therefore criminally insane and not responsible for his actions.
The jury, however, after a relatively short deliberation, concluded that, as crown attorney Peter McIntyre had said, Rolls, because of his jealousy and fear of Kulan, had deliberately planned and executed the murder.
"He made up his mind what he was going to do and did it." said McIntyre.
The Whitehorse Star, June 23, 1982
Kulan Death "A great tragedy"
Killer to serve 10 years at minimum
The Yukon Supreme Court sentenced John Rolls to life in prison with no possibility of parole for a least 10 years. Rolls was convicted of second degree murder in connection with the shooting death of Al Kulan in a Ross River bar in 1977.
Earlier testimony showed Rolls had bought the Welcome Inn in Ross River from Kulan in 1967. He sold it back to Kulan in 1973, but was dissatisfied with his end of the deal.
Roll's habitual alcohol abuse, coupled with a mental instability he developed caused him to develop a hatred for Kulan, the judge noted.
"His actions were purposeful, not hesitant. He simply walked up to Kulan, pointed this powerful firearm (a .357 magnum) at him and shot him dead."
In 1973, at the age of 58, the judge noted, Rolls found himself a business failure.
"The position of a hotel keeper in Ross River was one of high stature. He was a failed hotel keeper who stayed in the community and was regularly reminded of the failure in his life.
"......He had succumbed to a delusion about his supposed enemy. That delusion was that Mr. Kulan was responsible for his failure in life."
The judge called Kulan "a fine person who was senselessly cut down in the prime of life. This was surely a great tragedy.
"He died as suddenly and as explosively as if he had been hit by lightning.
Add your comments or reply via Twitter @whitehorsestar
In order to encourage thoughtful and responsible discussion, website comments will not be visible until a moderator approves them. Please add comments judiciously and refrain from maligning any individual or institution. Read about our user comment and privacy policies.
Your name and email address are required before your comment is posted. Otherwise, your comment will not be posted.