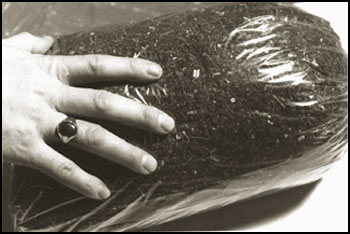 Photo by Whitehorse Star
Confiscated Marijuana
A convicted user talks about Marijuana
(In reply to a recent article by Dr. Lyall Black, Zone Director, Northern Health Services, the following letter has been received from Ian Rankin, who was recently convicted on a marijuana charge in the Yukon.)
The medical facts as presented by Dr. Black are accurate insofar as they are consistent with current medical information on cannabis. I would like to add to them by quoting from the Cannabis Report prepared by the British Home Office, (obtainable from the Queen's Printer, London, England, $1.50 per copy.)
"... Having reviewed all the available material on marijuana, we find ourselves in agreement with the conclusions reached by the Indian Hemp Drug Commission of 1893-94 and the New York Mayor's Committee on Marijuana of 1944...that the use of cannabis in moderate doses over a long period of time has no harmful effects, does not lead to other forms of addiction nor causes physical or psychological dependence... and that the use of this drug does not constitute an anti-social act or evidence of unsatisfactory moral character."
This report also stated as its primary objective the necessity of ensuring that people cannot be imprisoned for either possession or trafficking in limited quantities. The position of the U.S. Food and Drug Administration is quite similar; its former director, Dr. James Goddard, stated in Congress: "While it is true that most heroin addicts have at one time or another used marijuana, it is also true that most heroin addicts have consumed milk: our research on marijuana shows no cause and effect relationship between the two."
Considering the medical research on marijuana as far back as 1893 shows it to be a harmless drug, one must conclude that the reason for its being included in the World Health Organization's list of restrictive drugs is for other than medical reasons, i.e. that 25 years ago the distinction was made between marijuana and other drugs by those that used them and distributed them. The Narcotics Control Act making marijuana illegal, at that time was wise insofar as the distribution of it was controlled by criminal elements but this is not the case today.
LEGAL FACTS
Dr. Black, in his letter to The Star, stated "I am also concerned about the heavy penalties which have been inflicted upon marijuana users and am completely in favour of the move to lighten the legal penalties to users, but not to pushers, where marijuana is wholly illegal, is in essence, to condone pot smoking but not the transaction necessary to obtain same. "Possession" is directly related to "trafficking" and to lighten penalties on one but not the other is somewhat unrealistic.
Also, a person who buys a few pounds in order to have an adequate supply for himself and his friends, on a profitable basis, is in the eyes of the law, a "trafficker", such a person holds himself liable to life imprisonment. Does this not constitute a cruel and unjust punishment in violation of the Canadian Bill of Rights?
A social and legal question arises in any crime without victims: Is it justifiable for the law to presume to act in one's own best interests? This is a question which must be answered now. Our legal courts in applying the law show they are concerned with punishment for breaking the law, rehabilitation of an insidious habit and deterrence to others.
Before discussing such things as drug abuse and possible solutions to such problems, I having been convicted of being in possession of marijuana, would like to reflect on court judgements on marijuana which show an attitude as above, but with an emphasis on deterrence.
DOESN'T WORK
First, I do not feel that punitive measures contribute to social welfare. Secondly I do not believe the use of marijuana to be either a 'habit' in any sense of the word, not insidious. Hence there is no need for rehabilitation. Thirdly, imprisonment for its deterrent effect is neither effective nor realistic.
Pot smoking is not a prerequisite of either political or radical elements. It involves any man one might encounter walking down the street, i.e. businessmen, workers, students, professional people -- an increasing and presently large segment of the population, and I do not exempt Whitehorse from any of the above.
Maintaining the present laws, or enforcing stronger to restrict the use of drugs will compound the evils associated with having it illegal by driving control of it into criminal organizations, by manufacturing criminals en masse, in effect by flat, and by alienating even further the youth of today from recognized society.
I realize that our courts when making judgements are only applying the laws of Canada and must be impersonal, but I abhor the hypocrisy used to rationalize these decisions. I abhor a situation in which I am arrested by police officers for whom I have the utmost admiration and respect, who seem apologetic about 'having to do their job'.
WHAT TO DO?
I would not propose full legalization of marijuana. Whilst it is true that a lot of people use it, as is evident by the flourishing "Head shops" in our cities, raving discotheques pocketed throughout the country is too wild a picture to contemplate and possibly premature from a health point of view, considering that the Canadian Ministry of Health has not until this year conducted any comprehensive study on marijuana. Fines for possession offenses and fines and/or imprisonment of up to six months maximum for trafficking would not really affect either the availability or consumption of marijuana and would be more in keeping with public opinion and the aim of the people.
Drug education is still in a dark age. Many teenagers smoke marijuana for the same reason they like to smoke tobacco, drink or drive cars, as an attempt to identify with an adult world. All of these incur responsibilities that should not be consumed until the maturity of an individual has developed to the extent where he indulges such use in moderation and is able to accept and adjust to the consequences.
The youth of today most certainly should be discouraged from the use of drugs. However, the establishment should educate people properly on the effects, dangers and 'highs' etc. obtainable on drugs in a realistic manner that would be respected by youth. (This cannot really be done by people who are not acquainted with drugs.)
Much drug abuse is encountered purely through ignorance of drugs, which could be avoided by eliminating the ignorance.
WHAT IS A HIGH?
Most people consider being high on pot in terms of how it compares with alcohol. We can easily see the evils inherent in a dependency on alcohol being used as escape. Marijuana is not an escape from reality but a trip into reality. In this sense, one is not blocked from awareness of problems but given a perception of them. (Psychosis often develops through the build-up of a mental defense; removal of the defense surrounding problems can here only promote health.)
A marijuana high does produce a greater awareness of perception. This does not mean one's eyesight, hearing and mind actually improve physically, per se, but only that the awareness of the use of these facilities is greater.
A Boston University School of Medicine report just completed on marijuana, taken on a variety of subjects some of whom had never previously tried marijuana, showed that on mental and dexterity tests the subject tended to improve after smoking. (A mental or physical state of being impaired would seem to be more myth than fact.)
An individual decides right from wrong, good from evil, largely as a result of environmental conditioning Marijuana tends to remove the conditioning factors of the mind from influencing one's perception, which is why a greater and purer sense of reality is apparent.
Alan Watts described a personal 'awareness' of his as being aware of "the technology that has produced polluted air and streams, poisoned chemicals, pseudo-vegetables, foam-rubber bread and the total Los Angelization of man." This century has produced unimaginable leaps in all forms of human endeavour except, possibly, the state of man's mind. Can mind and technology ever develop to the point where it could be said "We have arrived" if man's mind and his consciousness remain stagnant?
Science has shown that drugs have great potential for use in developing the mind. I think to classify all drugs under the heading of 'dope' and hence prohibited, is totally restrictive to freedom. Society does not have to answer to all her ailments, but is it wise to prohibit the possibility of searching for them?
URGENT NOW
A politician is not likely to embark on legal reform of legislation on marijuana as this would understandably put his elected position into an uncertainty. Likewise with any businessman, government employee or other individual. If our Member of Parliament is to express our view in Parliament and be truly representative of the will of the people of the Yukon, then it is necessary for the people to enlighten him as to their views.
I advocate and encourage debate and discussions in the press and direct communication with our government. Surely the prime cause of bureaucracy is an apathetic attitude on the part of the public? Democracy is only as dynamic as the people make it.
Hoping that this letter may be of some interest to your readers, I am, sincerely,
Ian Rankin, General Delivery, Whitehorse.
For more Yukon history, purchase the three editions of history totaling over 300 pages and covering 100 years of stories reported in the Whitehorse Star from 1900 up to 2000. $3.00 per copy (shipping not included) To order e-mail: circulation@whitehorsestar.com
Add your comments or reply via Twitter @whitehorsestar
In order to encourage thoughtful and responsible discussion, website comments will not be visible until a moderator approves them. Please add comments judiciously and refrain from maligning any individual or institution. Read about our user comment and privacy policies.
Your name and email address are required before your comment is posted. Otherwise, your comment will not be posted.