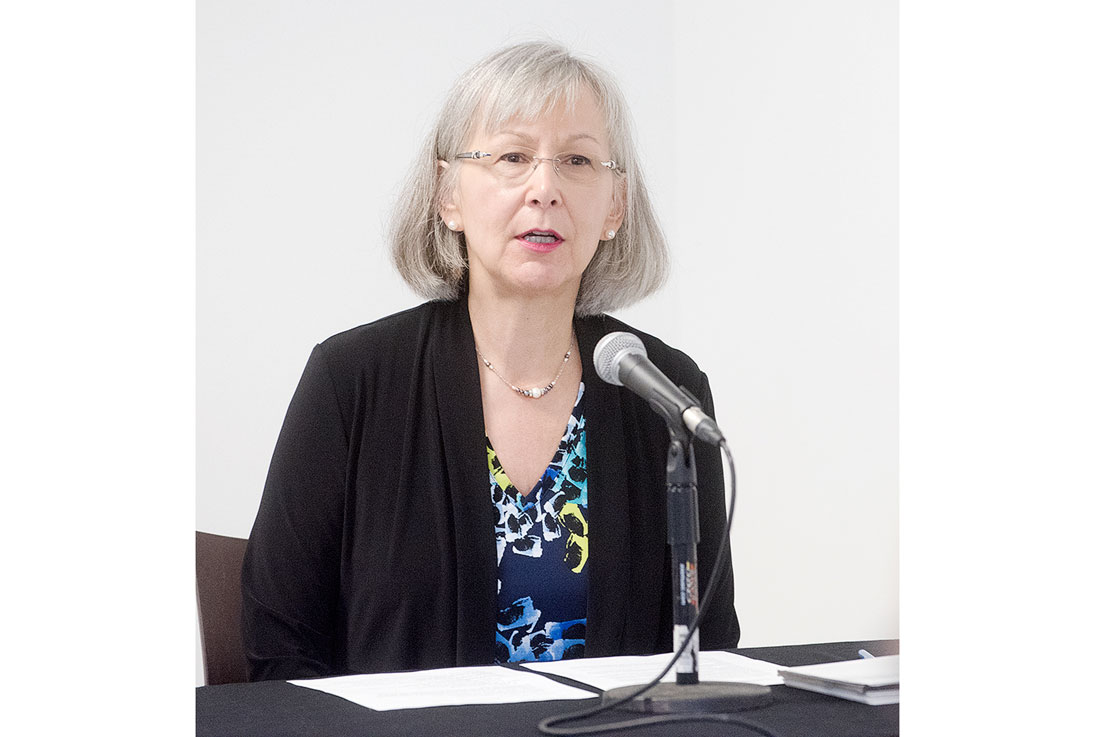 Photo by Whitehorse Star
Marion Buller
Yukoners' advice prompts delay in inquiry's plans
After hearing from loved ones and survivors of violence in Whitehorse last week,
After hearing from loved ones and survivors of violence in Whitehorse last week, commissioners of the National Inquiry into Missing and Murdered Indigenous Women and Girls have postponed meetings that were scheduled to take place this week in Edmonton and Thunder Bay, Ont.
"The advice shared in Whitehorse, in the traditional territory of the Kwanlin Dün and Ta'an Kwäch'än, and from others across the country is that the process of seeking advice through the regional advisories must be reformulated," the inquiry said in a statement released last Thursday.
"There needs to be enough time to organize our regional advisories and truth-finding gatherings in a way that honours and reflects the people of their territories and is inclusive, accessible and focused."
But according to an inquiry spokesperson, a lack of staff and insufficient time for budget approval are also contributing to the holding up.
"There's not enough staff at this point to be organizing these events," Tiar Wilson told the Star today.
Inquiry staff were co-ordinating events in Whitehorse while simultaneously planning for meetings in Edmonton and Thunder Bay, and they were stretched too thin, she said.
The staff want to give their undivided attention in each place, said Wilson.
"We need to be respectful to the people when we're there; we can't be going back and forth."
Wilson said more staff are being hired.
The timely release of budget dollars from the federal government is also a factor, said Wilson.
Funding for the inquiry flows through the Privy Council Office and "sometimes it takes a lot of time to get those answers, to get our money," said Wilson.
"They approve our budget, we have to go through them," she said.
The money wasn't yet available to bring families into Thunder Bay for meetings that were supposed to take place this week, said Wilson.
The Privy Council Office could not be reached for comment today, as it is closed for Easter.
On Saturday, Marion Buller, the chief commissioner of the inquiry, addressed the delayed meetings in a YouTube video, shot near the Kwanlin Dün Cultural Centre in Whitehorse.
"The commissioners and I know that you were planning to meet with us and preparing to meet with us. We know that's hard and painful work at times," says Buller in the video.
"We have to pause for a moment, and incorporate all of your wonderful advice into the process for our truth-gathering."
The commission is referring to the hearings, which are set to begin in Whitehorse on May 29, as "truth-finding gatherings."
That May 29 start date still stands, confirmed Wilson.
The commissioners intend to reschedule the Edmonton and Thunder Bay meetings, but dates have yet to be determined, said Wilson.
Regional advisory meetings, as they're called, are also slated for Halifax and Winnipeg on May 1, 2 and 3, and northern British Columbia and Saskatoon on May 16, 17 and 18.
Members of the commission, including Buller, were in Whitehorse last week to consult with loved ones, survivors, community organizations and government officials on how best to proceed with the upcoming hearings in the Yukon.
These regional advisory meetings are meant to help the commission gain a clearer understanding of local issues, protocols and languages so that hearings may be carried out in ways that are culturally appropriate.
They are also places to suggest supports that should be available to families, friends and survivors who will be sharing painful stories and revisiting trauma during the hearings.
About 50 family members attended last week's meetings in Whitehorse, and some shared their stories with the commission.
Wilson said people often tell their stories when they meet the commissioners, even though the hearings have yet to begin.
"We welcome it," said Wilson.
"When people start talking, sometimes they haven't been heard before from other people, or they just feel compelled," she said.
Even at events outside the hearings, inquiry staff are taking notes and recording what is happening, to ensure that nothing falls through the cracks, said Wilson.
That people were sharing their stories outside of the hearings was not a factor in the commission's decision to postpone this week's regional advisory meetings, she said.
About 270 people have registered to give testimony before the commissions so far.
Last week in Whitehorse, there was some confusion between the number of people registered to share their stories, and the number of missing and murdered indigenous women and girls the commission has gathered and continues to gather.
The commission sometimes refers to the list of people registered to testify as its "database."
Meanwhile, other organizations, such as the Native Women's Association of Canada and the CBC, refer to their lists of missing and murdered indigenous women and girls as "databases."
A precise number of missing and murdered indigenous women and girls is unknown.
The RCMP say that between 1980 and 2012, there were 1,181 police-reported homicides and missing persons cases involving indigenous women and girls.
Others, including Carolyn Bennett, the minister of Indigenous and Northern Affairs, say the number of missing and murdered is much larger.
The inquiry's legal and research teams are currently compiling the names of indigenous women and girls who have been murdered or gone missing, but Wilson said she is not privy to the current number.
The commission has a budget of $53.86 million and is mandated to wrap up its work by Dec. 31, 2018.
Add your comments or reply via Twitter @whitehorsestar
In order to encourage thoughtful and responsible discussion, website comments will not be visible until a moderator approves them. Please add comments judiciously and refrain from maligning any individual or institution. Read about our user comment and privacy policies.
Your name and email address are required before your comment is posted. Otherwise, your comment will not be posted.