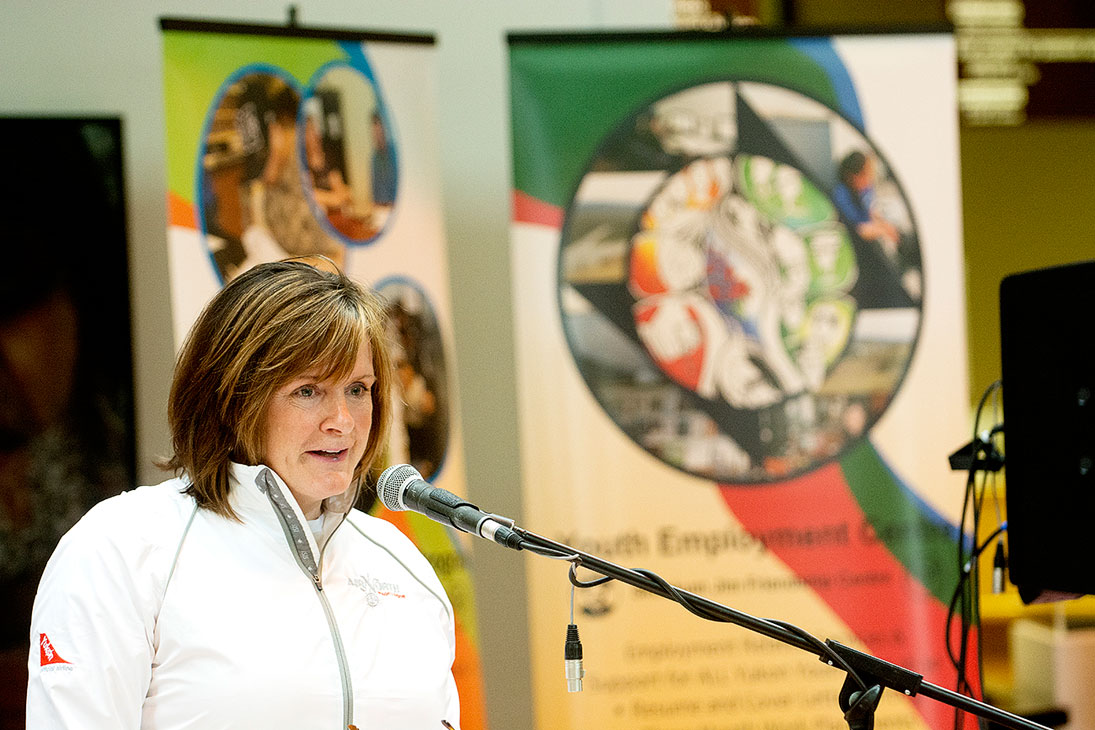 Photo by Whitehorse Star
Deb Ryan
Warning issued about fraudulent air passes
Air North is warning customers that segments of fraudulently purchased air passes are being sold online.
Air North is warning customers that segments of fraudulently purchased air passes are being sold online.
The Yukon airline issued the message on social media late last week letting buyers know the passes have been cancelled.
A tweet posted Friday on the airline's Twitter page states, "We wish to advise our valued customers that it has been brought to our attention that someone is marketing Air North Pass segments for sale through social media and other outlets.
"Be aware that the Air Pass in question was purchased fraudulently and is not valid for travel."
Last Thursday afternoon, Wynn Griffith, a senior business analyst with Air North, posted on the Whitehorse Buy and Sell Facebook page stating, "Please be advised that someone has been selling Air Passes that were purchased using a fraudulent credit card. The identified passes have been cancelled.
"The ability to name pass users at a future date provides flexibility that everyone appreciates but it creates opportunity for unscrupulous people."
Benjamin Ryan, the chief commercial officer with Air North, told the Star this morning they believe two 30-segment air passes were purchased using a stolen credit card.
Air North was notified about a month after the sale was made, that the owner of the credit card had flagged the purchase as fraudulent.
"It was at that point that we started scrutinizing our air pass sales generally," said Ryan.
He said while Air North is not responsible for third party sales, it encourages anyone who believes they may have been victim to the fraud to call Air North reservations at 867-668-2228 ext. 1 or 1-800-661-0407 ext. 1.
The airline is providing options to lessen the impact of buying the cancelled segments.
"We're more familiar with these calls now," explained Ryan.
He said they've received calls from about 10 to 15 people, a number of whom have bought multiple segments.
Through the calls, they have also identified at least two people responsible.
"We think we've identified the scope of it," he said.
"It's taken almost zero time to figure out who did it."
Air North is working with the RCMP to investigate and take criminal action against the fraudsters.
"It's just too bad that people are in the position that they've bought something that has no value," said Ryan.
"We're trying to help them out as best as we can."
Deb Ryan, manager of Strategic Planning and Alliances for Air North, noted Friday that third party sales are not always reliable.
"Our air passes are a great very secure product," she said.
"But in the buy and sell market, people may forget that the source may not be a trusted source. And we care about their hard-earned dollars."
Air North recommends that people be wary of re-sales and buy products directly from the airline.
"I think this is a general reminder of the fact that the air pass product is not designed to be resalable in the first place," said Benjamin Ryan.
And they are thankful that the community has helped spread the word about the fraudulent sales.
"I think the best thing is Yukoners have been great helping us get the message out to their trusted friends to err on the side of caution," said Deb Ryan.
Whitehorse RCMP are currently investigating the matter.
They ask anyone with any information to please contact police at 867-667-5555.
Add your comments or reply via Twitter @whitehorsestar
In order to encourage thoughtful and responsible discussion, website comments will not be visible until a moderator approves them. Please add comments judiciously and refrain from maligning any individual or institution. Read about our user comment and privacy policies.
Your name and email address are required before your comment is posted. Otherwise, your comment will not be posted.