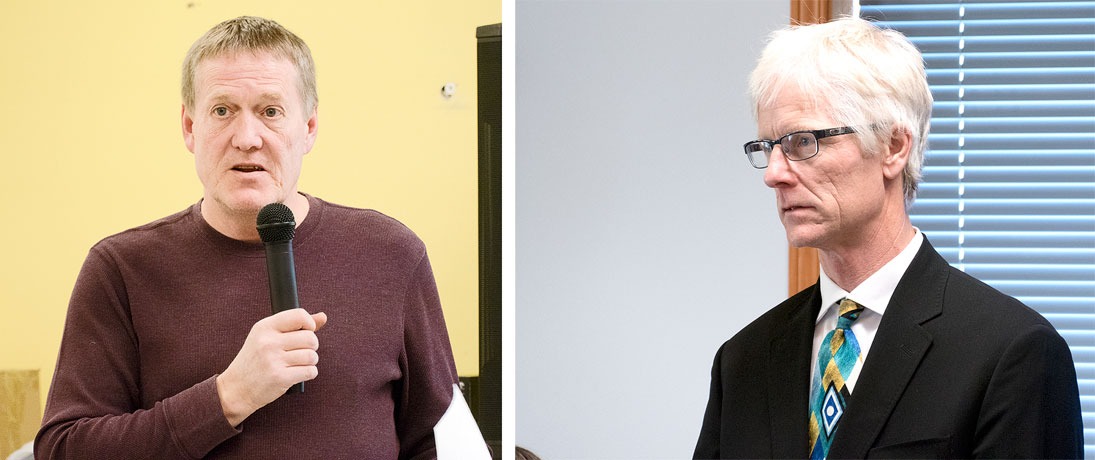 Photo by Whitehorse Star
YEU president Steve Geick and the acting Public Service Commissioner Thomas Ullyett
Union calls attending sessions 'waste of time'
The Yukon Employees' Union (YEU) isn't going to take it anymore, it says.
The Yukon Employees' Union (YEU) isn't going to take it anymore, it says.
On Wednesday, the day before the legislature convenes for its first spring sitting under the Liberals, the union representing Yukon public sector workers pulled out of all joint committees and policy review boards.
Essentially, that means any forum in which the union works collaboratively with the government.
"Continuing the exercise is a waste of time for us and for our Yukon government counterparts in acting roles who attend these meetings with their hands tied," YEU president Steve Geick said in a statement.
In these committees, union representatives sit down with management and discuss issues or disputes in the workplace.
The idea is to come to a mutual agreement and head off grievance filings and arbitration.
With the union out of the picture, there will be no such internal mechanism to pre-empt grievances.
"Since I've been elected, I've tried to say we're not the table-thumpers, we're not the aggressive union; we want to work collaboratively," Geick said in an interview Wednesday afternoon.
"But at some point, you need to ... take affirmative action. If we don't get any response, then you're going to start seeing a lot more grievances happen."
At issue is the way top-level bureaucratic positions are filled.
The union wants the government to review recruitment of upper management, and ensure the promotions process is open, fair and competitive.
Too many deputy and assistant deputy ministers are in the roles temporarily, said Geick.
The union president said often these employees are promoted from within a department to fill a vacancy – and they don't necessarily have the requisite skills or training.
"They may know their own job quite well, but now they're making decisions for a different branch they know nothing about," he said.
"The trickle-down effect is then there's a manager that's put into an acting position as a director, who may or may not have the knowledge, capability, skills, intuition, whatever, to fulfill that role."
At the same time, said Geick, these acting DMs, ADMs and directors may not be given the full authority of their positions, which can hinder their work.
"If they're not getting proper direction, if they're not getting proper supervision ... it affects the services that are provided," he said.
Geick supports promoting from within, but believes an employee shouldn't be hoisted up the ranks simply because they are next in line.
According to Geick's count, at least five deputy ministers, seven assistant deputy ministers, 17 directors and several managers and supervisors are acting, and not permanent.
The Public Service Commission negotiates collective agreements and oversees health and safety policy.
In that department, the public service commissioner and the director of labour are both in their roles temporarily.
Thomas Ullyett, the acting public service commissioner, said his department has had a positive relationship with the YEU for many years, and that "we believe we still have that relationship with them."
"We will get through this impasse, I'm quite confident in that," he said in an interview this afternoon.
Ullyett said acting roles in the public sector are common, and that the Public Service Commission hires based on merit.
"I don't have a concern, per se, with acting roles, it's an inevitable part of our organization," said Ullyett, who is currently in an acting role himself.
"My concern is to make sure when people are placed in acting roles, it's done on the basis of merit."
The government has relied on substitutes, of sorts, for more than a decade, said Geick, adding that sometimes these acting assignments last many years.
The Liberals promised to review the government's hiring and promotion processes, and make them transparent.
Wednesday's action may be seen as the YEU holding the government's feet to the fire.
Now, every time the government violates the collective agreement, a grievance will be filed, which could lead to costly arbitration and settlement payouts, said Geick.
"Those are taxpayer dollars that are being used," he said. "The taxpayers deserve a little bit better than that."
Geick admits withdrawing from collaborations with the government is a bold move, and that the timing is strategic: meant to force the new government's hand as it goes into its first major legislative sitting (see p. 5).
"It's kind of the perfect storm," he said.
"We have a new government in place, the first day of the sitting is (today) in the House, and they have made promises in their platform to do what we've been asking to have done."
The YEU president said he raised his issues with all the parties before the 2016 election, and now he would like to sit down with someone from cabinet.
Richard Mostyn, the minister responsible for the Public Service Commission, did not make himself available for an interview today.
Cabinet spokesperson Sunny Patch said this morning that Mostyn has organized a meeting with Geick.
"All political parties make promises, all political parties fail to come through on all of their promises for whatever reason," said Geick.
"We do our part to try and control the negative aspects of our union, and I think the elected officials of the Yukon government need to do the same."
Add your comments or reply via Twitter @whitehorsestar
In order to encourage thoughtful and responsible discussion, website comments will not be visible until a moderator approves them. Please add comments judiciously and refrain from maligning any individual or institution. Read about our user comment and privacy policies.
Your name and email address are required before your comment is posted. Otherwise, your comment will not be posted.